RIT's CyberCorps cybersecurity scholarship program renewed by NSF grant
24 new scholars to receive tuition, stipends in return for working in U.S. cybersecurity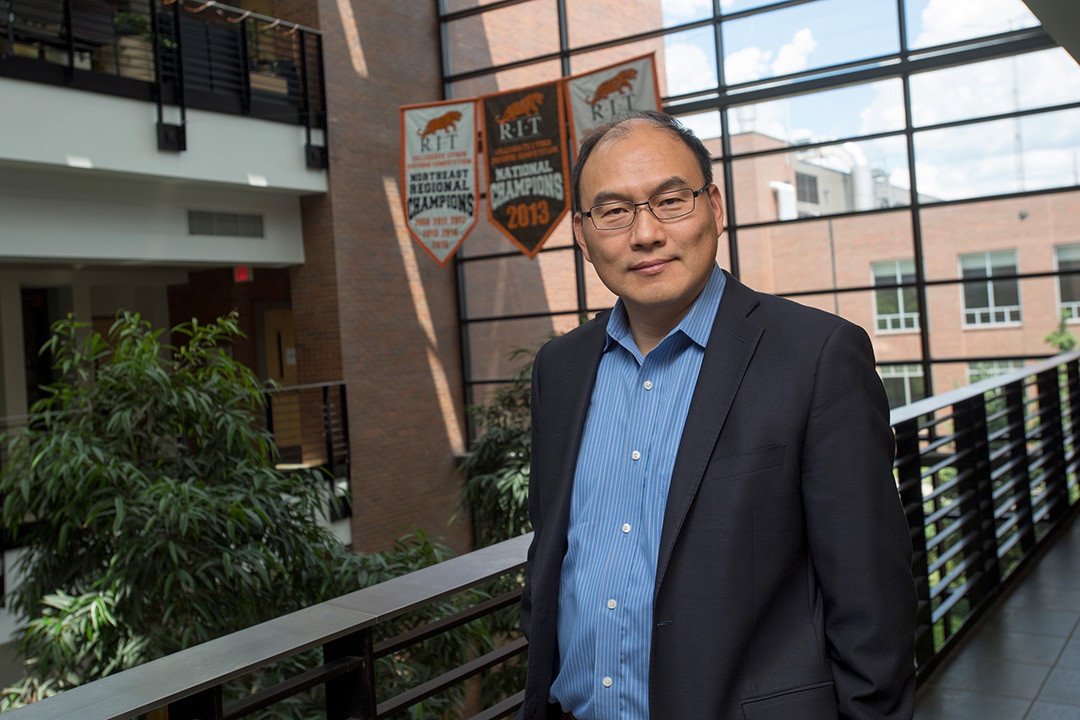 Rochester Institute of Technology will use a $5.5 million federal grant to grow a program that trains the next generation of cybersecurity professionals who will help secure the nation.  
The National Science Foundation awarded RIT the five-year grant that will renew funding for the CyberCorps: Scholars for Service program. RIT will add 24 new scholars to the program, which provides full tuition and a stipend in exchange for future government service.
The award builds on RIT's previous successful participation in the CyberCorps program to prepare additional highly qualified cybersecurity professionals to fill the talent gap in the government workforce. The university was first awarded a five-year, nearly $4 million grant to fund the program in 2014.
"I want to congratulate the team who helped renew this grant and all who contribute to the success and growth of this program," said Anne Haake, dean of RIT's Golisano College of Computing and Information Sciences. "This grant provides outstanding financial support for a cohort of students, along with a focused curriculum, research mentoring, leadership training, professional development and career mentoring."
With the renewal, RIT plans to accept 21 students in the computer science, software engineering, and computing security departments who are enrolled in the three accelerated BS/MS programs. Students get to focus on different aspects of cybersecurity in the three departments and will graduate with a master's degree in computing security.
For the first time, the program also plans to accept three Ph.D. students whose research areas are in cybersecurity.
"In addition to benefiting award recipients, the award is also a tremendous endorsement to our security programs and the success of the first five years of the CyberCorps program at RIT," said Bo Yuan, professor and chair of RIT's Department of Computing Security.
Yuan is leading the grant, along with Andy Meneely, associate professor of software engineering, and Rajendra Raj, professor of computer science.
RIT's CyberCorps program currently has 11 scholars. Fifteen students have graduated and are serving the country in various government agencies.
"I'm so pleased that RIT has received this significant grant to help strengthen their innovative CyberCorps scholarship program," said Congressman Joe Morelle. "Cybersecurity is a rapidly growing industry – and now more than ever, it is essential that we encourage students to pursue this field. This investment marks an important step towards closing the skills gap and helping to secure, protect and improve our nation's cyberinfrastructure for years to come."
"The CyberCorps scholarship program has been an important building block in our efforts to make RIT a nexus of computing security education and research, and in the creation of our Global Cybersecurity Institute, which was also strongly supported by Congressman Morelle," said RIT President David Munson. "This award will enable RIT to attract more of the best and brightest students and prepare them to meet the nation's urgent need for increased cybersecurity expertise."
In return for their scholarships, recipients must agree to work after graduation for the U.S. government, in a position related to cybersecurity, for a period equal to the length of the scholarship.
In RIT's program, scholars will also work to promote cybersecurity to underrepresented groups, including working to broaden female participation in the program by partnering with the college's active Women in Computing group and the annual Women in Cybersecurity and the Grace Hopper Celebration conferences.
RIT is nationally recognized for cybersecurity education, having been designated as a National Center for Academic: Excellence in Cyber Defense Education and in Research by the National Security Agency and the Department of Homeland Security.
To address the critical workforce needs in cybersecurity and help solve cybersecurity problems, RIT has announced the creation of a Global Cybersecurity Institute. The new three-story facility will allow RIT to address the global cybersecurity crisis by conducting groundbreaking research, education and professional training and development. It is expected to open in fall 2020, with a new executive director, and will be the first facility of its kind in upstate New York.
Topics