RIT receives $5M for Global Cybersecurity Institute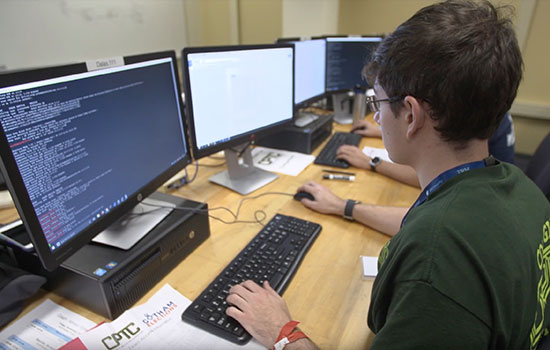 The planned Global Cybersecurity Institute at Rochester Institute of Technology got a tremendous boost with the receipt of a $5 million grant through the New York State Higher Education Capital Matching Grant Program.
The grant, combined with designated funding from a donation made by 2009 RIT alumnus Austin McChord, will go toward construction of a 45,000-square-foot building to house the new institute. The institute will address the critical workforce needs in cybersecurity through education and professional development programs and will conduct research to advance the fields of cybersecurity and artificial intelligence. Analysts expect that by 2022, the global shortage of qualified cybersecurity employees will reach 1.8 million, and in the next year, data breaches will cost the global economy as much as $2.1 trillion.
The grant was announced today (June 28) by Gov. Andrew M. Cuomo and is awarded by the HECap Board, which provides matching grants to private, not-for-profit colleges and universities for projects that create construction jobs and drive investment in communities across the state.
"We thank Gov. Cuomo, the HECap board and our representatives in the state Senate and Assembly for their support and for recognizing the importance of these capital grants to higher education, which in turns helps grow the economy," said RIT President David Munson. "This state-of-the art facility will help RIT continue to play a major role in preparing the current and future cyber defenders of our nation."
By leveraging private investment with public dollars, the HECap Matching Grant Program stimulates economic growth in communities across New York. New York's private, not-for-profit colleges and universities generate nearly $80 billion in economic impact annually and support more than 400,000 jobs. RIT is a major economic driver in the region, both as an employer and as a magnet to attract new businesses to the region who want to take advantage of the university's talent and research capabilities. Recent examples include Datto, LiveTiles and EmployeeChannel.
The projects selected for grants in this most recent round were chosen as part of a competitive application process. The Higher Education Capital Matching Grant Program enables campuses across the state to make critical investments in their infrastructure and equipment that support economic development. Campuses that receive grants are required to invest at least $3 of their own funds for every $1 of state funds they receive. Campuses are also required to pay construction workers prevailing wage on projects funded by these grants.
"Thanks to this grant, we'll be able to shine a light on—and expand—everything that we already do so well," said Anne Haake, dean of RIT's B. Thomas Golisano College of Computing and Information Sciences. "In addition to increasing enrollment, research and industry partnerships, we can have more outreach and training with the community to promote the importance of cybersecurity."
The Global Cybersecurity Institute will significantly expand the reach and impact of RIT's Golisano College, which is already one of the largest colleges of computing in the nation, with more than 4,200 students enrolled in graduate and undergraduate degree programs. RIT is nationally recognized, having been designated as a National Center of Academic Excellence in Information Assurance Education and a National Center of Academic Excellence in Cyber Defense Research by the National Security Agency and the Department of Homeland Security.
The new Institute will also position upstate New York as an epicenter of talent in computing security and related areas that are essential across almost every industry. With the new Global Cybersecurity Institute, RIT will:
Increase its research portfolio in cybersecurity and artificial intelligence;
Increase undergraduate and graduate enrollment in computing security;
Extend industry and government outreach initiatives in the field;
Develop an expanded portfolio of professional development training options for companies and the existing workforce;
Create several specialized laboratories that enable real-time learning opportunities for students and corporate and governmental partners.
Topics