RIT's Saunders College of Business will honor Kip Palmer with 2023 Vanden Brul Award
Fifth-generation CEO of Palmer Food Services and Palmer Family of Companies an industry trailblazer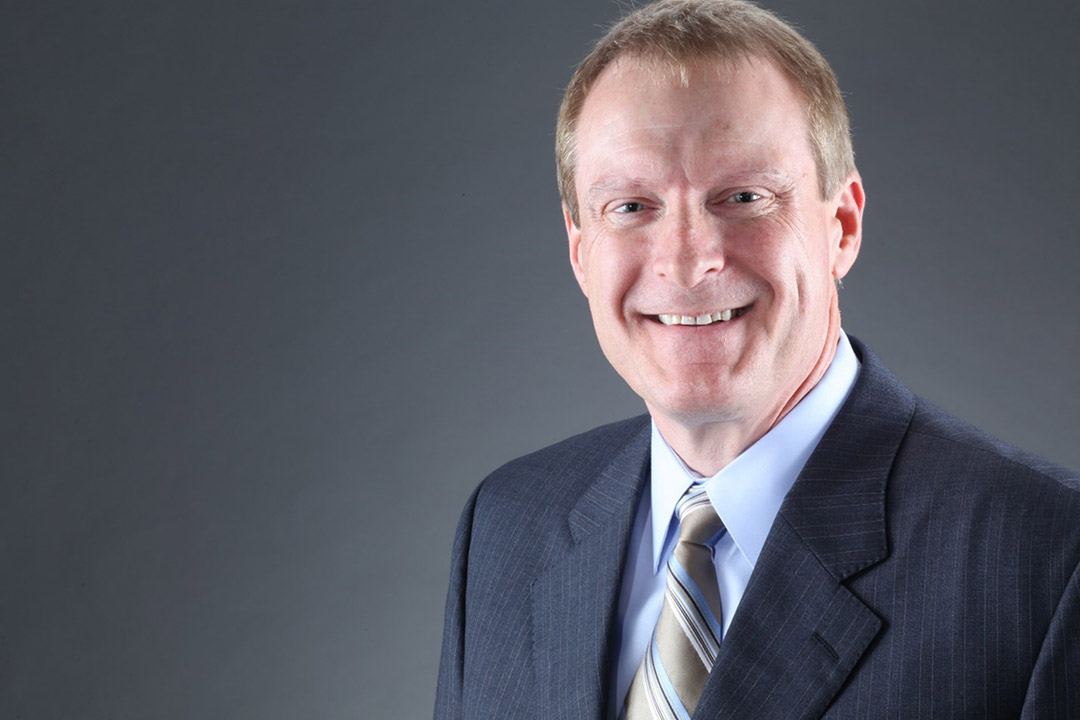 Dwight M. "Kip" Palmer, a fifth-generation CEO of Palmer Food Services and the Palmer Family of Companies, has been named the 2023 recipient of the Herbert W. Vanden Brul Entrepreneurial Award, presented by Saunders College of Business at Rochester Institute of Technology.
The award, established in 1984, is given annually to a successful individual or individuals who developed a business that improved the Rochester economy or whose innovative management skills changed the course of an existing business or industry.
The award's recipient is selected by a committee of area civic leaders, business leaders, and RIT faculty, symbolizing the connection between RIT and the Rochester business community. Palmer will be honored at the Vanden Brul Entrepreneurial Award Luncheon from noon to 1:30 p.m. Tuesday, June 27, at University Gallery on the RIT campus.
Palmer is recognized both in the greater Rochester and Syracuse business communities as a leader and mentor in the industry. The Rochester, N.Y., native received his bachelor's degree from Wittenberg University. Following college, he joined his father in building both Rochester-based Palmer Food Services and Syracuse-based G&C Food Distributors.
Under his leadership, Palmer's companies have thrived and are recognized as frontrunners in foodservice distribution, production, and redistribution. Palmer's leadership has both continued his family's legacy and created a sustainable business for the communities in which they serve.
"I am deeply honored to accept this award, but especially on behalf of the nearly 825 associates that comprise Palmer Food Services and Palmer Family of Companies," Palmer said. "Foodservice is in many ways a business of relationships—just as the Vanden Brul Award celebrates the relationship between RIT and the business community."
"Being named among these storied recipients brings me great joy in delivering on the commitment my family made to the Rochester community five generations ago," he added.
Palmer's innovative spirit and continual drive to serve his associates and community is apparent in his partnerships with local businesses and organizations. In addition to regularly contributing his time and resources to a variety of charitable and business organizations, he enjoys seeing those around him succeed and has been a vocal advocate and active supporter of young entrepreneurs and community organizations.
"Kip Palmer epitomizes what the Vanden Brul Award represents by honoring the region's foremost business minds and innovators," said Saunders College Dean Jacqueline Mozrall. "He truly has changed the course of both the growth of Palmer Foods and G&C Food Distributors as well as what these companies have given back to their respective communities of Rochester and Syracuse."
Earlier this year, Palmer received an honorary Doctor of Commercial Science degree from Roberts Wesleyan University. He is married to Amy and has five children and four grandchildren.
Saunders College also will honor RIT students with the Hebert W. Vanden Brul Student Entrepreneurial Award. This award recognizes outstanding RIT undergraduate or graduate students who have demonstrated the potential to become successful entrepreneurs.
Four student finalists will be recognized this year: Ndidi Chimah, a hospitality management student in Saunders College and a perspectives of global innovation major in the School of Individualized Study, from Owings Mills, Md.; Jake Downie, a computer science student in Golisano College of Computing and Information Sciences from Fair Haven, N.J.; Jonathan Hacker, a native of Brighton, N.Y., and neuro entrepreneurship student in the School of Individualized Study and biomedical engineering major in the Kate Gleason College of Engineering; and Joshua Seyse, a second-year finance student in Saunders College from Buffalo, N.Y. The students will find out their placement of finish at the June 27 awards ceremony.
Earlier this year, Chimah, Seyse, and Hacker participated in the annual RIT Venture Capital Forum in Boston, a workshop providing students with an understanding of venture capitalists and the process of early-stage fundraising and investing. Through a series of guest speakers, panel discussions, and company visits, students gain a comprehensive understanding of the relationship between entrepreneurs seeking funding and the venture capitalists that provide investment capital. 
Past Vanden Brul recipients include Susan R. Holliday '85 (MBA), former president, publisher, and owner of the Rochester Business Journal; Mark Davitt, founding CEO of ConServe; the late John "Dutch" Summers, CEO of Graywood Companies, Jasco Heat Treating, and Jasco Pharmaceuticals LLC; the late Joseph M. Lobozzo, former CEO of JML Optical; John Smith, IT serial entrepreneur; Ronald Ricotta and Michael Nuccitelli, co-owners of Century Mold Inc. and Parlec Inc.; the late Ernest J. Del Monte Sr., E. J. Del Monte Corp.; William K. Pollock, Optimation Technology; Kitty Van Bortel, Van Bortel Group; Thomas Bonadio, founder and chief executive of The Bonadio Group; the late Robert Wegman, Wegmans Food Markets Inc.; and E. Philip Saunders, Saunders Management Co. Inc.
More information about the Vanden Brul award is available on the Saunders College website.