February 26, 2014
by Marcia Morphy
Workshop links researchers, business students
Program designed to link researchers with business development and realization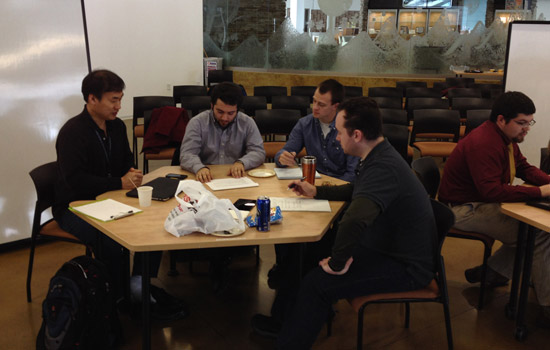 The Simone Center for Student Innovation and Entrepreneurship and the Office of the Vice President for Research at Rochester Institute of Technology recently sponsored a new pilot program, Access Technology Commercialization Workshop—designed to promote commercialization of faculty-developed technology inventions for people with disabilities.
RIT has a "strong commitment to realizing its unique research," said Ryne Raffaelle, vice president for research and associate provost. "These types of programs advance RIT's research agenda, educational approach and provide real-world experience to students."
According to Richard DeMartino, Simone Endowed Chair for Innovation and Entrepreneurship and director of the Simone Center, the premise of the workshop is very straightforward. "We bring creative RIT faculty with unique access technologies into the same room with bright business students and professional commercialization coaches.
"After a day of exploring the dynamics of customers segments, value to customers, competitors and distribution networks—an early commercialization map is developed. This map represents some interesting hypotheses about how to get these inventions in the hand of people who need them."
Bijan Abrahim, a third-year business management student at RIT's Saunders College of Business who hails from Washington, D.C., worked on the Smart Cane technology team, developed by associate professor Tae (Tom) Oh, Department of Information Sciences and Technologies in the B. Thomas Golisano College of Computing and Information Sciences. The cane will allow deaf-blind persons to guide themselves through their environment. "This is the kind of program that gives students real experiences and learning for their résumé," Abrahim said.
Richard Notargiacomo, director of New Ventures and Commercialization at RIT's Venture Creations Incubator and adjunct professor in Saunders College, said the initiative is not rocket science but does represent a point of view that research scientists may not naturally take. "The workshop is a good way to catalyze the addition of business thinking into the research project so that commercial opportunities can be explored and developed."