Double celebration will honor 2020 and 2021 Davis Award recipients
April 13 event recognizes outstanding service, dedication of four faculty members and students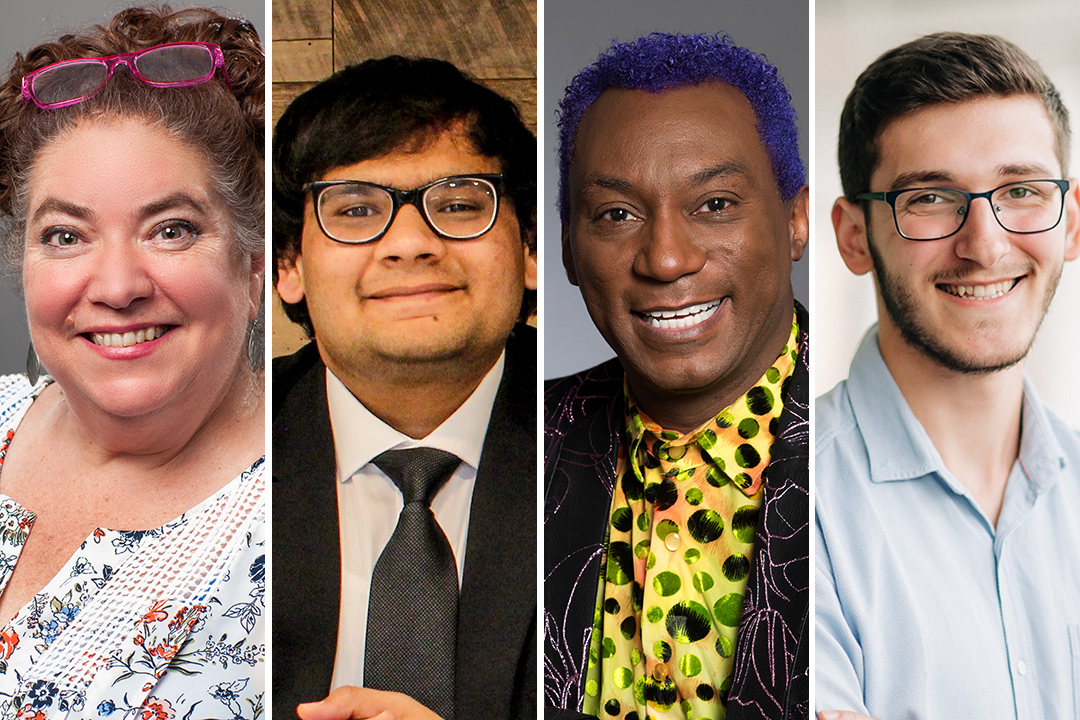 This year's recognition of Rochester Institute of Technology's Alfred L. Davis Distinguished Public Service Award winners will be a double celebration, as faculty and student recipients from 2020 and 2021 are honored April 13 at the RIT Inn and Conference Center. The socially distanced, reduced-capacity event is invitation only.
Luane Davis Haggerty, principal lecturer in the Performing Arts department of RIT's National Technical Institute for the Deaf, will receive the 2021 Four Presidents Distinguished Public Service Award, and Bhuvish Mehta, of India, a fifth-year computer engineering major, will receive the 2021 Bruce R. James '64 Distinguished Public Service Award.
Thomas Warfield, senior lecturer and director of dance at NTID, was awarded the 2020 Four Presidents Distinguished Public Service Award, and Çlirim Sheremeti, a fourth-year applied arts and sciences major from RIT Kosovo, was awarded the 2020 Bruce R. James '64 Distinguished Public Service Award.
Each recipient will receive an award commemorating their outstanding record of service, and a gift will be made in the recipient's name to the community or campus organizations of their choice.
Davis Haggerty's 20-plus years of teaching has explored ways to embrace accessibility and inclusion in theater for students, the college, the university, and the Rochester community. As co-founder of the Interborough Repertory Theater in New York City, Davis Haggerty has helped secure co-op and performance experiences for students at both the IRT Theater and the Deaf Theatre Festival. She is a co-founder of "Dangerous Signs," a group of RIT students and alumni who perform stories and poetry in American Sign Language at venues such as the Clearwater Hudson River Revival Festival and Rochester Fringe Festival, among others. She also has brought together deaf and hearing student and alumni actors for accessible productions touring locally to schools, churches, and events, and with Rochester Shakespeare Players Community Theater.
Davis Haggerty also created Del-Sign, an educational tool combining American Sign Language and Delsarte Mime techniques. Additionally, she is the founder of "Stage Hands" Interpreting Service for local live theater. She has also written several books on theater techniques, seven plays, including Windows of the Soul, which was nominated for a Pulitzer Prize in 2007, and a fictional work.
Gifts in Davis Haggerty's name have been made to IRT Theater, Off-Monroe Players, PUSH Physical Theatre, Rochester Community Players, and the Rochester Latino Theatre Company.
Bhuvish Mehta thrives on helping others find joy, which, according to him, creates meaning in his life.
As the COVID-19 pandemic began to affect international students at RIT, Mehta arranged for additional financial support, extra scholarship funds, and tuition relief, while also providing food supplies to students who had lost their jobs.
By the summer of 2020, Mehta, who had returned to India, had plans in place to help his local community. After raising $4,000 through crowdfunding efforts, Mehta purchased food supplies and ration kits and distributed them to needy families. He also adapted RIT's "Goodbye, Goodbuy" sustainability initiative and launched "KabadseJugaad," which translates to "innovation from waste." As a result, Mehta created a library and an open clothes closet from the items he collected, as well as a computer station for e-waste recycling and redistribution.
Gifts in Mehta's name have been made to RIT's Counseling and Psychological Services, and North American Association of Indian Students.
Thomas Warfield's devotion to bridging education and the arts for deaf, hard-of-hearing, and hearing RIT students, as well as his artistic expertise and humanitarian work, are known throughout Rochester and beyond. In addition to serving on numerous boards and organizations that have enhanced the artistic and cultural environment, he is the founding member of the Association of Teaching Artists and the World Dance Alliance, and he has held leadership roles for ARTWALK, Young Audiences, and Education for Peace, among others. He is president emeritus of the William Warfield Scholarship Fund at Eastman School of Music, and he has served on the boards of numerous civic, arts, and advocacy organizations. As the founder and artistic director of PeaceArt, a local nonprofit organization, Warfield combines expertise in art, dance, music, and education with a message of peace and understanding.
Among his many awards and recognitions, he received RIT's Isaac L. Jordan Diversity Award, given to an RIT faculty or staff member who has made a significant contribution to diversity efforts on campus and within the Rochester community, and was named a 2015 Community Champion by the Empire State Pride Agenda for his efforts in advancing LGBT equality and justice.
Gifts in Warfield's name have been made to The Avenue Blackbox Theatre, and 21st Century Arts Inc.
Çlirim Sheremeti's family opened their home to immigrants during the Kosovo War, and as a child, Sheremeti was often cleaning up littered spaces and painting school classrooms. But it's his passion for empowering young people has made him an agent for change, coordinating teams that have implemented life-changing projects throughout his country and beyond.
Sheremeti is the former president of the Young Ambassadors Club and Youth Council of the U.S. Embassy in Kosovo. He also has reinvigorated Rotaract Club Prishtina by continuing its service work, including distributing toys to children in hospitals and clothes to families in need, and promoting youth volunteerism overall.
Today, Sheremeti, who is also a top performer in the classroom with added concentrations in management and entrepreneurship, and economics, leads 4-H Kosova, which he founded in 2017. The organization, empowering young people to become change-makers, is part of the Global 4-H network, spanning 50 countries with more than 7 million members. The program has an international exchange component that offers Kosovo's youth a platform to explore opportunities abroad and bring best practices home.
A gift in Sheremeti's name has been made to Global Albanian Foundation.
About the awards:
The Four Presidents Distinguished Public Service Award was created by Alfred L. Davis on the occasion of the 65th year of his association with RIT, to commemorate the dedication of the four RIT presidents with whom he worked, in their service to the Rochester community. The purpose of this award is to honor the four presidents, Mark Ellingson, Paul Miller, M. Richard Rose, and Albert Simone, with whom Mr. Davis served at RIT. The award recognizes a current member of the faculty or staff who, through public service, mirrors the lives of the four presidents, who have been not only outstanding professionals, but also caring members of the community. Davis died in 2008.
The Bruce R. James '64 Distinguished Public Service Award is named after the chairman emeritus of the RIT Board of Trustees. The award recognizes a student for exemplary public service within RIT and/or the wider Rochester community. Its purpose is to highlight one of RIT's own hidden heroes while also encouraging other students to engage in public service.
Topics