Research team wins Catalyst Award in first year of international challenge
RIT researchers receive funding for innovative project to improve health and quality of life for the aging population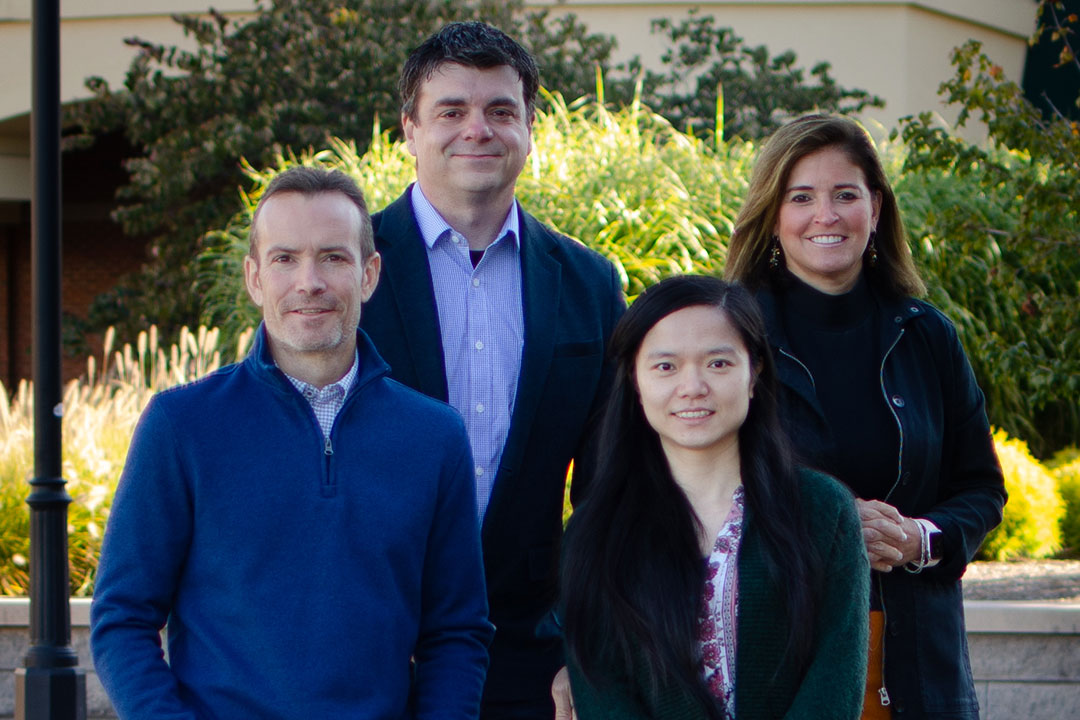 A research team at Rochester Institute of Technology recently won a Catalyst Award from the National Academy of Medicine for their project, "Improving Health for the Aging through Daily Vital Signs Monitoring." They were among the more than 1,300 innovators from around the world who submitted project proposals in the academy's inaugural Healthy Longevity Global Competition, a multiyear, multimillion-dollar international competition seeking breakthrough innovations to extend human health and function later in life.
David Borkholder, Linwei Wang, Caroline Easton, and Adam Smith, all professors at RIT, lead the project team that will use a smart toilet seat to provide in-home monitoring of critical health data for the aging population. This is especially critical for cardiovascular disease which impacts more than 80 percent of people over the age of 65 and 90 percent of those over 80 in the U.S. Detecting changes on a regular basis for a target population prone to heart disease, and monitoring for subtle signs, can be a means of prevention and early onset care.
The smart toilet, or FIT Seat as it is formally known, was developed in 2014. The system has high-tech sensors embedded on its surfaces to detect heart rates, blood flow, and oxygenation, with the potential to provide near real-time information to physicians about patient status. The seat is now being developed by Heart Health Intelligence.
All four faculty are part of the Personalized Healthcare Technology (PHT180) signature research initiative at RIT. Wang, a professor and director of the Computational Biomedicine Lab in Golisano College of Computing and Information Sciences, was recently named PHT's new director. Borkholder is the Bausch & Lomb Professor in RIT's Kate Gleason College of Engineering, and founding director of PHT180. Smith, an associate professor, undergraduate director of the new media design program, graduate director of the visual communication design MFA program in the School of Design, was recently named creative director of PHT. Easton is director of the FAV-Tech Research Lab and director of Training and Education in Behavioral Health in RIT's College of Health Sciences and Technology.
The National Academy of Medicine, together with seven global collaborators representing nearly 50 countries and territories, announced the winners of the inaugural round of Healthy Longevity Catalyst Awards during a virtual ceremony on Oct. 15. The Catalyst Phase called on teams and individuals from any background — from science, medicine, and health to technology, finance, social sciences, and beyond — to submit innovative ideas with the goal of extending the human health span. Applications were judged on novelty and innovation.
The academy coordinates among seven global collaborators, each administering a competition in their respective country or region. NAM also administers a U.S.-based Catalyst Award competition, for which nearly 600 innovators submitted applications in Round 1. Winners of Catalyst Awards each receive $50,000 as seed funding to advance their ideas. Other organizations that issued Catalyst Awards include Academia Sinica of Taiwan; Chinese Academy of Medical Sciences; EIT Health; Japan Agency for Medical Research and Development; Ministry of Health and National Research Foundation of Singapore; UK Research & Innovation; and the National Institute on Aging, U.S. National Institutes of Health.  Summaries of all winning ideas are available on the Healthy Longevity Global Competition website.
Topics