RIT Graduate School Dean Twyla Cummings to retire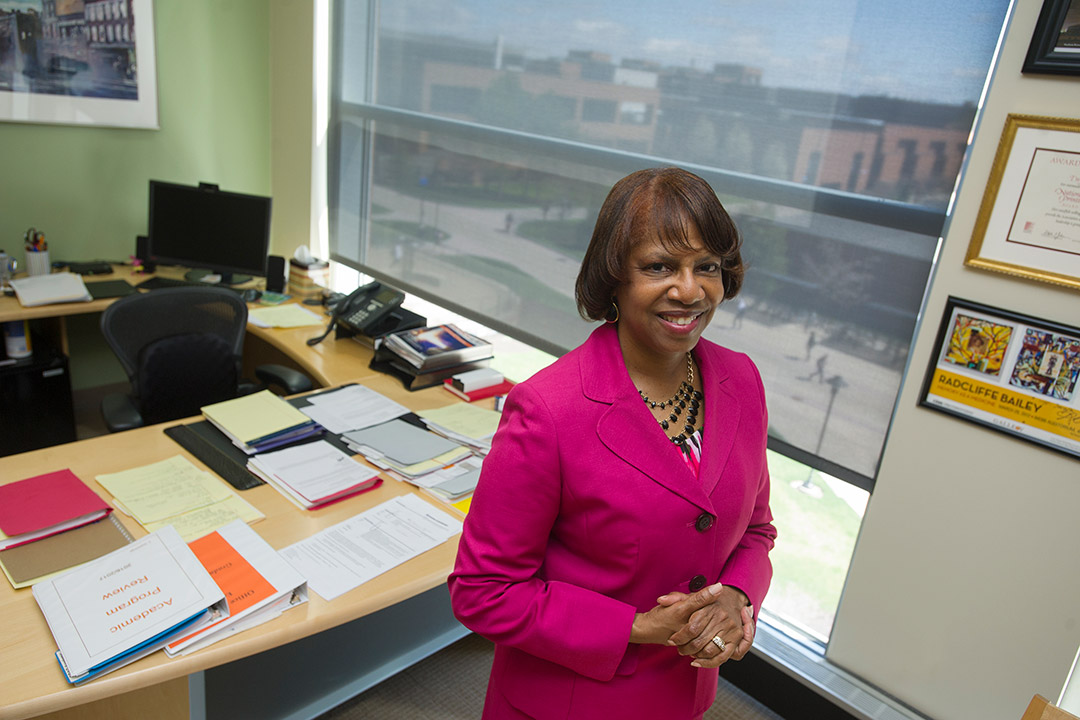 A. Sue Weisler
RIT Associate Provost and Dean of the Graduate School Twyla Cummings will retire from Rochester Institute of Technology effective June 30.
Ellen Granberg, RIT's provost and senior vice president for Academic Affairs, who announced the news, described Cummings as "truly an outstanding leader, a champion for inclusion, a mentor, and a role model" and as a "tireless advocate for graduate students."
She credits Cummings for overseeing the evolution of the Office of Graduate Education to the RIT Graduate School in support of RIT's Strategic Plan 2018-2025 and Carnegie Classification as an R2 research university. Granberg notes that during Cummings' tenure, RIT added five new Ph.D. programs and, in 2020-2021, conferred a record 51 doctoral degrees.
"I have had a great career at RIT and have been afforded many opportunities to stretch and grow both personally and professionally through the various positions I have held over the past 23 years," Cummings said. "I hope that with my having been in the role of associate provost and dean, it has resulted in a positive impact for RIT—especially for the students."
Cummings, in 1999, joined the faculty of the then-College of Imaging Arts and Sciences, now the College of Art and Design, after a successful career at Eastman Kodak Co. in Dayton, Ohio. She became graduate director for the print and graphic media MS and later was appointed to the Paul and Louise Miller Distinguished Professorship. Prior to her role as associate provost and dean of the Graduate School, Cummings served as senior associate dean for Graduate Studies and Faculty Research in the College of Art and Design. Cummings currently holds a faculty position in the Department of Graphic Media Science and Technology within the College of Engineering Technology.
The recipient of numerous awards, Cummings won the Printing Industries of America's Naomi Berber Memorial Award and was inducted into the Benjamin Franklin Honor Society. At RIT, Cummings was the recipient of the 2013 RIT Changing Hearts, Changing Minds Award and the 2014 Isaac L. Jordan Sr. Faculty Pluralism Award. She also received the 2018 Four Presidents Award for her professional accomplishments and contributions to the RIT community. Cummings also led the year-long celebration of the 19th amendment and the right to vote, and the 200th birthday of suffragette Susan B. Anthony. 
Granberg will later announce the process for naming the next associate provost and dean of the Graduate School.
Topics