Douglas Merrill retires from RIT after 40 years, establishes student fund
Douglas Merrill, who inspired countless students during his 40-year tenure in the College of Science and the College of Health Sciences and Technology, has retired.
Merrill developed the Premedical Advisory Program and created the Center for Bioscience Education and Technology. And he retires from RIT with numerous honors recognizing his outstanding teaching and commitment to diversity and inclusion. Yet, his personal success came from his students' achievements.
"I am most proud of having worked with students, in particular the students going into the health professions, and helping them achieve their career goals," Merrill said. "Several of our heroic first-line responders to the COVID-19 pandemic are RIT alumni, and I think about them and worry about them every day."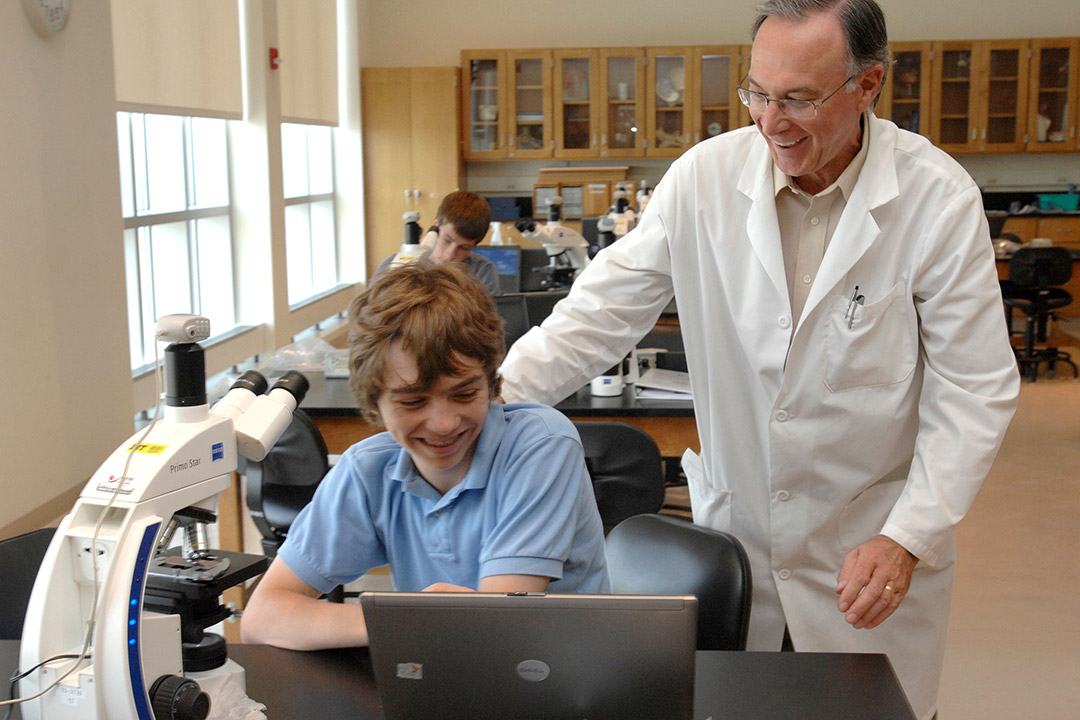 A. Sue Weisler
Merrill began his RIT career in 1980 as an assistant professor of biology in the College of Science and eventually headed the Department of Biological Sciences and served as the college's associate dean. In 2011, he moved to the new College of Health Sciences and Technology and retired in June as a professor of biomedical sciences.
Merrill maintained a modest research program in the early years of his career. Terrence Tiersch '81 (biology) was the first student to work in Merrill's lab. Today, Tiersch is professor and director of Aquatic Germplasm and Genetic Resources Center in the School of Renewable Natural Resources at Louisiana State University Agricultural Center in Baton Rouge.
"Doug was an inspiring presence the day he walked onto the RIT campus," Tiersch said. "He was a gifted teacher emphasizing critical thinking and broad conceptual learning in the classroom."
In 1985, Merrill took over the small premedical advisory program, then housed in the College of Science, and dove into all aspects of health professions advising, including leadership roles in the National Association of Advisors to the Health Professions and the Association of American Medical Colleges.
In the mid-1980s, only a few students sought advice on applying to medical, dental, or veterinary school.
"Forty years ago, never would I have thought we'd have a College of Health Sciences and Technology," Merrill said. "It wasn't part of the RIT brand. Preparing students for medical school or to pursue Ph.D.s in biomedical research—that wasn't our thing."
Last year the advising program served 300 students across the campus.
Alumna Michelle Spoto '14 (biomedical sciences) credits Merrill for his emphasis on critical thinking and problem-based learning. These skills eased her transition to dental school at University of Connecticut Health Center, where she anticipates graduating with her DMD/Ph.D. in 2022. "I had the opportunity to study abroad (at RIT's Dubrovnik, Croatia, campus) with a group of students that Dr. Merrill led, and we learned the material in a series of case studies rather than traditional lectures. The education that I received at RIT—in large part thanks to Dr. Merrill's teaching style—prepared me well to succeed in this environment." 
Merrill's interest in bioscience workforce training and community education gave him a new platform for advocacy. He collaborated with Deborah Stendardi, vice president for Government and Community Relations, to push for the Center for Bioscience Education and Technology (CBET).
He helped secure $8 million from New York state toward constructing the center, now home to the College of Health Sciences and Technology, and a $2 million gift from Excellus BlueCross/BlueShield to equip the facility.
One key objective of the Center was to support K-12 education in the STEM disciplines, with a focus on students and teachers from the Rochester City School District. 
"I saw underrepresented minority students come to RIT with so much optimism—being the first of their family to go to college and wanting to become doctors—and too often I saw those students struggle with our programs. I needed to understand why a student who was valedictorian of their class found it difficult to succeed at RIT," he said.
Through CBET, Merrill sponsored several college readiness programs, established relationships with local community colleges, and sat on school advisory boards.
Robert Osgood, director of biomedical sciences at RIT, joined Merrill in his efforts to mentor young students. "Doug is always wanting to work with kids and giving them a chance to have a chance."
Merrill also worked to recruit underrepresented minority faculty through RIT's Future Faculty Career Exploration Program. Osgood first met Merrill through this program and joined RIT nearly four years later after completing his postdoctoral fellowship.
"His influence is felt in the classroom, with the students, with awards, the city school district," Osgood said. "The CBET building itself wouldn't be there without Doug. His generosity for helping students succeed is ingrained in his character. It's part of who he is."
Merrill retired from RIT with numerous honors recognizing the strong connection he created with students. He won an Eisenhart Award for Outstanding Teaching, the Norman A. Miles Award for Academic Excellence in Teaching, and was honored by the creation of the Doolittle-Merrill Student Award. Likewise, his ongoing commitment to diversity and inclusion initiatives led to his receipt of the Diversity Trailblazer, and the first Changing Hearts and Minds Diversity Leadership Award.
Merrill is acutely aware of his students' financial hardships and the stress of the current economic climate, and he has often provided support to students through CBET scholarships.
"So many of my students are living right on the edge financially," Merrill said. "They are working part time or full-time, and going to school full time, and they barely have enough money to scrape together for living expenses."
Merrill and his wife, Debra Martin, have established the Dr. Douglas Merrill Endowed Health Professions Student Fund to support RIT students pursuing careers in the health professions.
"This need-based fund will be available to students who need a little bit of money that they can't generate on their own--money to buy an airline ticket for an interview or to afford the MCAT or to submit an application," Merrill said. "I hope others will consider joining us in supporting these deserving future healthcare providers."
Topics