New Student Government president ready for 'interesting' year
Shine DeHarder plans to focus on transparency, food insecurity, diversity, and accessibility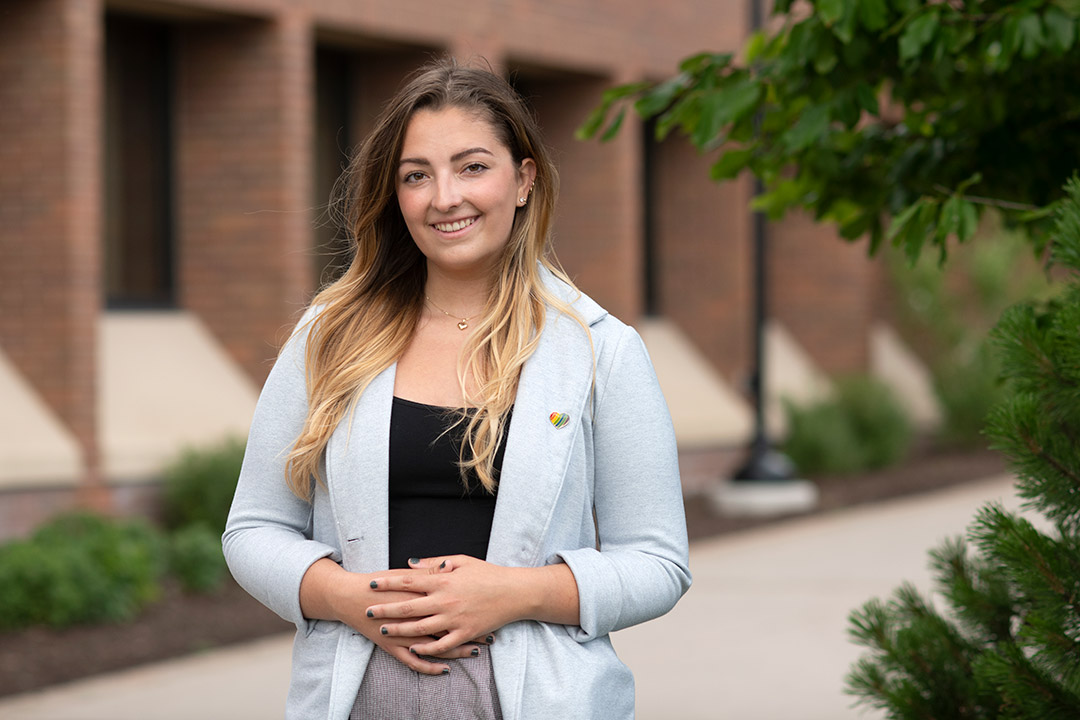 A. Sue Weisler
Shine DeHarder knew early on she wanted to help people.
"I've always wanted to be a doctor," she said. "At one point, I wanted to be a marine biologist. Then I realized I wanted to work more with people, engaging with people and helping others, maybe even in art therapy. But I never strayed from my goals to use my passion to help others."
DeHarder, a fourth-year biomedical sciences major from Jamestown, N.Y, is minoring in psychology. She will be helping some 19,000 Rochester Institute of Technology students as this year's Student Government president. Vice president is Jared Ortega, a fourth-year environmental sustainability, health and safety major from Carmel, N.Y.
"It's definitely going to be a crazy year, but I think that it's going to be just as interesting," she said. "I've seen a lot of work put in by everyone at RIT trying to best prepare. COVID-19 will present a whole bunch of challenges no one could completely prepare for, but I'm eager to get into the year and get my team ready, making sure we're doing the work that best represents the students and that the student voice is being heard. It will just mean we may have to do some extra thinking and planning, and we may have to fall back on Plan B or Plan C sometimes."
DeHarder, who served on RIT's Community Readiness committee this summer to help the university reopen for students, has three main goals as Student Government president: reducing food insecurity on campus by distributing what may be wasted food to those in need; improving diversity, inclusion, and accessibility on campus; and improving transparency between Student Government and the student body.
"Before I joined Student Government, I had no idea what was going on," she said. "I wasn't aware of the power Student Government had to make change on campus. I would like to have regular updates posted on social media to make students feel less out of the loop and more engaged in Paw Prints and the different charges we're working on."
DeHarder said she focused mostly on her academics her first two years at RIT rather than getting involved with clubs and organizations. She decided to run for Student Government president after becoming the Health Sciences and Technology senator last year.
"I knew pretty soon once I joined Student Government as a senator that the only regret I had was that I didn't join sooner," she said. "I fell in love with the atmosphere and the people involved. Every student felt the same way and was as interested in advocating for students as I was."
DeHarder was named "Shine" after her great-aunt. "She was named Linda, but everyone called her Sunshine," she said.
She's an avid cook and has been a vegetarian for more than three years. "My vegan mac and cheese is well-known in Student Government," she said.
She's also certified as an EMT. She worked for a few months driving an ambulance in Rochester for American Medical Response last summer. But responsibilities at school and a bout with Achilles tendonitis from playing rugby forced her to stop because she couldn't work the required minimum 40 hours a month.
"You can't really carry people up and down the stairs when you have a boot on your foot," she said. "I miss it."
After she graduates from RIT, DeHarder plans to go to medical school, but she's leaving her field of specialty open.
"When I first came to college, I was really interested in cardiology and working with pediatrics," she said. "Now, I'm more interested in obstetrics and gynecology. So I'm going to medical school with whatever specialty speaks to me then. I'm ready to go in with an open mind and see what clicks best with me."