College of Liberal Arts hosts reading series
Series will pair RIT students with faculty scholars through poetry, prose, new media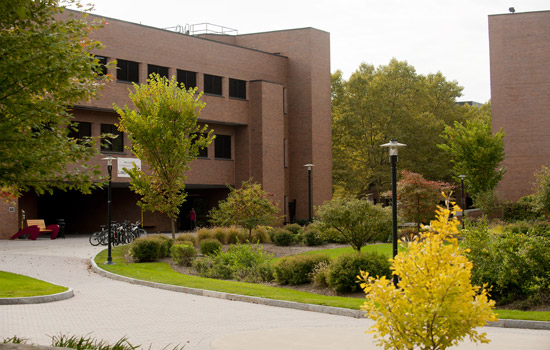 In an effort to enhance scholarly and artistic connections between faculty and students, RIT's English department and creative writing faculty in the College of Liberal Arts are sponsoring the Undergraduate/Faculty Reading Series. The first set of readings, featuring faculty member Catherine Faurot and student Nicolas Eckerson, takes place at 5 p.m. on Thursday, Sept. 26, in the Campus Center Reading Room.
Robert Glick, assistant professor of English, is helping to coordinate the reading series.
"Throughout this series, faculty get to see the amazing breadth and talent of undergraduate creative writers at RIT, while the undergraduates can watch their professors in poetic action, become acquainted with professors with whom they may want to work, and gain a greater understanding of the professional worlds related to creative writing—or perhaps lead to some insight into their own career paths," he says. "Most of all, we expect the readings will be exciting and, at times, transformative."
Faurot, a visiting assistant professor of English, will read from an unpublished collection called White Seeds: Lesbia Responds, a novel about the relationship between the Roman poet Catullus and his lover, Lesbia. Faurot's first poetry book, Plow Harrow Seed, was published in 2006. Her poems have been published in The Colorado Review, The Christian Century, The New Orphic Review, and Classical Outlook, among other publications. She has also been the featured poet in numerous readings including the Genesee series at Writers & Books.
Eckerson, a fourth-year interdisciplinary studies student from Rochester, is a member of RIT's Signatures magazine and past winner of the Kearse Awards for creative writing. He has read at Imagine RIT: Innovation and Creativity Festival, the Black Mountain North Symposium in Rochester and Gallery r, and has twice been a featured poet at Writers & Books—in the Under 25 series and the Genesee series. His work has been published in Big Bridge magazine.
Although the series is beginning with undergraduate students and faculty readers from the English department, Glick hopes to eventually open the series to creative writers associated with other campus groups.
"Often the most imaginative and ground-breaking writing comes not simply from lessons learned in the classroom, but from ideas generated at readings, lectures, literary journals such as our own Signatures, and conversations between writers with different majors, backgrounds and aesthetics," Glick adds. "As the English department expands the creative writing minor by hiring new faculty and adding new courses, we also want to create a larger, more dynamic community of creative writers."
Food and refreshments will be provided. The next reading will take place at 5 p.m. on Oct. 17 in the Campus Center Reading Room.
For more information about the free series, contact Glick at robert.glick@rit.edu. Interpreters will be provided upon request.