Former ACLU president, human rights expert to discuss free speech, inclusion on campuses
Nadine Strossen will speak March 30 as part of Statesmanship, Law and Liberty symposium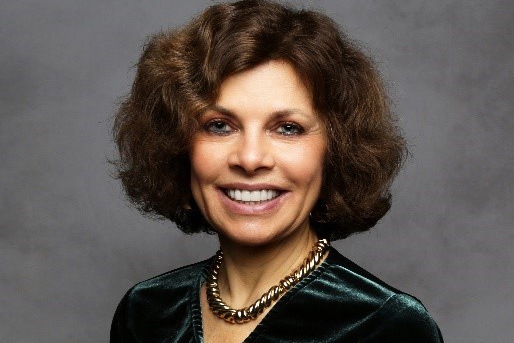 The former president of the American Civil Liberties Union and constitutional law and human rights expert Nadine Strossen will be the keynote speaker at Rochester Institute of Technology's Center for Statesmanship, Law and Liberty's annual symposium on March 30.
Her presentation, "Free Speech and Inclusion on Campus: Can We Have Both?" begins at 7 p.m. in RIT's Ingle Auditorium, Student Alumni Union. The event will involve a panel discussion with members of the RIT community. The free event will also be live streamed and available on Zoom. Registration is encouraged.
Strossen, the John Marshall Harlan II Professor of Law, Emerita at New York Law School, was the first woman to lead the ACLU as president from 1991 to 2008. She was named by The National Law Journal as one of America's "100 Most Influential Lawyers," and several other publications have named her one of the country's most influential women.
Strossen's writings have been published in many scholarly and general-interest publications. Her co-authored book, Speaking of Race, Speaking of Sex: Hate Speech, Civil Rights, and Civil Liberties, was named an "outstanding book" by the Gustavus Myers Center for the Study of Human Rights in North America. Her earlier book, Defending Pornography: Free Speech, Sex, and the Fight for Women's Rights, was named by The New York Times as a "Notable Book" of 1995, and her 2018 book, HATE: Why We Should Resist It With Free Speech, Not Censorship, has been praised by ideologically diverse experts.
She has made thousands of public presentations before diverse audiences, including on more than 500 campuses and in many foreign countries, and has commented frequently on legal issues in the national media. In October 2001, she made her professional theater debut as the guest star in Eve Ensler's award-winning play, The Vagina Monologues, at the National Theatre in Washington, D.C.
She is a member of the ACLU's National Advisory Council, as well as the advisory boards of Electronic Privacy Information Center, Foundation for Individual Rights in Education, Heterodox Academy, and the National Coalition Against Censorship.
Strossen has received honorary Doctor of Law degrees from the University of Rhode Island, the University of Vermont, San Joaquin College of Law, Rocky Mountain College, the Massachusetts School of Law, and Mount Holyoke College. She is also a member of the Council on Foreign Relations.
Joseph Fornieri, professor of political science and director of RIT's Center for Statesmanship, Law, and Liberty, said one purpose of the symposium, put on by the non-partisan center, is to create dialogue and promote a greater understanding of a variety of viewpoints.
"Free speech on college campuses remains a controversial, yet fundamental, concern of higher education today," Fornieri said. "RIT is fortunate to host one of our nation's leading experts in this area. Nadine Strossen will engage a panel of administrators, students, faculty, and staff in a wider conversation about the important topic of free speech and inclusion on campus.  We will consider the prospects of maintaining open, passionate, and diverse expression within a civil context where all voices may be heard."
RIT's Center for Statesmanship, Law and Liberty was formed in 2014 to promote an understanding of the role of statesmanship in founding, perpetuating, and enhancing a free society under the rule of law. The center provides a central location for the study of statesmanship; provides resources and support for faculty and students engaged in the study, research, and writing on statesmanship; conducts colloquia, workshops, and seminars that enrich the public's understanding of statesmanship; works with students and programs to facilitate and coordinate research projects on statesmanship; and provides outreach and educational opportunities to civic leaders, professionals, and secondary-level school teachers and students for learning about statesmanship.
Previous symposium speakers include Cornel West, philosopher and political activist; Carolyn Lukensmeyer, executive of the National Institute for Public Discourse; CNN National Security Analyst Peter Bergen; and Richard Clarke, former counterterrorism advisor and czar under presidents Bill Clinton and George W. Bush.
The center is affiliated with RIT's College of Liberal Arts and Department of Political Science, and the Alexander Hamilton Institute for the Study of Western Civilization. The symposium is supported by RIT's Office of the President, Office of the Provost, and College of Liberal Arts.