March 9, 2022
by Diana Louise Carter
Gift provides access to Geva shows for RIT Performing Arts Scholars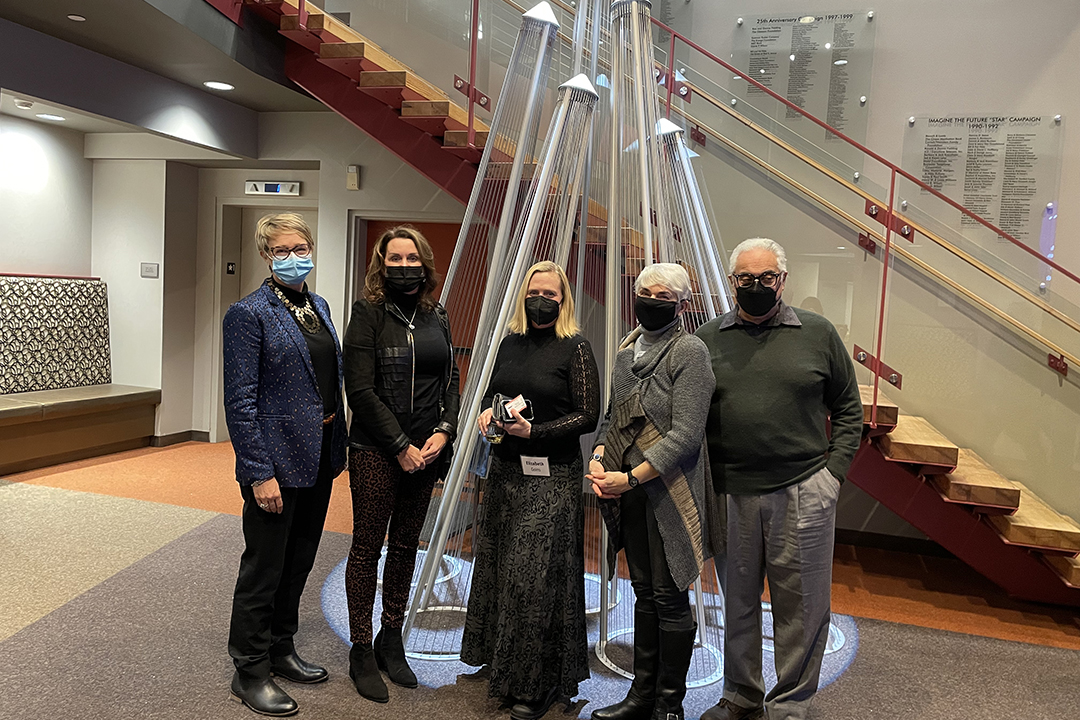 A $5,000 gift from Michael and Joanna Grosodonia of Rochester will allow performing arts students at Rochester Institute of Technology to see live, professional theater productions at Geva Theatre Center.  
While not the first such donation covering tickets to cultural events, the Grosodonia gift is unusual in that it also pays for transportation to bring the students from the main campus to the theater in downtown Rochester.
The Grosodonias – he's a retired attorney and she a homemaker and volunteer – have promised to donate $1,000 a year for five years. 
"The Performing Arts Scholars Program in the College of Liberal Arts is a unique gem, providing an opportunity for a diverse group of students to continue exploring their performing arts passion while at RIT," said Anna Stenport, dean of the College of Liberal Arts. "I am grateful to the Grosodonias for their support of RIT students, the theatre faculty, and the ways in which their donation will strengthen the connection between campus and a Rochester-region cultural institution such as Geva. This is a wonderful partnership."
Michael Grosodonia received a one-year master's degree in accounting from RIT in 1976, and the Rochester couple have donated annually to RIT for nearly 30 years. But it was Joanna Grosodonia who started to forge a deeper relationship with RIT in recent years. On the board of the Memorial Art Gallery, she noticed that MAG's yearly fine art and crafts displays always included gifted art students from RIT. "There's such a creative energy at RIT," she said. 
When she was president of the Geva Board of Trustees a few years ago, she asked the board to consider a signature artwork for the theater's renovation by someone in the RIT community. Julia Manson, '17  (metals and jewelry design, MFA) won the commission and later went on to create the outdoor sculpture at the nearby City Center. 
The couple's donation allows them to support two institutions at the same time. 
 "It will make the program at RIT better. You will get a more rounded student," Michael Grosodonia said. That jibes with the university's goal to become the country's best performing arts program for non-majors.
Joanna Grosodonia said the scholarship will also help diversify audiences at Geva. 
"We need to always develop new audiences, too. Some people participated in [theater in] high schools and some did not. Here's a way to expose students to something new and different," she said. "We need more young people." 
The first time the scholarship fund will be tapped is this spring, most likely for a showing of  "Somewhere Over the Border," a new musical about an immigrant's journey from El Salvador to the United States. 
Students are very interested in musicals, said Andy Head, assistant professor of theatre arts in both the College of Liberal Arts and NTID's Department of Performing Arts. "Pre-pandemic, we would try to have my students see two to three productions per class. We're just now getting back to the point of being able to offer those experiences again," he said. Those two or three productions would include both student performances and professional theater. 
"Theater is meant to be seen. If students can't go and see it, they're missing part of it," Head said. 
Michael Grosodonia said, "I just hope this inspires more people to think about donating to RIT in this manner, to assist in the performing arts so students can feel they can come into the city. Where is our cultural center? It's in the city. If they can't get there, that's a problem."
If students interact with Rochester's cultural riches, he said, more may stay and work in Rochester after they graduate.
Topics