New students are off to a roaring start after convocation
RIT community welcomes the future at Fall Convocation for New Students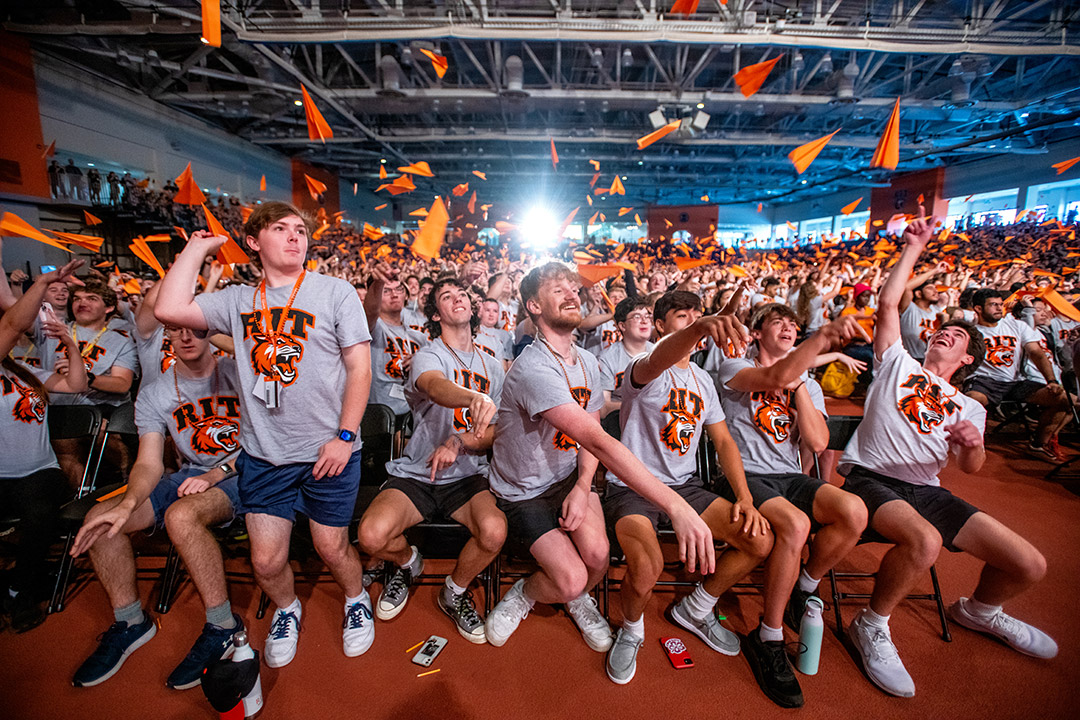 Turn big dreams into reality. That was just one piece of advice for the newest Rochester Institute of Technology students who attended the New Student Convocation on Aug. 24. The annual event included welcomes from administrators, the new Student Government president, and a lesson in adventure featuring RIT President David Munson.
More than 3,300 first-year and transfer students attended the event in the Gordon Field House, immediately after their annual Tiger Walk, where RIT faculty, staff, Ritchie the mascot, and the RIT Pep Band cheered them with yells, clappers, and cow bells as they paraded to the formal convocation.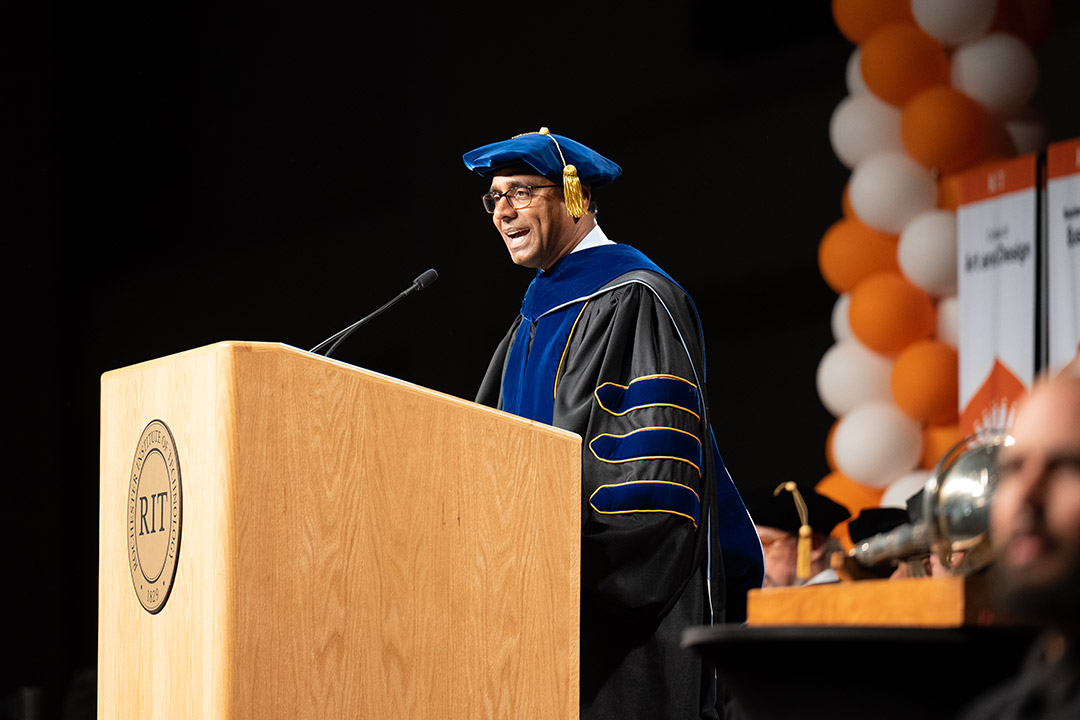 Carlos Ortiz/RIT
"We are so glad you have chosen RIT for your journey into higher education—a journey that will change your life, and one we are excited to travel with you," said RIT Provost and Senior Vice President for Academic Affairs Prabu David.
RIT's new students represent many diverse backgrounds and cultures hailing from 48 states, including Washington, D.C.; the U.S. Virgin Islands; Guam; and Puerto Rico, as well as 47 countries. In addition, there are 927 new graduate students, with 112 new Ph.D. students. The most common birthday among the incoming class is Oct. 14.
The keynote speaker was Jennifer O'Neil, assistant professor in the Department of Manufacturing and Mechanical Engineering Technology and program faculty in the School of Mathematical Sciences. She was the 2023 recipient of the Richard and Virginia Eisenhart Provost's Award for excellence in teaching, one of the university's highest honors. O'Neil is also a 2008 graduate from RIT's mechanical engineering program.
O'Neil challenged students to be the person who shows up for class and be the person who asks for help. Her tips were to focus on good academic habits, social skills, and balancing priorities.
"No matter what your major, the single most important skill for life success is communication," said O'Neil. "Starting today, build your network and stay in touch with one another. I promise you, it will be worth it."
Sandra Johnson, senior vice president for Student Affairs, welcomed the students to RIT's unique community of dreamers and doers. "It's a privilege to work with students like you, fueled by dreams rather than by defined plans," she said.
She had each student write a dream on a piece of orange paper, which was folded into a paper airplane and tossed in the air at the end of the program.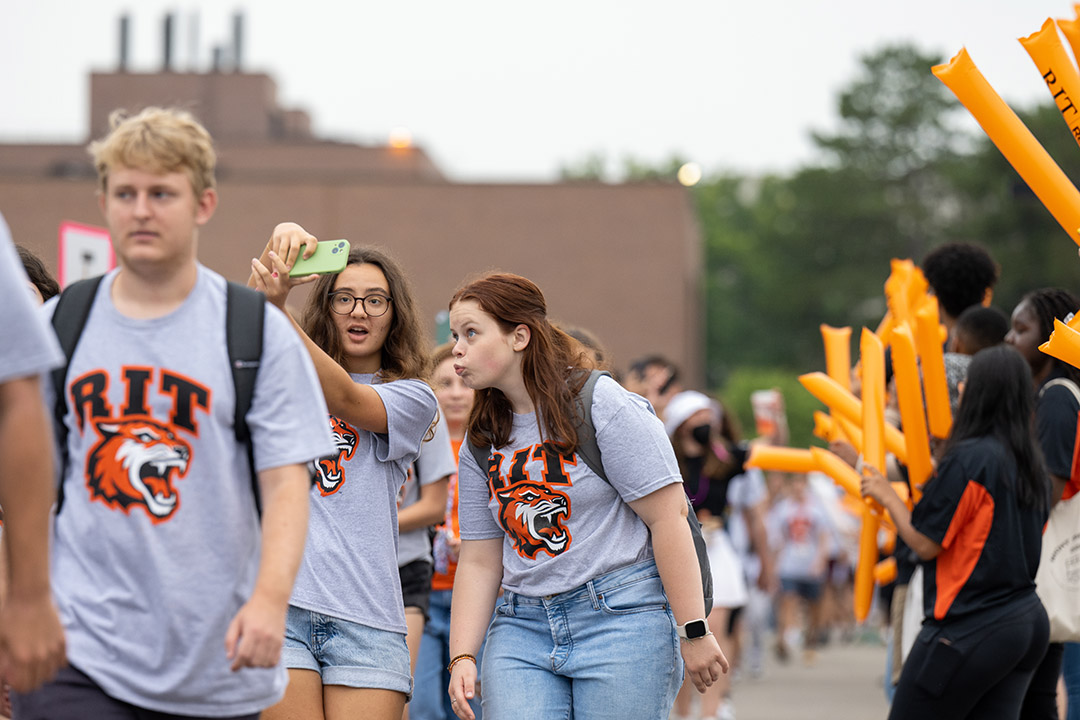 Carlos Ortiz/RIT
Student Government President Darcie Jones admitted that when she started at RIT four years ago, she was a bit different than the person who stood on stage now.
Jones encouraged students to embrace change, not run away from it. She discussed her ups and downs while playing varsity soccer, going to school during the pandemic, and applying to be the College of Engineering Senator on a complete whim.
"You can control and drive your future—starting right here, right now," said Jones, a fifth-year mechanical engineering major from Reading, Pa. "Take those leaps of faith and just remember—how you are now does not define who you can be or will be a year from now."
President Munson also welcomed new students and their families, telling them that now more than ever, the world needs inspiring, collaborative, and original thinkers and doers with a deep commitment to the welfare of humanity.
"It all begins with people, and at RIT, we have an unusual assembly of exceptional individuals," said Munson. "This is a place where you can exercise your multiple talents, satisfy your thirst for learning and for doing, and experiment along the way."
He showed a brief video, a tradition Munson has done for incoming students. This year, Munson did his best Indiana Jones impression as he was tasked to search the campus and retrieve the legendary source of its creativity—the golden brick.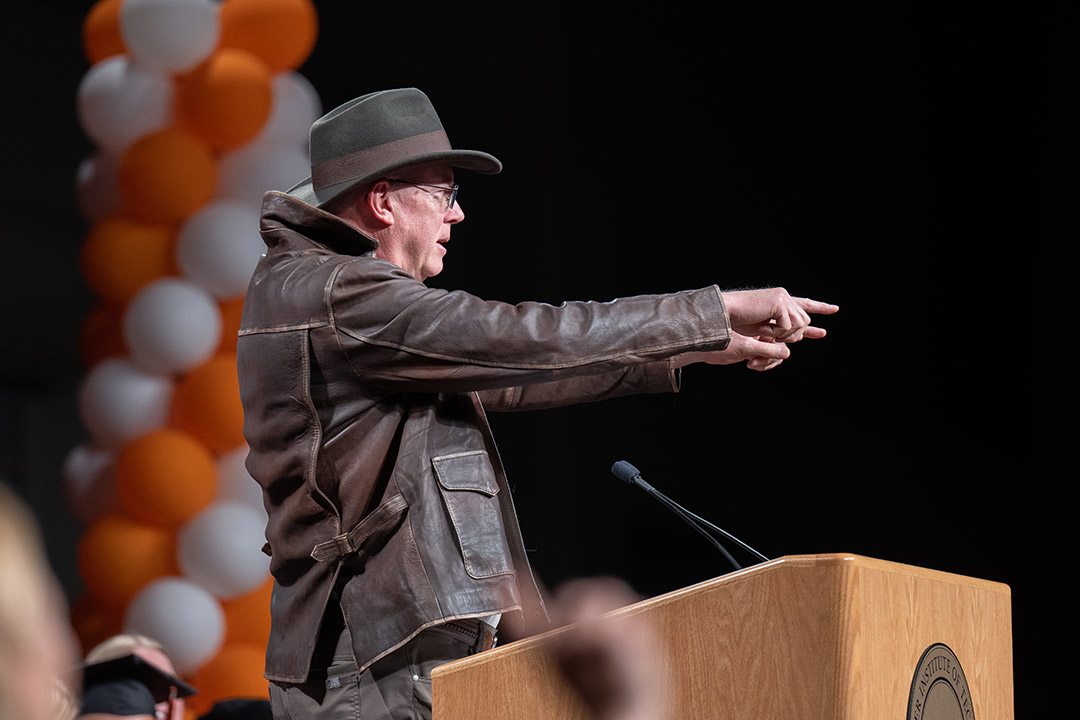 Carlos Ortiz/RIT
As Munson returned to the podium, his academic regalia was replaced by the brown leather jacket and fedora hat he wore in the video. Watch Munson in "Raiders of the Golden Brick" on RIT's YouTube channel.
After the ceremony, RIT's new student orientation continued.
"I want to experience a lot of cultures and meet different people," said Jiwoo Lim, an engineering technology exploration international student from South Korea. "That is one of the reasons I came to RIT."
"My orientation group has been a lot of fun and the RIT community seems very supportive," said Ayele Moore, a computing and information technologies major who is from a military family. "I want to push myself out of my comfort zone in college, but I'm going to make sure I get my bearings in classes first, before join a club and try something new."