Professor explores teaching Nabokov's 'Lolita' in the #MeToo era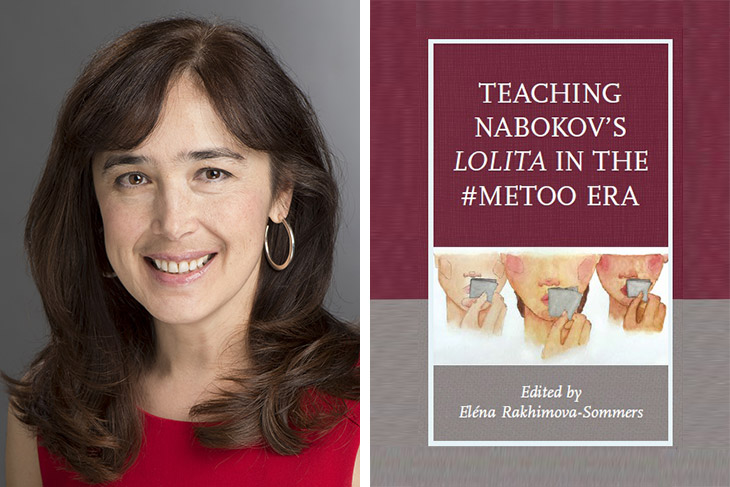 Elena Rakhimova-Sommers, principal lecturer in RIT's Department of English, has taught Vladimir Nabokov's controversial novel, Lolita, in her Dangerous Texts course for many years. As the #MeToo movement gained strength and global attention in 2018, however, the novel became particularly relevant.  
According to Rakhimova-Sommers, the #MeToo movement created new avenues to interact with, intervene in, and interfere with the novel. Lolita is a fictional story of a 12-year-old girl who is abducted and repeatedly sexually molested by her stepfather, a middle-aged literature professor and the book's narrator. Rakhimova-Sommers adds that the novel is written "as a diary of a redemption seeking, highly eloquent, but unreliable narrator who requests that his story is not published as long as both he and his victim are alive."
Though controversial, the book is considered a classic. It is a constant on the 100 Best Novels list and has been adapted into films and for the stage many times since it was first published in 1955.
"As my classes have studied Nabokov's 'tale of non-consent,' the much overdue tsunami of #MeToo cleared the way for a national conversation about the dynamics of victim silencing and career derailing," said Rakhimova-Sommers. She says that it felt timely to be studying Lolita. "The novel contains 112,473 words. Lolita utters just 2,121. My students lifted up her voice, placed the narrator's narcissistic rhetoric under the microscope, and designed alternate book covers that visualized Lolita's isolation, confusion, and pain."
Rakhimova-Sommers' new edited volume, Teaching Nabokov's Lolita in the #MeToo Era, explores the "Why?" and "How to?" of teaching the novel. Together with other Nabokov specialists, she says, she wanted to create a multi-voiced, student-focused volume, a place to share insights and best practices.
In her study, she demonstrates how her classes journeyed through the Lolita experience, provides examples of innovative assignments, and showcases the work of her students. Students, including Elizabeth Witten, Abby Bratton, and Joe Armstrong, are quoted at length. 
"Lolita has been designed in an extremely adaptable fashion, and, as the readers' environments change, the societal role that the novel plays changes as well," said Witten, a fourth-year computer science Honors student from York Haven, Pa. "Like Frankenstein's monster, Lolita is no longer beholden to its creator. This can be seen in issues such as child abuse and sexual assault that are coming further into the forefront of social consciousness. Despite them not being a public concern at the novel's conception, Lolita is still able to comment on those issues in a way that is relevant to modern readers."
Rakhimova-Sommers' students assess Lolita as a groundbreaking textbook on the nature of predatory rhetoric and the methods of its dismantling. They credit Nabokov for a pioneering study of power and perspective and recommend it as a useful teaching tool.
Rakhimova-Sommers adds, "Our students, the new critical readers, seek to carve out new roles for themselves to creatively engage with the text in the production of meaning, and I'm here to help them do just that."
Teaching Nabokov's Lolita in the #MeToo Era is available at bookstores and the RIT library.
Topics