RIT names LaVerne McQuiller Williams associate provost for Faculty Affairs
College of Liberal Arts interim dean assumes new role Sept. 1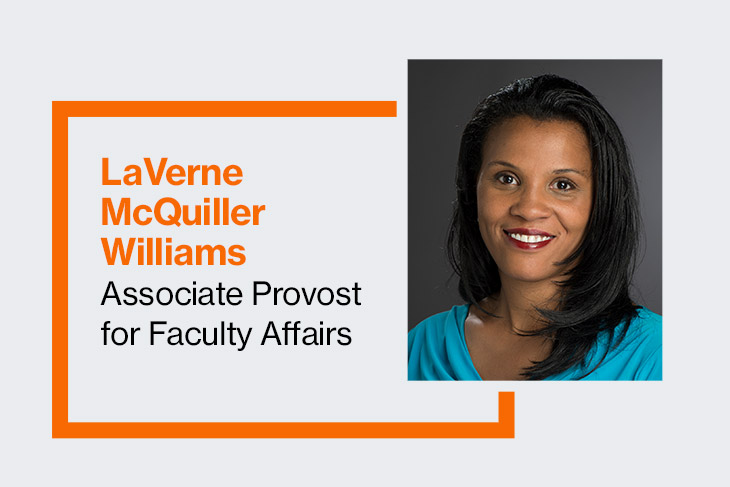 LaVerne McQuiller Williams, professor and current interim dean of Rochester Institute of Technology's College of Liberal Arts, has been named associate provost for Faculty Affairs at the university, effective Sept. 1.
In this role, McQuiller Williams will oversee the Office of Faculty Affairs, within the Office of the Provost and Senior Vice President for Academic Affairs. She will focus on faculty development, recruitment, and retention, as well as advocate for and advance the work of university faculty. McQuiller Williams will also retain her tenure as a professor in the criminal justice department in RIT's College of Liberal Arts.
"I am thrilled that LaVerne has accepted this role, and I look forward to her continuing to support our faculty and forge new paths in regards to recruiting top faculty to join our distinguished RIT family," said Ellen Granberg, RIT's provost and senior vice president for Academic Affairs. "LaVerne is an accomplished academic leader who has risen through the ranks at RIT and will continue to serve the university well."
"I am so pleased to be able to accept this position as associate provost and work with our amazingly talented faculty in this way," said McQuiller Williams. "When I started as a faculty member at RIT more than 25 years ago, it was so important to feel supported by the administration and other faculty members. That hasn't changed, and I'm looking forward to being able to advocate for our faculty. It is also crucial for the success of our university to welcome cutting-edge researchers and professors to our ranks. This is an area that I'm happy to continue to develop."
McQuiller Williams started at RIT in 1996 as a visiting assistant professor and field experience director in the Department of Criminal Justice. She was awarded tenure in the College of Liberal Arts in 2004, was promoted to full professor in 2015, and is a recipient of RIT's Eisenhart Award for Outstanding Teaching.
As an accomplished teacher and scholar, McQuiller Williams has authored or co-authored more than 30 publications and has received more than $1 million in external funding to conduct research. She holds a bachelor's degree in criminal justice from RIT, a master's degree in criminal justice from Buffalo State College, a doctorate law degree from Albany Law School, and a Ph.D. in sociology from State University of New York at Buffalo.
McQuiller Williams has held numerous leadership positions, including graduate director and chair of the Department of Criminal Justice, acting director of the University Writing Program, and senior associate dean in the College of Liberal Arts. She served as interim dean of the College of Liberal Arts from June 2020 to Aug. 31, 2021.
McQuiller Williams succeeds Carmala Garzione, who left RIT earlier this year.
Topics