Spooky Storytelling event open to high school junior and senior women and non-binary students
Event made possibly by a grant from the Cornelia T. Bailey Foundation through the New ERA Women Writers Grant Program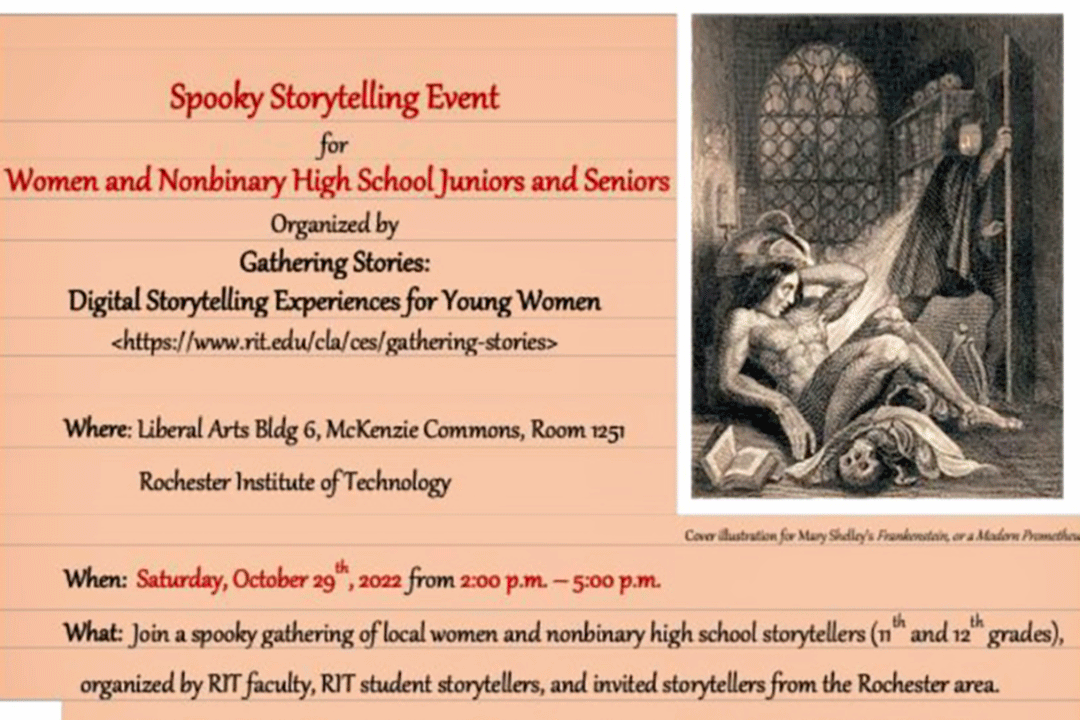 Thanks to a grant from the Cornelia T. Bailey Foundation through the New ERA Women Writers Grant Program, the Center for Engaged Storycraft at Rochester Institute of Technology is hosting a series of events throughout the school year – the latest being a Spooky Storytelling event Oct. 29 for 11th- and 12th-grade women and non-binary students from the Greater Rochester area.
According to organizers, the event will include haunting storytelling, a collaborative story game, food and refreshments, a raffle with prizes and more.
Information
What: Spooky Storytelling
Eligible participants: Eleventh- and 12th-grade women and non-binary students from the Greater Rochester area
When: 2 p.m. to 5 p.m. Oct. 29, 2022
Location: College of Liberal Arts (Building 6), McKenzie Commons, Room 1251
Registration: Email professor Laura Shackelford at lxsgla@rit.edu by Oct. 27, 2022
More information: Event flyer
English professor Laura Shackelford said the event aims to provide participants with the chance to listen to stories in a relaxed and informal setting, and meet other likeminded peers and faculty in disciplines such as creative writing, digital storytelling, English and photography. Shackelford added that the focus of the event is to enable young individuals to collectively develop multimedia, story skills, and their own voice by crafting and sharing stories.
"This event marks the launch of another year of storytelling activities that the Center for Engaged Storycraft has organized – all of which aim to support and build networks for women and non-binary storytellers locally, as they move from high school to college or to professional life," Shackelford said. "We expect participants to have fun; learn a bit about college life; see themselves as part of a larger network of storytellers, writers, creators and story lovers; and find some resources for continuing to build their interests and talents in these areas, and explore what storytelling has to offer them."
While attendance at this year's event is limited to high school women and non-binary students in their junior or senior years, the Center for Engaged Storycraft is planning more storytelling events available to other high school students of all genders, and ends in July with a summer workshop – Gathering Stories: Digital Storytelling Workshop for Young Women.
Workshop leaders will be part of the Spooky Storytelling event, as well as high school seniors and/or graduates who participated in the summer workshop that was first held last year.
Topics