RIT-Rochester Prep High School Partnership gives students a preview of college
Capstone program pairs high school seniors with RIT faculty mentors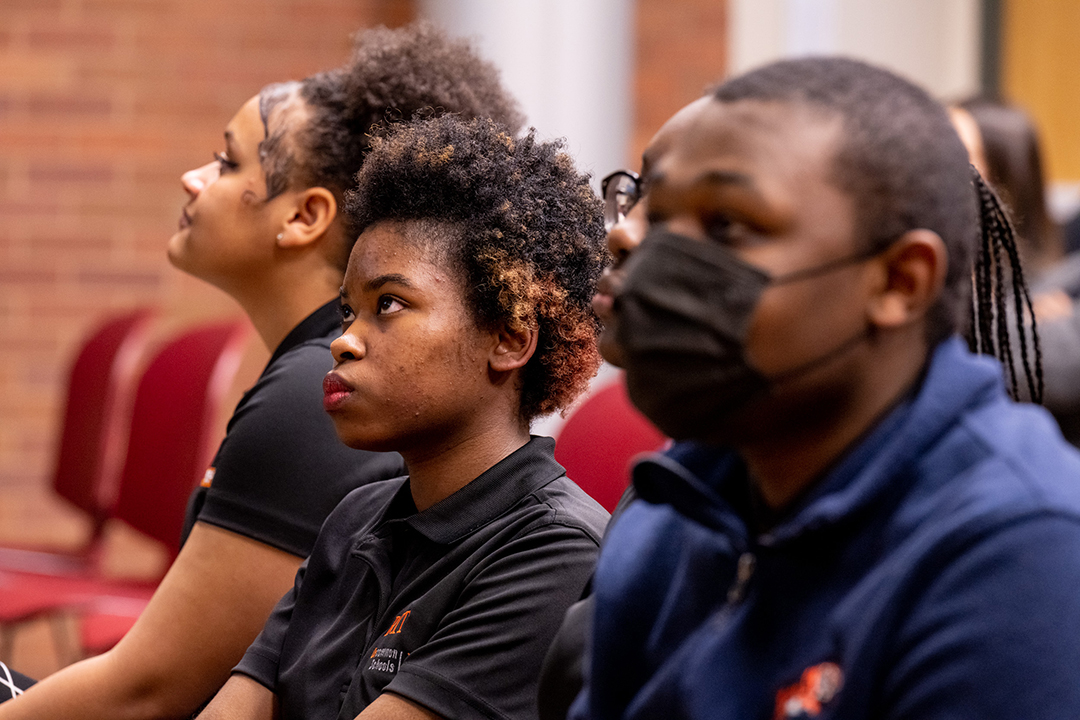 Plastic pollutants, the coronavirus, antibiotic-resistant bacteria, the strength of nanowires, and why freshly cut grass smells the way it does—these are some of the topics students from Rochester Prep High School explored during a mentorship program with RIT faculty. They shared their projects and new perspectives during the RIT-Rochester Prep Capstone Showcase held Feb. 6 at RIT.
Now in its fifth year, the capstone program is a signature learning experience of the RIT-Rochester Prep High School partnership. The collaboration is designed to expose students to the college experience, said Kraig Farrell, director of Kids on Campus in RIT's K-12 University Center.
"The capstone program paves the way for the important transition from high school to college," Farrell said. "Students are working alongside RIT faculty in STEM (science, technology, engineering, and mathematics) fields, gaining real-world experience. It gives them the confidence, enthusiasm, and a sense of being ready for college and the challenges they face."
From late August through January, the 15 high school seniors in this year's capstone program spent four to five hours a week in RIT labs and classrooms working on projects under the supervision of their faculty mentors and teaching assistants.
Student teams learned to analyze heat pumps with Eric Hittinger, associate professor of public policy; simulate the properties of nanowires with Obioma Uche, assistant professor of chemical engineering; and isolate and identify bacteria with antibiotic properties with André Hudson, interim dean of the College of Science, and Renata Rezende Miranda, post-doctoral researcher in Hudson's lab.
A fourth group of students were mentored by Lea Michel, associate professor in the School of Chemistry and Materials Science, and other RIT faculty and staff in the Women in Science (WISe) program. This capstone experience sampled different research subjects each week in imaging science, mechanical engineering, mathematical science, chemistry and materials science, life sciences, physics and astronomy.
Working with the Women in Science (WISe) faculty mentors, high school senior Kristal Jenkins learned about the coronavirus and the difference between viruses and bacteria. For Jenkins, the experience confirmed the importance of her chosen communications field and the responsibility of disseminating clear and accurate information to people. She found learning about different scientific topics "interesting and inspiring" and was curious how the professors interacted with students.
Chaunte Russell was on the same team as Jenkins and knew professor Michel from participating in an RIT-Rochester Prep mentorship program in her junior year. Russell, who has applied to RIT, studied the science of plants and learned that a chemical produces the smell she dislikes when grass is cut. Russell also discovered a personal interest in plants.
When asked to name their favorite place on campus, several students talked about the labs full of instruments and tools they were allowed to use. For Russell, the bustling corridors beyond the classrooms held special meaning.
"The busy hallways made me feel immersed in the experience," she said.
About the RIT-RPHS Partnership
Rochester Prep High School, a public charter school managed by the Uncommon Schools charter network, opened its doors in fall 2014. The RIT-RPHS partnership, funded by RIT trustee Ronald L. Zarrella in 2013, contributes to the high school's mission of preparing students for college success by providing on-campus experiences to the students from ninth through 12 grades. Kit Mayberry, former RIT Senior Advisor for Diversity Outreach, Enrollment, and Retention, defined the university's side of the collaboration until her retirement last year. Now, the RIT-Rochester Prep Partnership is in a new phase under the leadership of Donna Burnette, executive director of the K-12 University Center in RIT's Division of Academic Affairs.
Topics