Ignite: NTID Dance Performance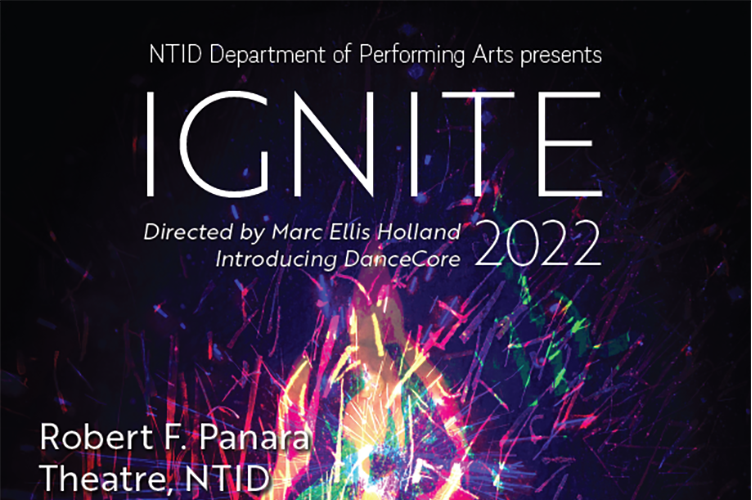 Ignite: NTID Dance Performance
directed by Marc Holland
Ignite, presented by NTID Department of Performing Arts, features the newly formed RIT DanceCore, an ensemble of talented student dancers with choreography by DanceCore director, Marc Ellis Holland and RIT director of dance, Thomas Warfield. More than exploring different ways to make a shape or learning a series of steps to music, this dance performance presents ways of moving that use the body as an instrument of expression and communication. The performance will also include collaborations with live music, theatre students and projection design. ​​
Please note: This performance contains adult language and themes such as sexual assault, and is not recommended for audiences under 13 years of age, or who have difficulty with those topics.
COVID-19 SAFETY PROTOCOLS
We are excited to welcome you back to Panara Theatre for live performances! The safety and well-being of our students, faculty, staff, and patrons is our top priority. We appreciate your willingness to join us in keeping our community safe from COVID-19.
Our top goal is to provide you with a safe theatre-going experience. Based on current federal health and safety recommendations, and following the practices of other local and state-wide theaters, RIT & NTID Performing Arts are now requiring all patrons to show proof of full vaccination upon entry to performances. No exceptions allowed. Regardless of vaccination status, all patrons must also wear a mask while inside any RIT/NTID facility.
Acceptable proof of vaccination includes:
● Hard-copy CDC vaccination cards, including photos or copies, along with ID
● NYS Excelsior Pass
● Other government-issued immunization records that prove COVID-19 vaccination status
Currently, Panara Theatre will be seating audiences at a reduced capacity of 50%. Upon entering the theatre space, audience members will be able to easily identify which seats are available and which are not. This physical distancing will create an additional layer of COVID-19 protection. Panara Theatre will be cleaned and disinfected after each performance.
If you are unable to be vaccinated or wear a mask, we ask that you do not plan on attending the live performances of Ignite, February 11-13.
Showtimes and Tickets
Tickets on sale from RITTickets.com, by visiting the Gene Polisseni Center Box Office from 10am-6pm Monday-Friday, or by calling 585-475-4121.