RIT Esports takes on RIT Public Safety in friendly 'Call of Duty' match Nov. 23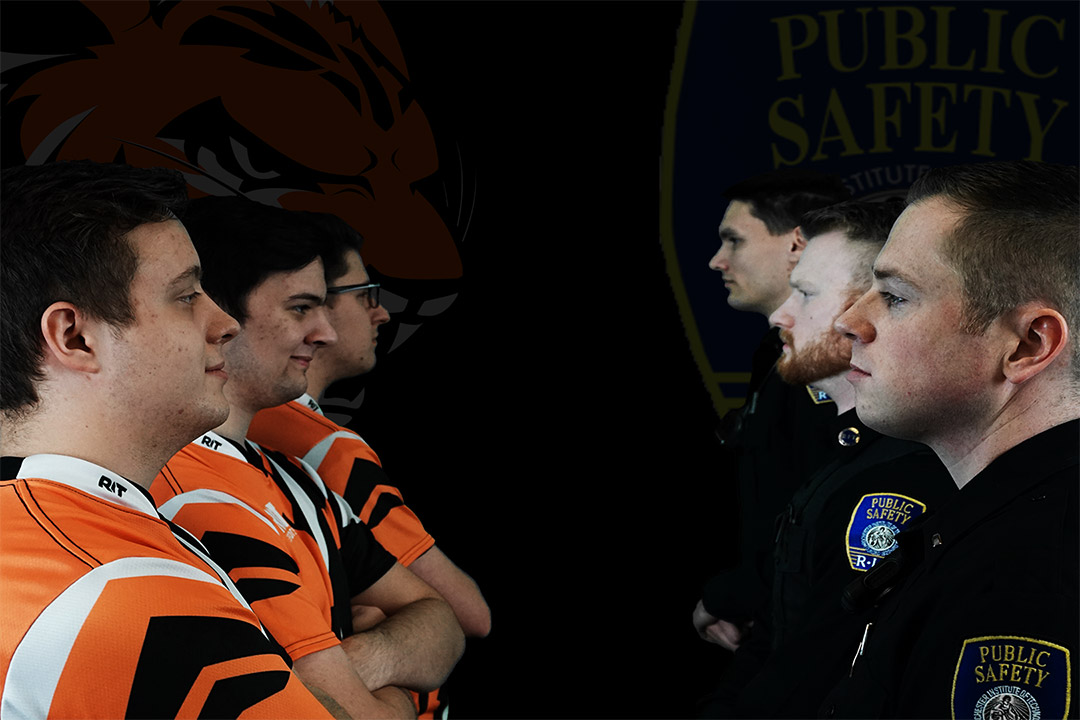 Members of RIT Esports and Public Safety are answering the "Call of Duty" to raise money for mental health awareness Nov. 23.
The RIT Esports Call of Duty team will compete against members of RIT Public Safety in a two vs. two tournament of the video game. The match will take place on stage with RIT student casters commenting on the gameplay. After the tournament, attendees can take part in an open play session with RIT Esports players and Public Safety.
Tickets to watch the tournament and take part in open play are $1, with the money going to support the office of Counseling and Psychological Services.
The event will take place from 7 to 9:30 p.m. Saturday, in MAGIC Spell Studios. The tournament is from 7 to 8 p.m. in Wegmans Theatre. The open play will start in MAGIC lab 2175 after the tournament, along with free refreshments in the lobby.
"This whole event is for bragging rights and to raise awareness for mental health on campus," said Ben Garvey, manager of the RIT Esports Call of Duty team and organizer of the event.
Garvey wanted to help his team become more community-focused and as a resident advisor on campus, he was inspired by the training he received in that program.
"Going through RA training it was mind-blowing to learn about how much is being done and needs to be done for mental health awareness and support on campus, so that's why we want to do the fundraising aspect," said Garvey, a third-year applied arts and sciences major in the School of Individualized Study, concentrating in entrepreneurship and game design, from Derby, N.Y.
The idea for the tournament started with a tweet. After the RIT Esports Call of Duty team released a recruitment video, RIT Public Safety reached out.
The tweet said, "@RITesports Someone sent me the link to the COD recruitment video on Reddit. If you ever need someone to show you how to play the game...always here."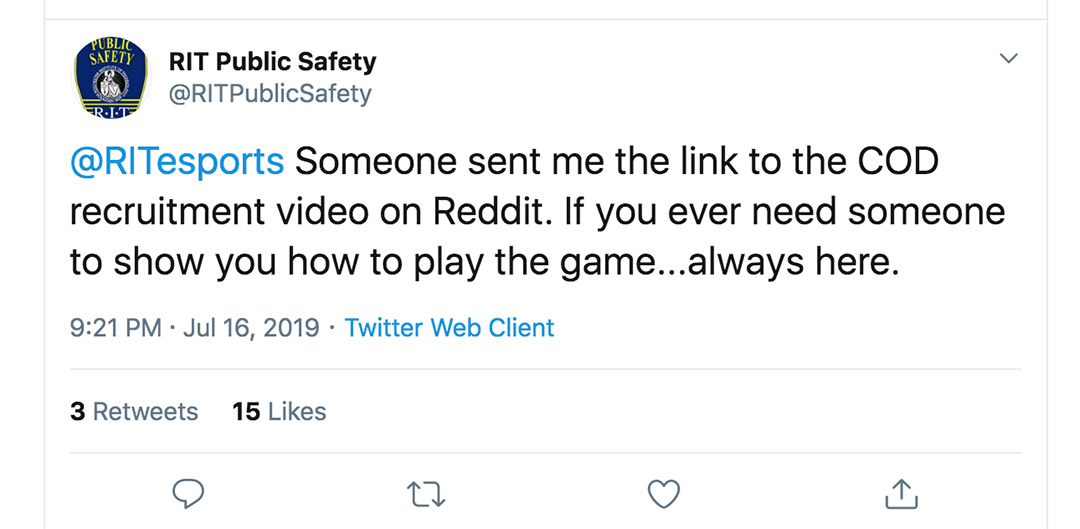 "When Ben approached me, I could see serious compassion regarding the event, what it stood for and what it meant to him and his team," said RIT Public Safety Lt. Jake Griffin. "In one day, he had me and nine other officers convinced we need to buy this game, practice and do the event."
"I've been asked to do physical challenges, mental challenges and all sorts of things for the RIT community, but not once have I been asked to play Call of Duty. Whatever helps the community and its members out, I (and Public Safety) will be there."
To register for the event, go to the RIT COD vs. Public Safety Facebook event page. Tickets will be sold at the door, with the first 100 tickets free, matched courtesy of the RIT Simone Center for Innovation and Entrepreneurship. The tournament gameplay will be live-streamed through the RIT Esports Twitch Channel.