RIT Faculty Fellows share their playbook for effective teaching
New program focuses on faculty development through peer mentoring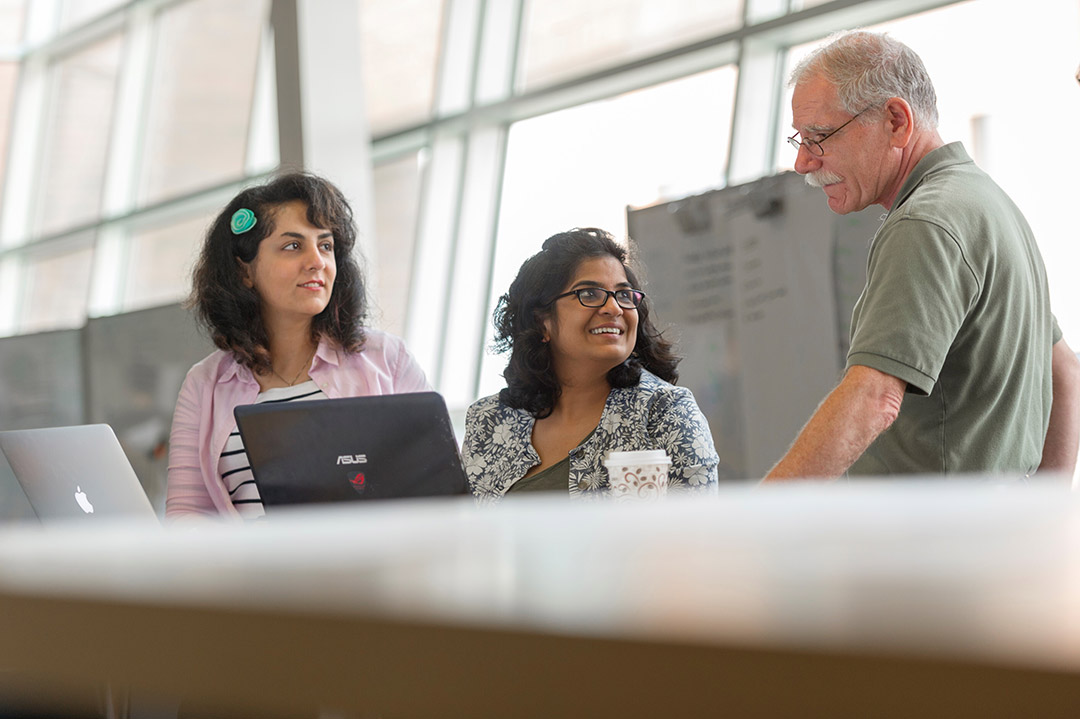 RIT faculty are a resource not just for students, but for their colleagues as well. Now, a fellowship program will share their expertise through peer mentorship, training, and program development.
The Center for Teaching and Learning Faculty Fellows Program launched this fall with eight fellowships, including six "Discipline Fellows" and two "Fellows of Strategic Priorities—Diversity, Equity, and Inclusion; and Gateway Course Students Success."
"The plan behind the inaugural fellows is to tap the minds of these great teachers, educators, and researchers to identify what the needs of the faculty are, what the problems are that faculty are currently facing, and then to use their ideas to satisfy these needs," said Neil Hair, executive director, Center for Teaching and Learning, formerly known as the Innovative Learning Institute. Hair is an associate professor of marketing in Saunders College of Business and recipient of a 2012 Eisenhart Award for Outstanding Teaching and the 2006 Provost's Award for Excellence in Teaching.
The fellows will develop workshops, panel talks, and a series on teachers-on-teaching to share their effective teaching tactics, strategies for student engagement, and use of new technologies for classroom and online instruction, and for detecting high-tech cheating. The yearlong fellowship lies outside of the university's regular service requirements, and fellows will receive an $8,000 stipend for the academic year. The faculty can extend their fellowship into the following year.
Amanda Bao was awarded the first Fellowship in Engineering. She will host workshops and talks about implementing teaching technologies leveraged during the COVID pandemic as regular tools for enhancing student learning moving forward.
Bao, associate professor, civil engineering technology, environmental safety and management, will share her classroom ice-breaker activities and develop a student feedback system to help improve student engagement and effective learning practices. Her activities will also promote engineering education research and industry collaboration.
Bao, a 2021 recipient of the Eisenhart Award for Outstanding Teaching, is honored to serve as the inaugural faculty fellow in engineering. "It will contribute to my long-term academic career goal to be an outstanding teacher-scholar and to integrate education and research naturally," she said. "This leadership role will expand my network with teaching innovators and help to engage more education researchers to broaden teaching innovations across different disciplines."
Another element of the program seeks to broaden the use of classroom observation as a teaching tool. Bao and the other faculty fellows are willing to evaluate their colleagues' classroom teaching style and share insights and recommendations. They also invite faculty to their own classrooms to assess how they conduct their classes.
"This is new to RIT," Hair said. "We are developing a university-wide classroom observation program. Faculty can produce a better experience for their students by getting fellows to come in and see how they are performing and what they do, and then go and see what these teachers do differently in their classroom beyond specific disciplines or colleges."
For questions about the Faculty Fellows program, contact fellows@rit.edu.
2022-2023 RIT Center for Teaching and Learning Faculty Fellows
Fellow in Business: Raj Murthy, associate professor, Department of MIS, Marketing, and Analytics, Saunders College of Business;
Fellow in Computing Technology: Garret Arcoraci, senior lecturer, School of Information, Golisano College of Computing and Information Sciences;
Fellow in Engineering: Amanda Bao, associate professor, Department of Civil Engineering Technology, Environmental Management and Safety, College of Engineering Technology;
Fellow in Humanities/Social Sciences: Keri Barone, principal lecturer, School of Communication, College of Liberal Arts;
Fellow in Science/Health Sciences: Michelle Chabot, senior lecturer, School of Physics and Astronomy, College of Science;
Fellow in the Arts: Alex Lobos, professor, industrial design, College of Art and Design;
Strategic Priority Fellow in Diversity, Equity, and Inclusion: Torrence Sparkman, associate professor, Department of Management, Saunders College of Business; and
Strategic Priority Fellow for Gateway Course Student Success: Phil Shaw, senior lecturer, University Writing Program, Academic Affairs and College of Liberal Arts.
Topics