Amanda Bao: Building bridges as an engineer and a teacher
College of Engineering Technology professor honored as an Eisenhart Awardee for Outstanding Teaching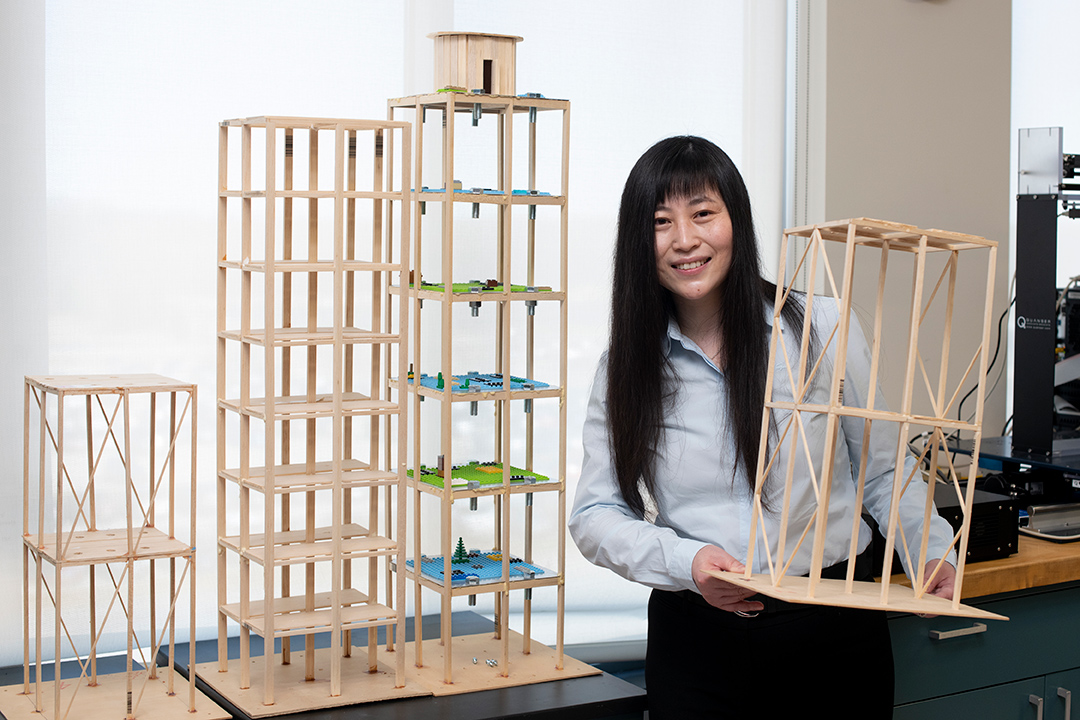 Students in Amanda Bao's dynamics lab watch intently as their model skyscrapers are shaken, rattled, and rolled on a test platform. Some stand tall, others collapse.
The test—understanding earthquake engineering—is just one part of her strategy to introduce learning activities that are both fun and relevant into demanding civil engineering technology classes.
Building and bridge failures can be devastating, but Bao is helping to prevent them. She is an expert in addressing the challenges of aging infrastructure in the United States, and she is producing the next generation of engineers to help solve those challenges.
"My teaching goals are about inspiring students to learn, helping them master the learning materials, preparing them to succeed in future careers, and making the classroom inclusive and accessible to all students," said Bao, an associate professor in RIT's College of Engineering Technology.
That philosophy is what set Bao apart this year, and she is being honored with a 2021 Eisenhart Award for Outstanding Teaching. She brings extensive experience in building bridges and strong connections to students.
Several years ago, she observed a student in one of her earliest classes recording lectures with an old-fashioned tape recorder.
"When I asked why, he said he needed more time to digest the material after the class. I thought, other students might have this need too, and I can do something for them," Bao explained. "For this generation of students, I tried to understand their learning style. Students today are used to technology, and as professors we need to adapt our teaching style from traditional lectures to incorporate some of this technology-based teaching."
Bao started supplementing her lectures with multiple online resources. She began posting more detailed class notes and illustrated problem descriptions. Bao has also become a YouTube star with a series of videos about assessing the design loads of truss structures for bridges and frames for buildings.
"How you think, how you find the correct method to solve the problem, that is the most important thing. It is not just numbers and equations," said Bao. "Getting the correct answers is not our teaching goal, our goal is to teach them how to think, how to solve a problem."
Her use of technology and active learning activities has seen multiple benefits. Student grades improved year-over-year and the varied learning options allowed the Deaf students in her classes to learn at their own pace.
"Implementing different learning styles is critical to educate engineering students, and computer-assisted instruction provides opportunities for students to do something active besides transcribing notes."
Over the years, one of her more enjoyable activities is the annual class photo. Bao has filled her office walls with these photos of her students. She continues to hear from many to say that through her, they were prepared well for graduate studies and the workplace.
"I take the photos for memories," she said. "For the students, they see that the class is fun and that they are not just going to be sitting listening to lectures. I think this also helps them feel like this is a family."