James Perkins wins Eisenhart Award for Outstanding Teaching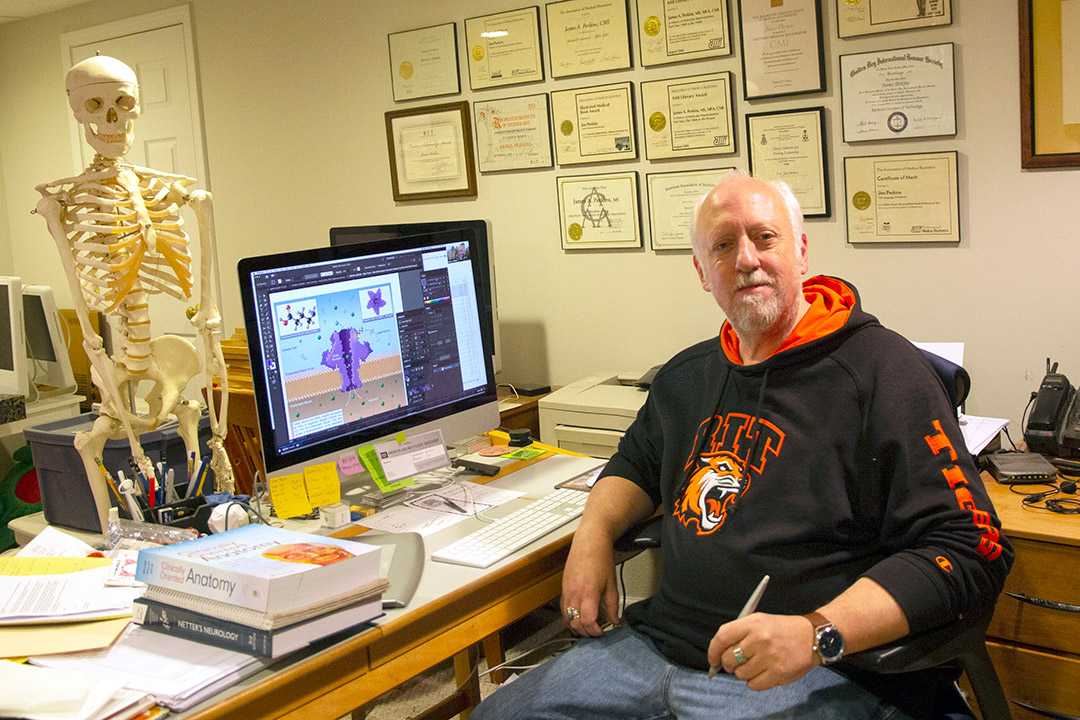 RIT Professor James Perkins '92 MFA (medical illustration) has won the trifecta of RIT honors—this year adding an Eisenhart Award for Outstanding Teaching and Distinguished Professor to his 2015-2016 Trustees Scholarship Award. 
Perkins is professor and director of graduate medical illustration at RIT and one of the leading scientific illustrators of his generation. His name appears on preeminent medical textbooks on pathology, physiology and anatomy used at medical schools around the world, standards such as Robbins and Kumar Basic Pathology, Guyton and Hall Textbook of Medical Physiology and the Netter Collection of Medical Illustrations, among others. For Perkins, teaching and scholarship intertwine.
"As a medical illustrator, I think of myself as a teacher who draws," Perkins said. "I teach through pictures. Even through my professional work, I am also a teacher. I have to understand a scientific concept, learn it myself first, and then figure out the best way to present that information to my particular audience."
Perkins' professional illustration work enriches his classroom. It helps keep his teaching fresh and gives him insight on media trends in his field.
Perkins entered the profession at a time when medical illustration straddled traditional, hand-drawn media and the advent of digital media tools, starting with Adobe Illustrator and Photoshop. Today, the field has evolved to high-end 3D animation, interactive media, mobile apps and requires students to be nimble.
"The media have changed a lot, but I feel that the really important part of being a medical illustrator hasn't changed at all," Perkins said. "And that is all about knowing who your audience is. Knowing who you are illustrating for. Knowing what they already know and what they need to know."
Since joining RIT in 1998, Perkins has graduated between 300 and 350 BFA and MFA students from the College of Art and Design and the College of Health Sciences and Technology, where the graduate program moved to in 2011. This is an impressive number for the specialized field of medical illustration of which only five programs exist in the United States and Canada.
Perkins helps his students find their way in the profession and remains in contact with many of them long after they leave. "They still come for advice, even 20 years after graduating," he said.
His students land jobs at studios that produce illustration and animation work for corporate clients, pharmaceutical and biotechnology companies, medical device companies, and for courtroom attorneys. Other alumni run illustration departments at medical centers like Roswell Park Cancer Center and work at top-tier publications. "Almost the entire illustration staff at Science magazine are former students of mine," Perkins said.
Perkins' students learn more than the art and science of medical illustration from Perkins. They absorb his work ethic. Perkins has never stopped pushing himself to advance as a professional medical illustrator and as a teacher. When the coronavirus pandemic interrupted the spring semester, Perkins found new ways to mentor his students. Instead of leading group critiques, for instance, he provided extensive written comments and suggestions to each of his students.
"I write notes right into the artwork," he said. "It is more time consuming but on the other hand the students have the hardcopy they can refer to."
Perkins also holds one-on-one Zoom sessions with students and helps them troubleshoot software issues or give aesthetic feedback as they work on projects.
The experience this semester has made him reflect on how he connects with his students and helps them build their medical illustration skills.
"I was afraid I wouldn't be able to give students the same level of feedback on their work, but I was mistaken," Perkins said. "It has changed my outlook on online teaching."