RIT Undergraduate Research Symposium features student-led technology, art, and design solutions
Keynote speaker, alumnus Andrew Sevigny, built a successful business bridging the technical and creative aspects of images for digital media production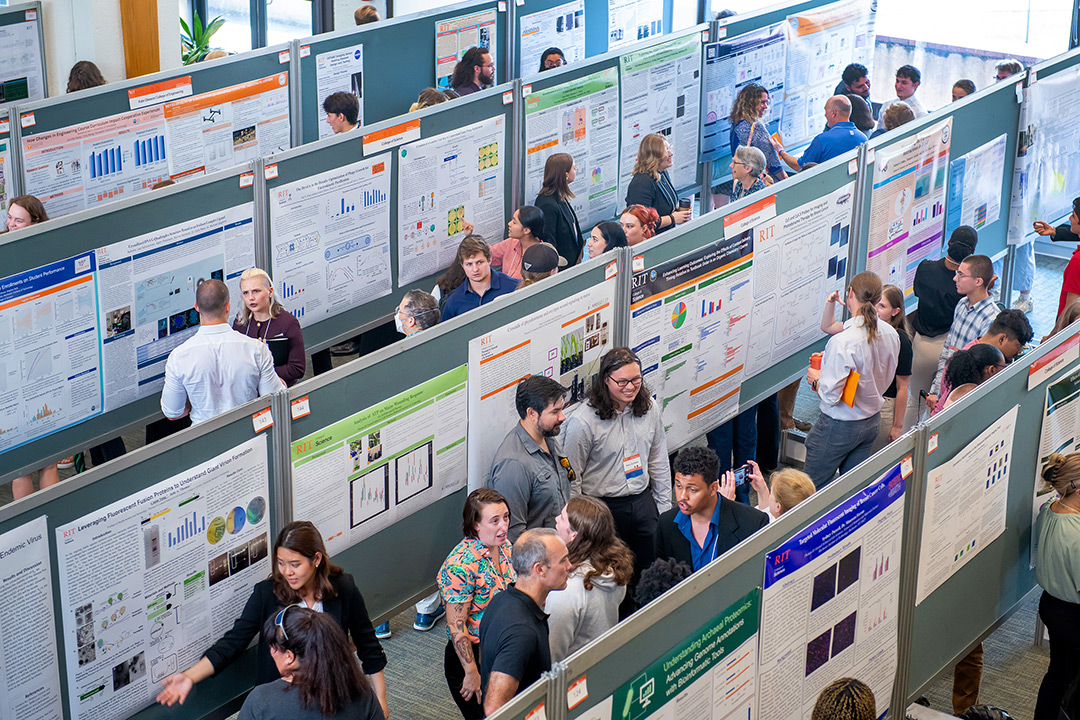 Celia Rickson looked to her hometown of San Francisco to develop an imaging solution to pinpoint vulnerable infrastructure. Lee Schoneman's exploration of DNA and its structures may contribute to demystifying the growth of cancerous cells.
Both students were part of RIT's 32nd annual Undergraduate Research Symposium on Aug. 3. More than 158 students presented research discoveries conducted over the past spring and summer. Poster sessions and oral presentations were on display throughout the day featuring students from all of RIT's colleges. Topics illustrated how students bridge technology and creativity in the areas of biochemistry, environmental issues, alternative materials, imaging solutions, and social and public policy, and more.
Bridging technology and creativity at RIT helped Andrew Sevigny '19 (motion picture science) launch a successful career. The symposium keynote speaker combined interests in film and video production with imaging and digital cinema technologies as an undergraduate.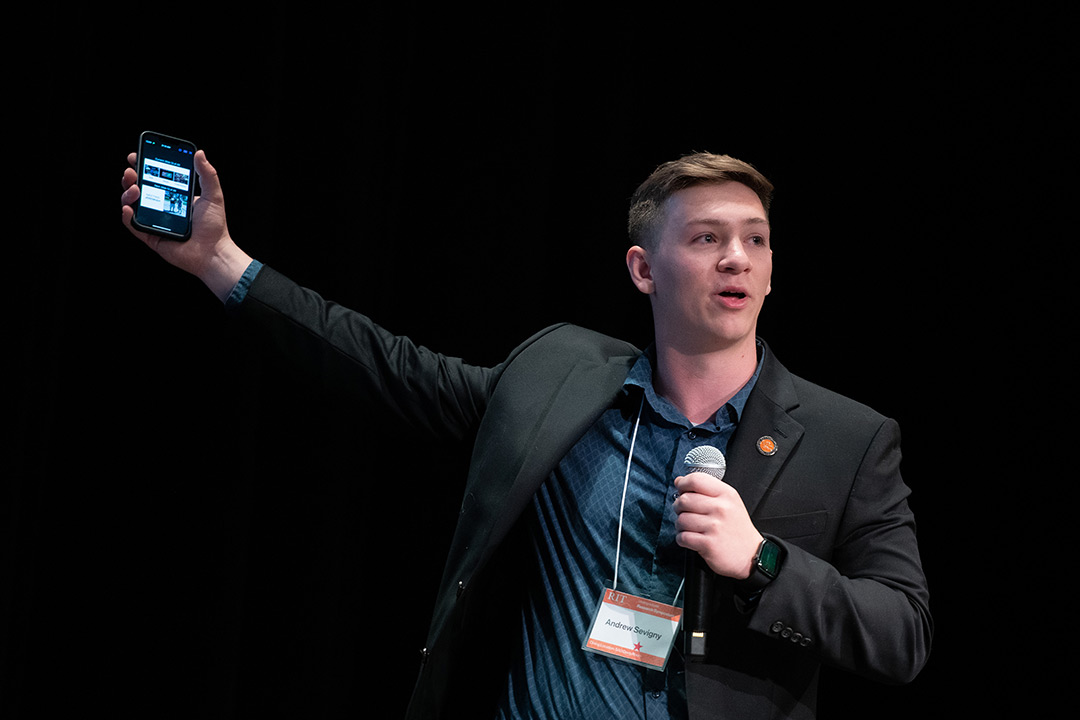 Carlos Ortiz
"I loved art, but also loved the tech side of performance. In college I wanted to bridge both of these," said Sevigny, who was able to combine these interests at RIT where he began undergraduate work in software engineering before transferring into the motion picture science program. "I learned both the scientific aspects of capturing images and the creative, but I wanted to go further."
He found those challenges through experiences with RIT's Tech Crew, SportsZone and at MAGIC Spell Studios, where work ranged from supporting theatrical and sporting events at the university to being involved in new media projects exploring new broadcast technology to working with marketing companies to produce commercials and other media assets.
After graduation, Sevigny and Jeremiah Gryczka '19 (applied arts and sciences) co-founded Mountain House Media that was housed early on at MAGIC, and has expanded to a new site in Penfield, N.Y. It is recognized as one of the area's top media production companies providing state-of-the art virtual productions with cinematic robotics and generative AI.
"Creating an immersive environment—it is that next level of wow," said Sevigny, who encouraged the students to challenge themselves, grow their ideas, and find creative ways to problem solve.
Rickson, a third-year applied mathematics major in RIT's College of Science sought to address a problem found in her home state of California by mapping complex systems through the project "Multilayer infrastructure networks and vulnerabilities in the San Francisco Bay area."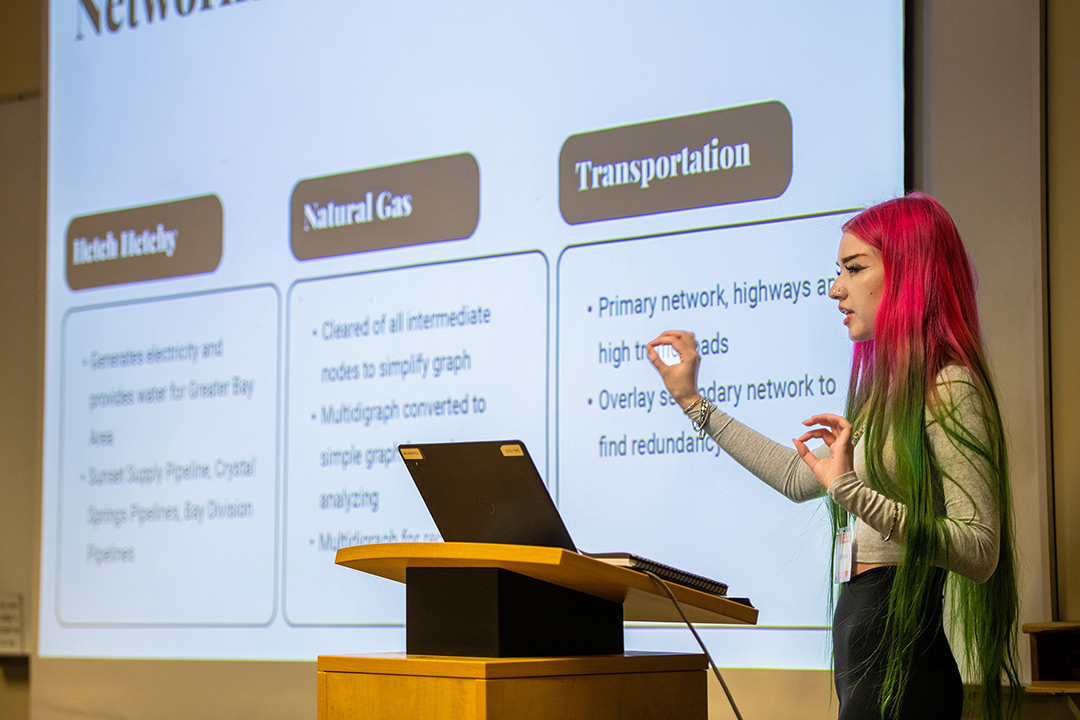 Carlos Ortiz
"How important is one node if it is removed and what is the impact on other areas if people need to evacuate?" she said.
By sharing significant infrastructure elements in a city, such as gas lines, public and private transportation avenues and water resources, and overlaying each with different seismic hazard zones, she was able to show vulnerabilities at intersecting nodes. Understanding where these critical infrastructure elements cross can help in resiliency and recovery solutions in the event of an earthquake in the Bay Area, or other natural disasters.  
Schoneman, a third-year biochemistry student in the College of Science, from Green Bay, Wis., looked at smaller, but equally intricate connections in her work with DNA. She described the G-Quadruplex containing stacks of bound guanines like different floors of the DNA strand and how understanding how to bind a complex structure onto DNA might provide new information about gene regulation and possible repair functions.
"I love the puzzle-solving aspect of this work," she said.
More information about the event can be found online with the list of participants, their colleges, topics, and faculty advisors.
Topics