From Color Science to Camera Perception Scientist at Meta
August 18, 2022
Anku Manderna '21 (color science)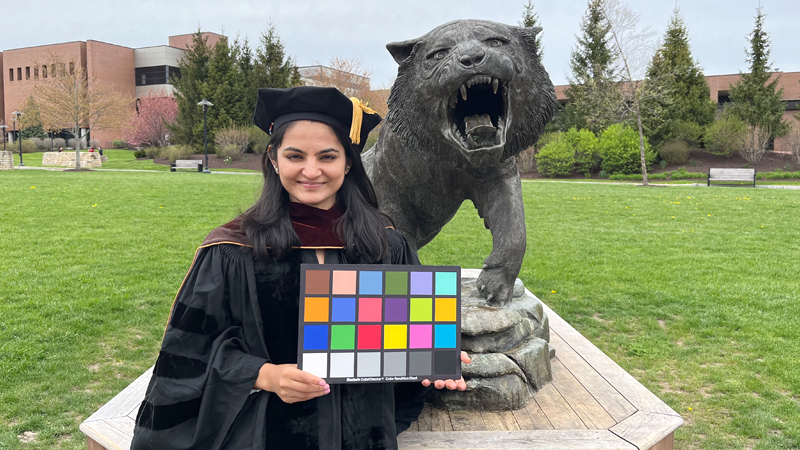 While working on her master's in India, Anku Manderna '21 took an elective course called "Color Imaging Processing." In that course, she read a few chapters of the "Color Appearance Model" by Dr. Mark Fairchild, Director of the Munsell Color Science Laboratory at RIT. She ended up applying to Ph.D. programs, including RIT's doctorate of color science. Today, Anku works at Meta as a camera perception scientist, where she researches, designs, and develops methodologies to tune the camera image processing pipeline for camera systems.
Anku applied to three universities and received all their offers. "RIT stood out because of its color science program, one of the world's most renowned and prestigious programs. It's well-known throughout the industry. The depth and breadth at which the classes are taught provide a wide scope of knowledge."
Anku's experience at RIT included multiple co-op opportunities. Anku said she considers herself lucky to have had multiple opportunities, including two separate summer internships at Apple. In addition to the internships, she also secured multiple full-time job offers from Apple and a startup company. Anku credits the help and support of the RIT faculty for her co-op success since they have strong connections with people in the industry.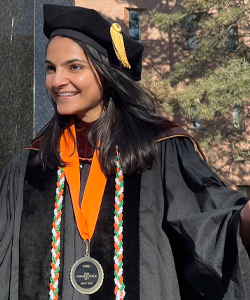 As a Ph.D. candidate in the color science program, she published "Preferred white balance for applications using virtual backgrounds" in the journal Color Research and Application with Dr. Susan Farnand, assistant professor in the color science program. The work evaluates an aesthetic color balance setting for images with a foreground model against a virtual background (like Zoom). An image that includes the Sentinel at RIT served as one of the virtual backgrounds. Anku was also part of the color science team, which presented at the Society for Imaging Science and Technology's 29th International Color and Imaging Conference.
Today, Anku enjoys her job at Meta as a research scientist/camera perception scientist, focusing on camera image quality. Every day Anku applies what she learned about colorimetry, human visual perception, how the camera image processing pipeline works, ISP blocks, and computational photography. In addition, Lnu regularly performs objective and subjective image quality evaluations and designs psychophysical experiments. To be successful in this role, Anku also needs strong communication skills and the ability to collaborate across functions.
"I love taking on new challenges every day while learning a lot!"
Anku recommends that students interested in this kind of job should consider taking a few core courses in color science. "In the modern technological world full of cameras and displays, it's essential and is highly recommended to take a few of the core courses in color science which provide detailed knowledge of the color science understanding."
---