From Science Exploration to Brown University Researcher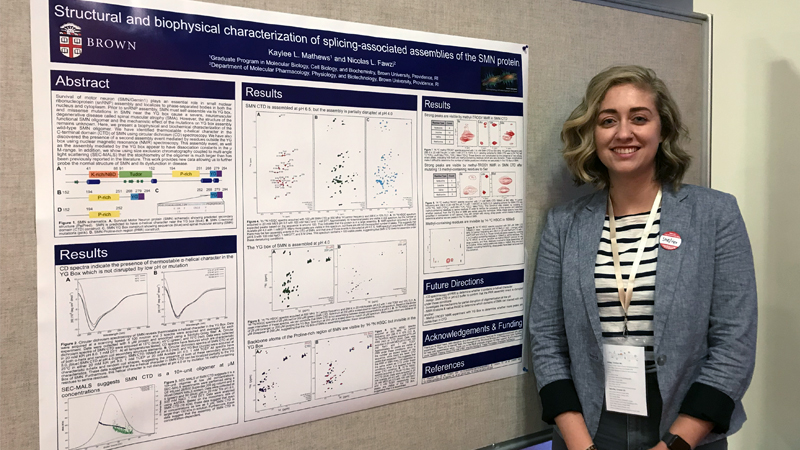 "Science isn't about what we know; it's about all the things we don't."
Before college, Kaylee Mathews thought of science as taking a prescribed set of materials, following instructions about what to do with those materials, and getting a prescribed outcome. After enrolling in the Science Exploration program at RIT, she discovered that science is much more about problem-solving and keeping an open mind. Kaylee chose the biochemistry program at the College of Science and recently earned her Ph.D. in Molecular Biology, Cell Biology, and Biochemistry from Brown University.
The Science Exploration program in the College of Science provides students with a workshop-like first-year course that explores a topic from different scientific angles. Addressing that topic through the College's diverse programs in life sciences, chemistry, math, physics, and imaging science gives students a broad understanding of modern-day challenges like climate change or concussions in sports. The program director, Dr. Jeff Mills, guides students through the course and helps them determine which major best fits their skills and interests.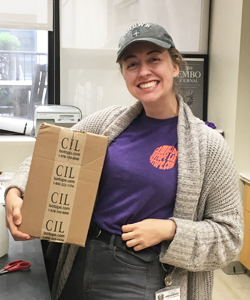 "The RIT faculty taught me so much, encouraged me endlessly, and were some of my biggest cheerleaders."
Kaylee credits Dr. Mills, and other faculty, for helping her find her love for academic research. She researched with Dr. Lea Vacca Michel, Dr. Jeff Mills, and Dr. George Thurston. Before this experience, Kaylee intended to go to medical school, but her plans changed. She fell in love with protein biochemistry, NMR, and, more generally, conducting research. She developed strong critical thinking and experimental design skills daily as a researcher and Ph.D. candidate at Brown University. In fact, Kaylee recalls a member of the Brown University interview team commenting that they love getting students from RIT because they are so well-trained.
At Brown, Kaylee studied disordered proteins that localize to membrane-less organelles and are implicated in neurodegenerative diseases like amyotrophic lateral sclerosis, frontotemporal dementia, and spinal muscular atrophy. In a typical week, she spent most of her time working on different experiments, from molecular biology and protein expression to more complicated biochemical and biophysical assays. The lab uses protein NMR spectroscopy as the primary tool to answer challenging biological questions, so her work was usually focused on getting a sample into the spectrometer. The rest of her time was spent analyzing data, writing, mentoring students, and contributing to committees at Brown.
"You have to have the ability to move on from a failed experiment and start thinking about the next one."
The exposure to many different disciplines in the RIT College of Science helped Kaylee learn more about conducting research. She found that to be successful in research, it's important to both persevere and be flexible. "The most exciting research is really hard," said Kaylee. Most researchers don't just stumble into a big discovery without dealing with several setbacks or putting in a lot of time and effort. You have to follow the path the data creates rather than the path you expect. Kaylee shares this wisdom with newer graduate and undergraduate students who she mentors at Brown.
For students interested in the Science Exploration program, Kaylee advises them to keep an open mind saying, "sometimes the things we love the most are the things we stumble into."
---