RIT gets $1M grant to develop food waste solutions
GIS Associate Professor Callie Babbitt to lead interdisciplinary research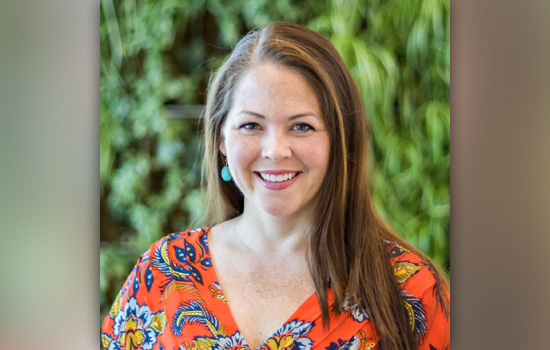 Callie Babbitt, an associate professor at Rochester Institute of Technology's Golisano Institute for Sustainability (GIS), has received a nearly $1 million award from the National Science Foundation (NSF) to research sustainable solutions for minimizing and managing the growing and complex challenges of food waste generated across the food supply chain.
The four-year project, titled "Managing Energy, Water, and Information Flows for Sustainability across the Advanced Food Ecosystem," will launch an interdisciplinary research collaboration with faculty from five RIT colleges. The research team will study how innovative technologies, waste management systems, and policies can reduce the volume and environmental impacts of food waste—while at the same time creating economic growth and maximizing efficient use of energy and water resources.
The stakes are huge. Faced with a growing world population and a shrinking pool of natural resources, the world today faces an unprecedented challenge to provide a resilient food supply—made even more complex by vast inefficiencies and resulting food waste generated across the food supply chain
"About 40 percent of food produced in the United States is never eaten," Babbitt said. "There are huge losses that become apparent when we look at the entire supply chain—from excess crops left in the field, wastes from food processing, imperfect or 'ugly' foods discarded by grocery stores and restaurants, not to mention food that is purchased but then spoils, goes past its expiration date, or isn't ultimately wanted by consumers."
"The social, economic and environmental impacts from food waste really add up," Babbitt added. "An average American household spends almost $2,000 every year on food that goes straight to a landfill. We're missing opportunities to feed hungry families, wasting the vast water and energy resources that went into producing the food, and creating new environmental impacts, like greenhouse gas emissions from food waste disposal."
Babbitt noted that technologies exist to convert food waste to biofuels or value-added products, but are not yet optimized to handle large volumes of complex food waste streams. This NSF grant will enable RIT researchers to make technological advances in food waste-to-energy conversion systems that are more efficient, cost-effective, environmentally friendly, and scalable for a wide range of food waste streams.
"We know that processes such as anaerobic digestion can convert certain waste streams into bio-methane, which can replace fossil fuel-based natural gas," Babbitt explained. "But if you want to scale this process up to treat huge volumes of food waste from restaurants, farms and factories, then major technical, economic and environmental improvements are needed."
This project is one of only 17 research awards made as part of NSF's new program on Innovations at the Nexus of Food, Energy and Water Systems, or INFEWS. This initiative was created to catalyze interdisciplinary research that will transform scientific understanding about interconnections between food production and energy and water resources and lead to solutions for the grand challenges facing the world in the new millennium.
"Food waste is such an immense and complex challenge that effective solutions will only come from merging the best ideas and insights from many different disciplines," Babbitt said. "We plan to use ideas and innovations from engineering, policy, ecology, decision science, geospatial optimization and education."
Babbitt added that potential solutions would be evaluated using "nexus thinking," a new approach to evaluate tradeoffs that may occur between food, energy and water systems, including waste minimization, net energy consumption, greenhouse gas emissions, pollutant releases to freshwater ecosystems, policy compliance and economic costs.
The project will leverage well-established industrial and community partnerships, working with Wegmans Food Markets Inc. and Synergy Biogas to collect data about the volume and composition of food waste streams in the upstate New York region. The planned scientific advances are also expected to spur new industries and jobs in New York, according to Babbitt, as the team plans to share findings with stakeholders and decision-makers in the food supply chain, waste management and policy sectors.
The project also will create new educational programs, with efforts aimed at engaging underrepresented groups—including deaf and hard-of-hearing students at RIT and the National Technical Institute for the Deaf (NTID) as well as high school students in the Rochester City School District. Babbitt is currently teaching a pilot course on sustainable food systems for RIT graduate students and plans to integrate future research findings into this educational model.
Babbitt will collaborate on research with GIS colleagues Thomas Trabold and Gabrielle Gaustad, along with Eric Hittinger in RIT's College of Liberal Arts; Brian Tomaszewski from the B. Thomas Golisano College of Computing and Information Sciences; Christy Tyler in the College of Science's Gosnell School of Life Sciences; and Todd Pagano in NTID's Department of Science and Mathematics.
Topics