RIT's Nasr releases U.N. report on circular economies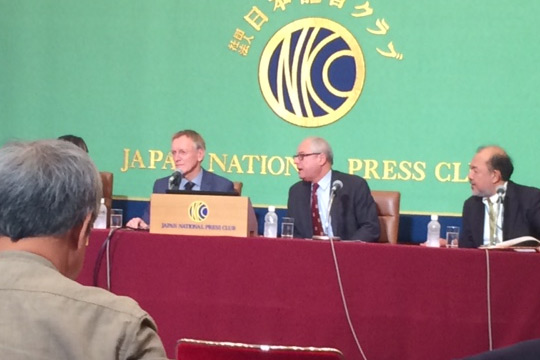 Rethinking how industrial products are manufactured and dealing with them at the end of their useful life could provide breakthrough environmental, social and economic benefits, according to new research from the International Resource Panel (IRP).
The report is co-authored by Nabil Nasr, associate provost and director of RIT's Golisano Institute for Sustainability (GIS), and Jennifer Russell, a former Ph.D. student in sustainability of Nasr's at GIS.
The United Nations Environment Programme panel is widely considered the most authoritative scientific forum for scientists and experts working in the area of natural resource management worldwide. Nasr is one of only three U.S. members.
"This report is the first of its kind," Nasr said. "We looked at multiple scenarios, from different countries, and we truly hope that it will shed important light on some of the potential impact of the circular economy and assist in decision-making priorities."
According to Nasr's research:
Value-retention practices such as remanufacturing, refurbishment, repair and direct reuse could cut industrial waste by between 80 and 99 percent in some sectors.
Greenhouse gas emissions could fall by 79 to 99 percent across these sectors if value-retention practices were adopted.
Embracing a circular economy can lead to new jobs and markets.
The report titled "Re-defining Value–The Manufacturing Revolution. Remanufacturing, Refurbishment, Repair and Direct Reuse in the Circular Economy" was released Oct. 23 at the World Circular Economy Forum in Yokohama, Japan.
The report examines industry sectors such as automotive parts, heavy-duty offload machinery and industrial printing equipment. But there is significant potential beyond these sectors for further reductions, the report contends.
Today, two-thirds of the world's population lives in cities, draining nature of materials to build homes, schools, hospitals, roads, transport systems and factories. Urbanization—together with a growing middle-class—has increased demand for consumer goods. In the 20th century, the world excavated, chopped down, drilled for or harvested 34 times more construction materials, 27 times more ore and minerals, 12 times more fossil fuels and 3.6 times more biomass than in previous years.
"We are using the planet's resources at a faster rate than they can be replenished, while polluting our seas, air and countryside with the waste from our consumption habits," Erik Solheim, head of UN Environment, said. "This report shows us how we can maintain economic growth while preserving our environment by changing our habits at an industrial level."
According to the report, adopting value-retention processes is a win-win situation for governments, industry and customers. Governments would have less waste to dispose, generate green jobs and stimulate economic growth; industry could lower production cost, avoid resource constraints on business growth, and open new market segments; and customers could benefit from lower prices for refurbished products.
Currently, remanufacturing accounts for only 2 percent of production in the United States, and 1.9 percent in Europe, leaving ample opportunity to develop these markets.
While there is no one-size-fits-all approach, the report states, where pursued strategically and systematically, adoption of value-retention processes can accelerate a country's move to a circular economy, increasing production without increasing the negative environmental impacts.
The circular economy refers to an industrial economy that is restorative by intention and eliminates waste through thoughtful design. 
"While there are various perspectives, from the economic, environmental, resources and  sustainability, this report sheds light on some of the different ways to achieve a circular economy," Nasr added. "We hope this report will be helpful and raise awareness with policymakers and consumers to understand the potential impact of the circular economy through the scenarios we have researched."