RIT hosts glass 3D printer for research, multidisciplinary exploration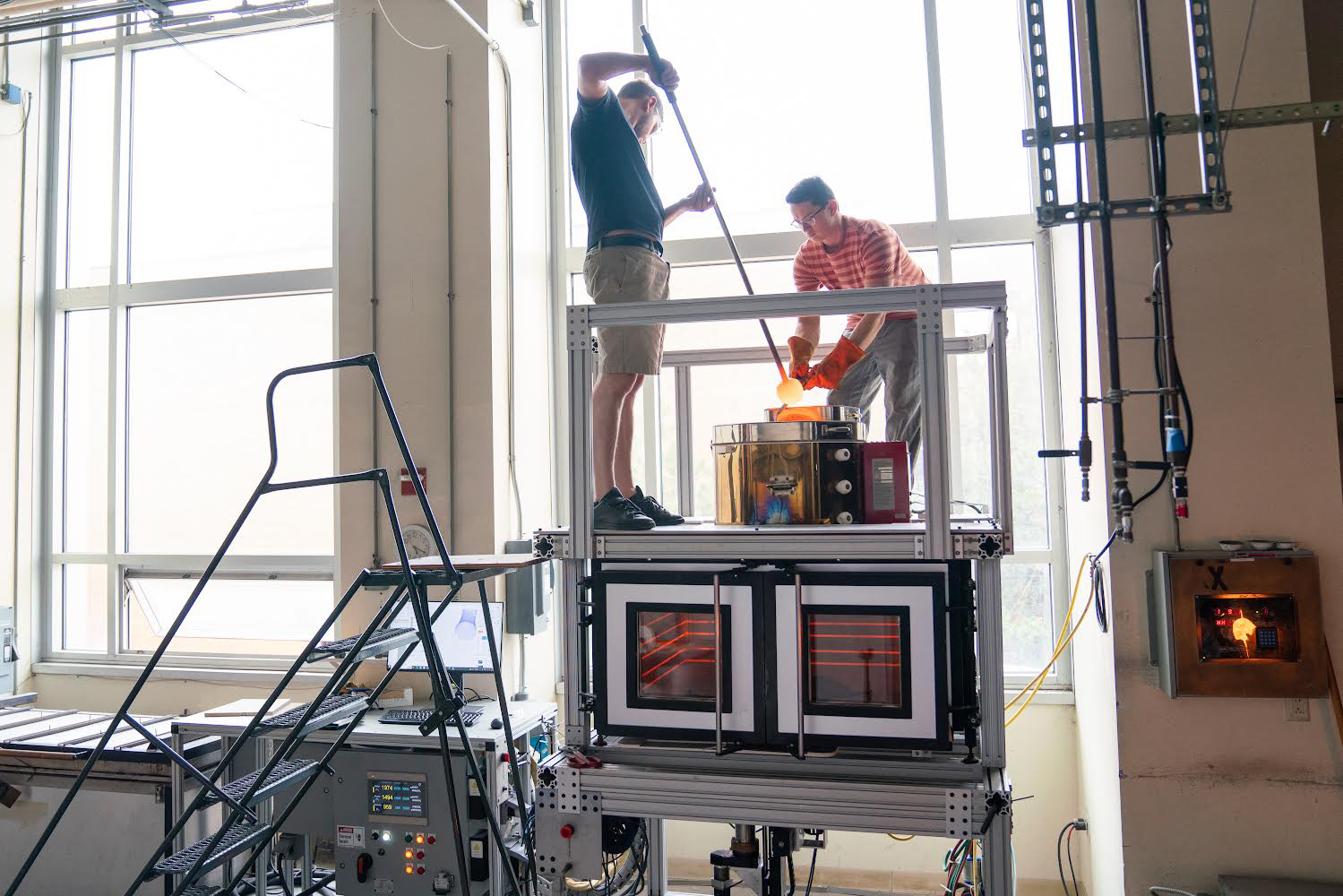 Parked in the RIT glass hot shop, a first-of-its-kind device carries out a process sitting at the intersection of material, machine and maker.
The technological marvel is the world's first molten glass 3D printer, which is spending time on the RIT campus for research and multidisciplinary exploration.
Michael Stern is the founder of Evenline, an art, design and technology studio that owns the printer.
"I continued to have this vision of bringing scientists, engineers and artists all together to work on problems," said Stern, a mechanical engineer and glassblower part of the MIT team that first created the printer.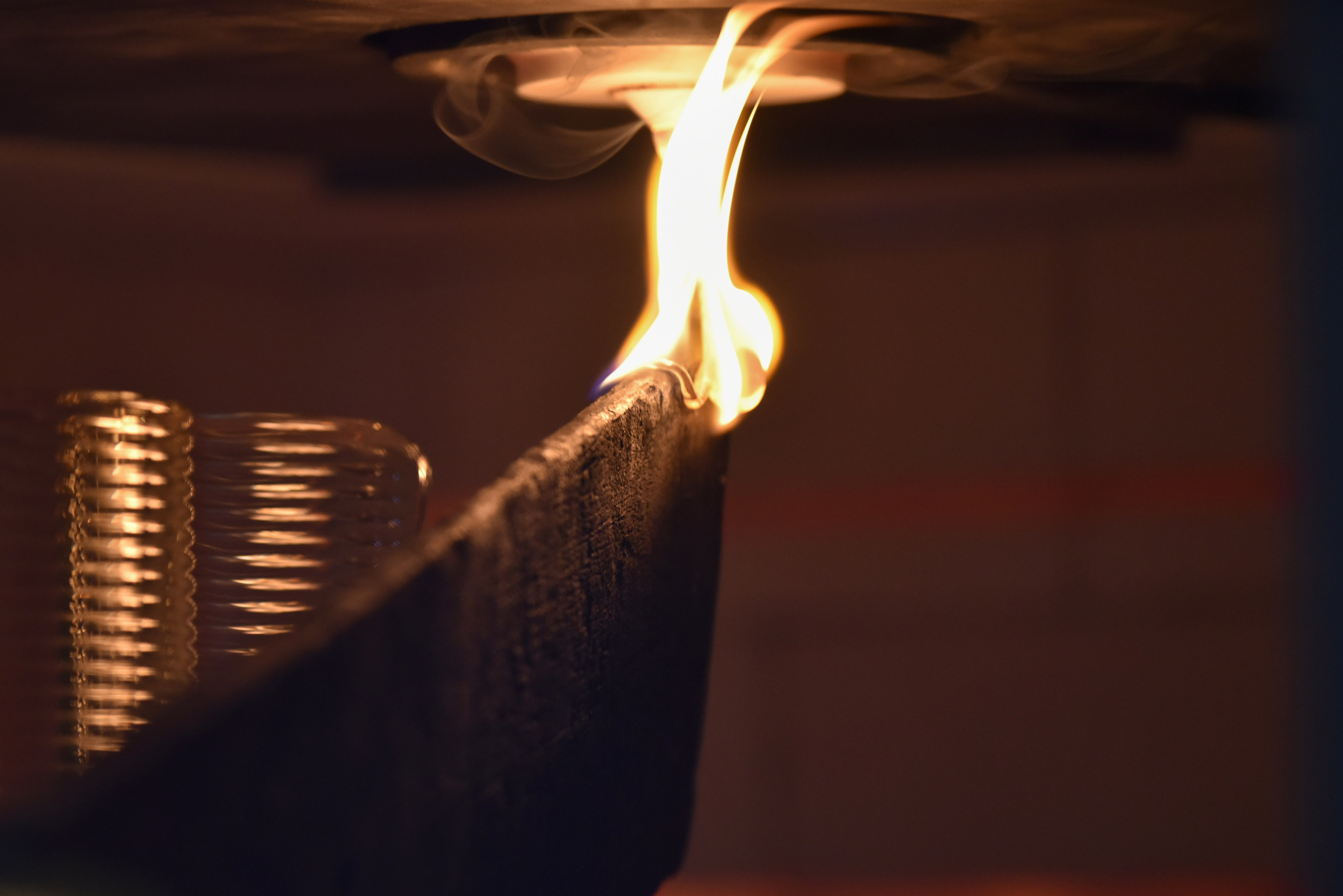 Daniel Sarch '23
Stern and his Evenline team are completing a residency in RIT's College of Art and Design this semester. The interdisciplinary group also consists of a pair of alumni — Raphael Abel (industrial design), the lead designer, and art director Ethan Townsend (glass) — and intern Ben Eassa, an RIT mechanical engineering student.
Together, they are merging technology, the arts and design in an unparalleled way, using 3D-printed glass to reimagine design and manufacturing. And the RIT community is learning about the digital glass process through a class as well as faculty and staff engaging with the technology. 
"It's important to have this cross between art, technology and design," Townsend said. "We've talked to a lot of engineers who are sort of lost in this glass material because it's so foreign. Combining intuition of artists and expertise of engineers is really cool and only would come about in this way. Otherwise, people on either end would sort of be fumbling for a long time to figure out the other side."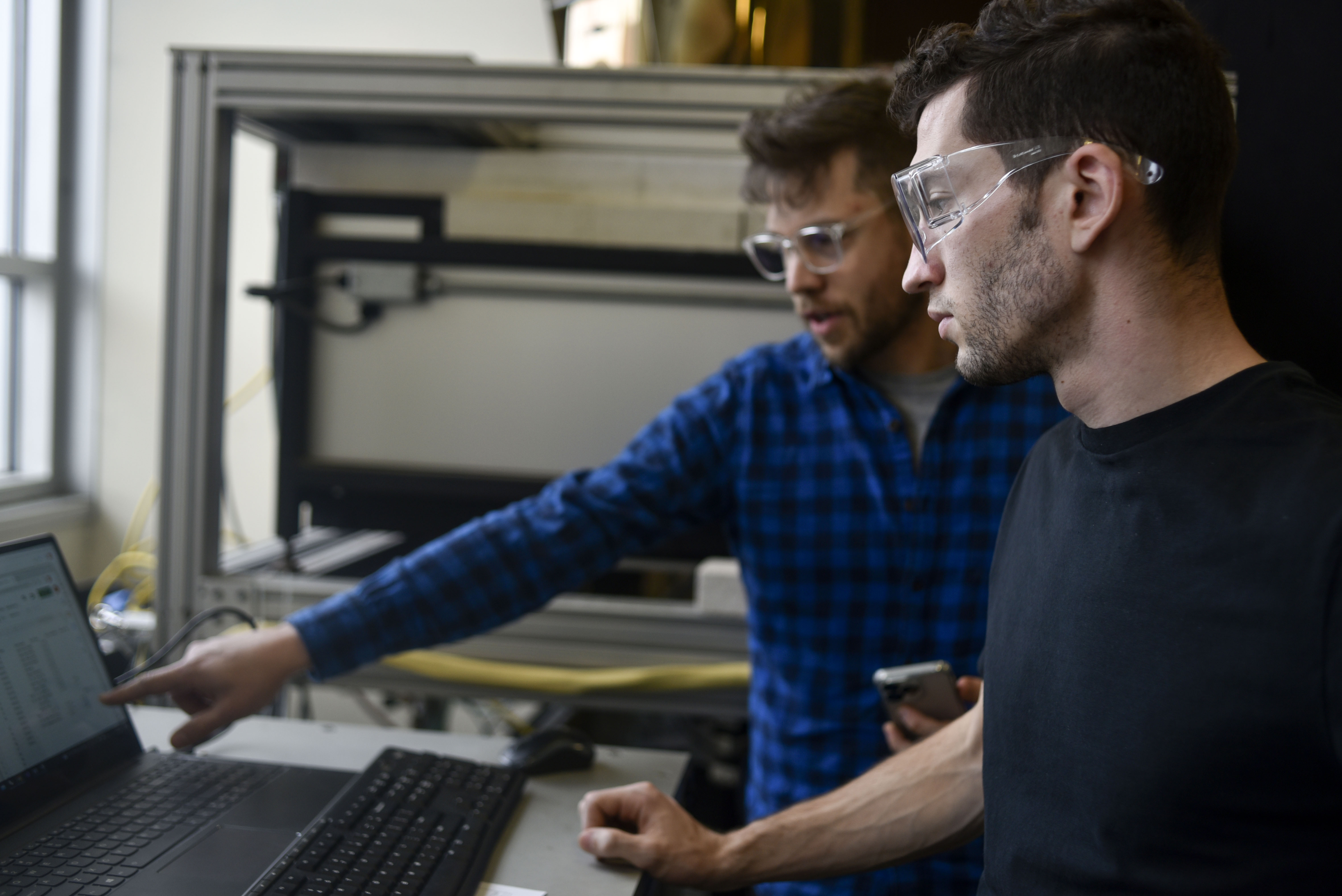 Daniel Sarch '23
Evenline creates thoughtfully designed homeware products — from sculptural book racks to book ends to platters — that are available in its store and at RIT's Shop One. The company is also using its ingenuity to fuel the future of sustainable manufacturing and even space travel.
Stern and his team envision a possible future where the moon is populated with black glass space habitats. Evenline worked with NASA and is now working for the Defense Advanced Research Projects Agency to develop molten processing techniques necessary to build structures from lunar soil. The research aims to unlock new lunar building materials, a key innovation since conventional materials are prohibitively expensive to transport for architectural applications.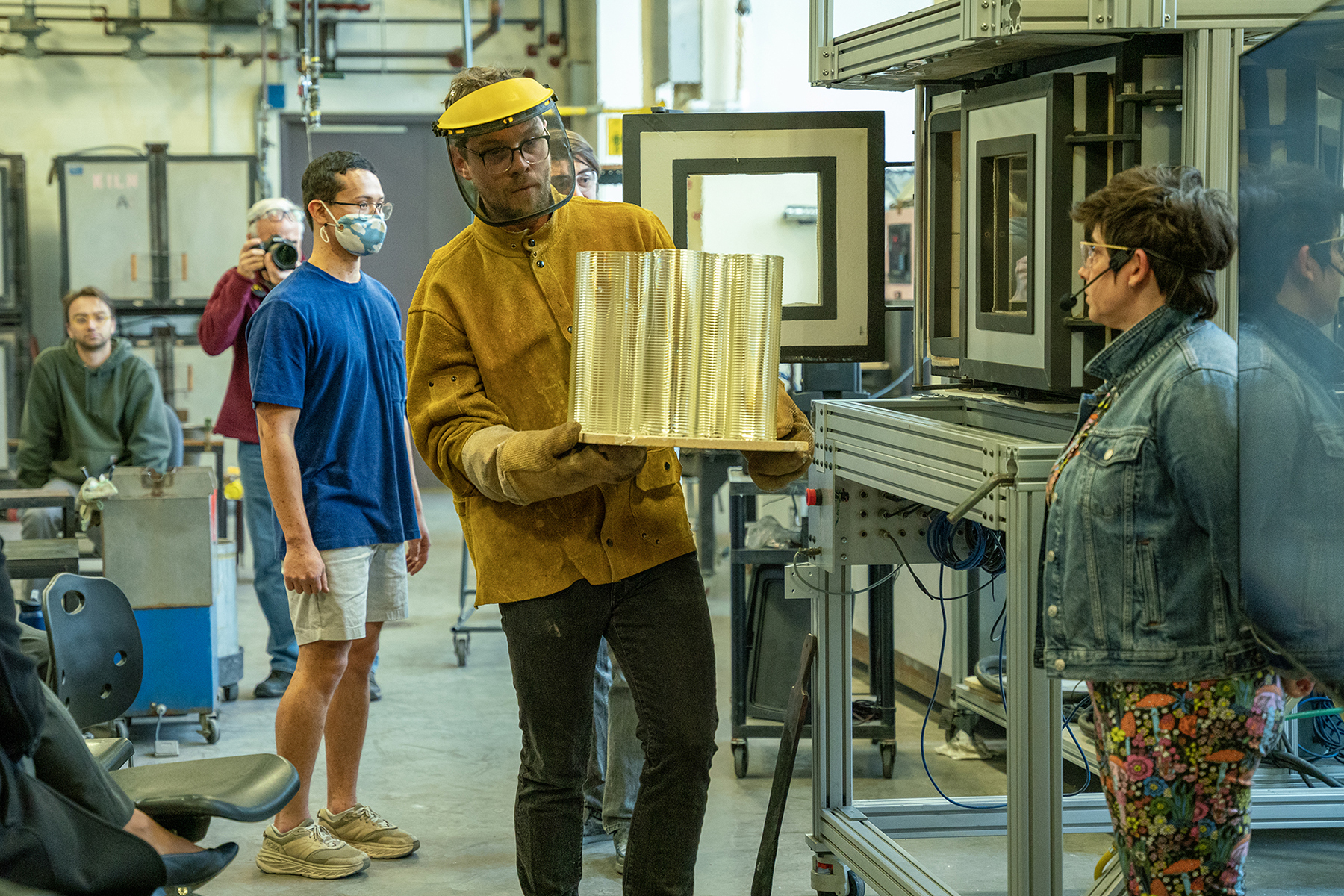 Travis LaCoss
This spring, students from majors across RIT received a first-hand look at the molten glass 3D printer's capabilities. Stern is co-teaching a class with Lecturer Suzanne Peck, titled Digital Glass, which exposes students to the sophisticated software and digital processes driving the printer. 
Students used the College of Art and Design's Fab Lab to digitally design laser-cut molds that were then deployed to transform digital concepts into blown-glass vessels. For the final project, teams collaborated on using the molten glass 3D printer to build tablescapes — an environment of objects designed for a table.
"We brought together a great diversity of thought from glass students to industrial designers and engineers all in one place," Stern said. "That is sort of a dream, and something RIT is specifically suited to do. There are not a lot of places that are not only an art school, but also an engineering school, an incredible industrial design program, and all of these things in one space. That's been really cool to see such different minds chewing on the same assignments together."
The class is a microcosm of Evenline's wider goal of making glassblowing, and its output, within reach of non-glassblowers.
"We are so excited to collide traditional glassmaking techniques with digital technologies," said Peck. "Students are able to create unique glass objects with a speed and alacrity that I've never seen before in the studio. It is hugely gratifying to help spearhead this kind of energy and ingenuity in the glass program."
"Any digital process that bridges that gap of skill is really important," said Townsend, who documents Evenline's entire process using different camera systems for sharing on the company's website and Instagram.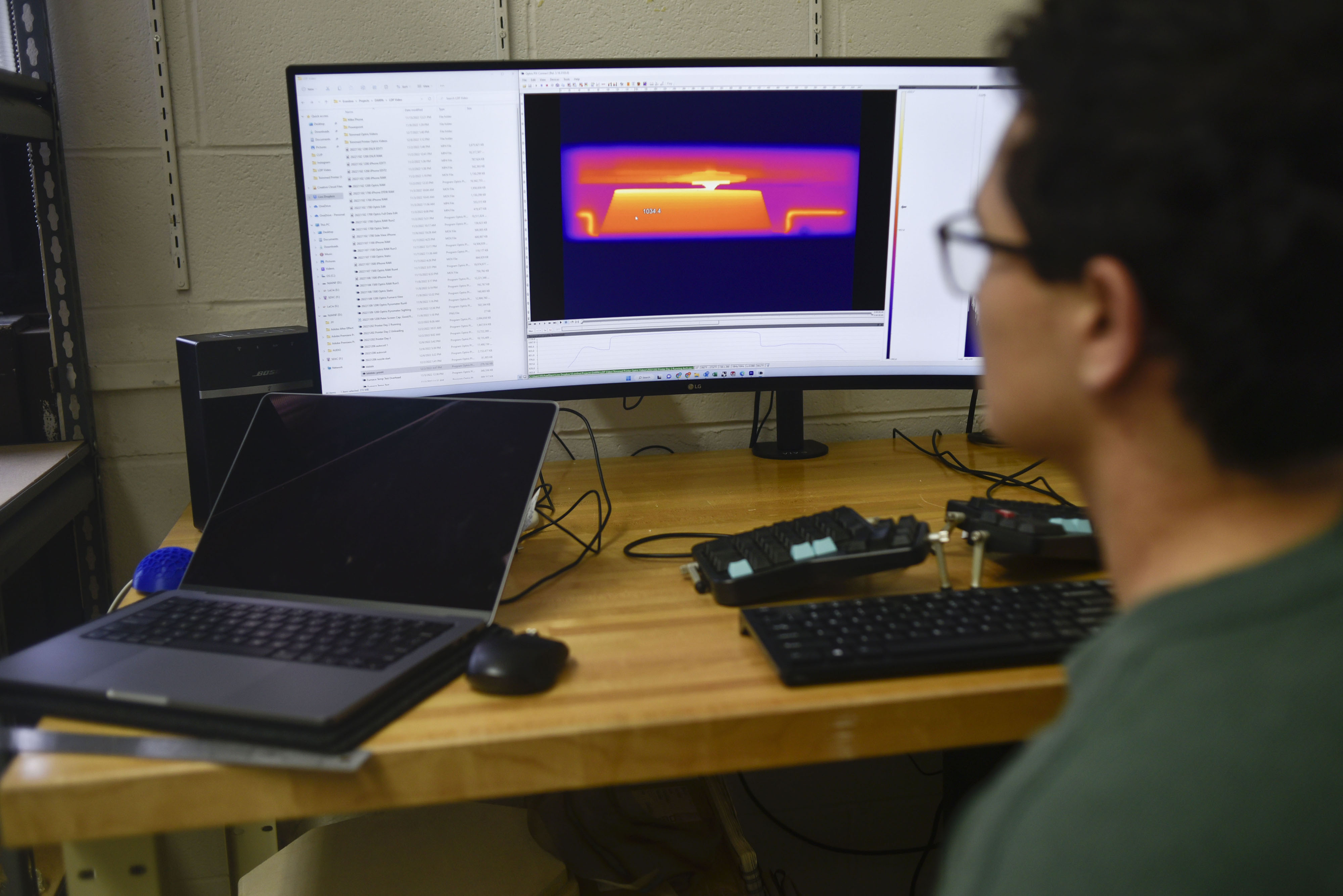 Daniel Sarch '23
Stern's overall vision for Evenline is reflected in the hiring of Abel and Townsend. 
"I was in the process of perpetually trying to pick people who could be successful and productive working on all facets of what I wanted to do at Evenline," Stern said. "I want to be looking at exciting, thoughtful design. I want to be making art and I want to be working on technology. I think when we work on all these different pieces at once we do each of them better."
Sustainability is also at the core of Evenline's work. It has partnered with bars, wine shops and a recycling center to purchase and upcycle bottle glass. The glass is melted at 2,300 degrees fahrenheit and given new life as a 3D-printed glass object.
There is an ongoing Kickstarter campaign to support Evenline's recycled glass printing program.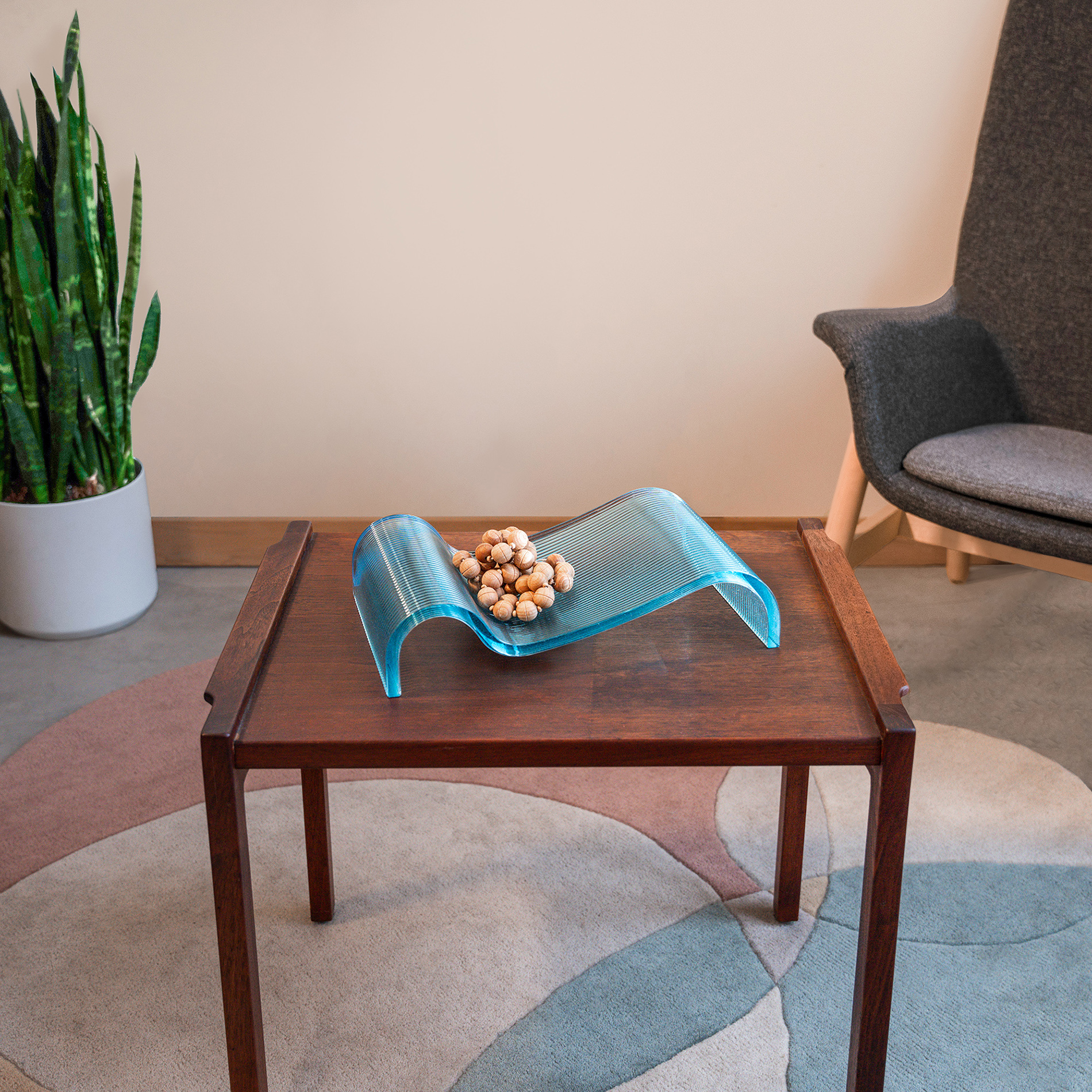 Courtesy of Evenline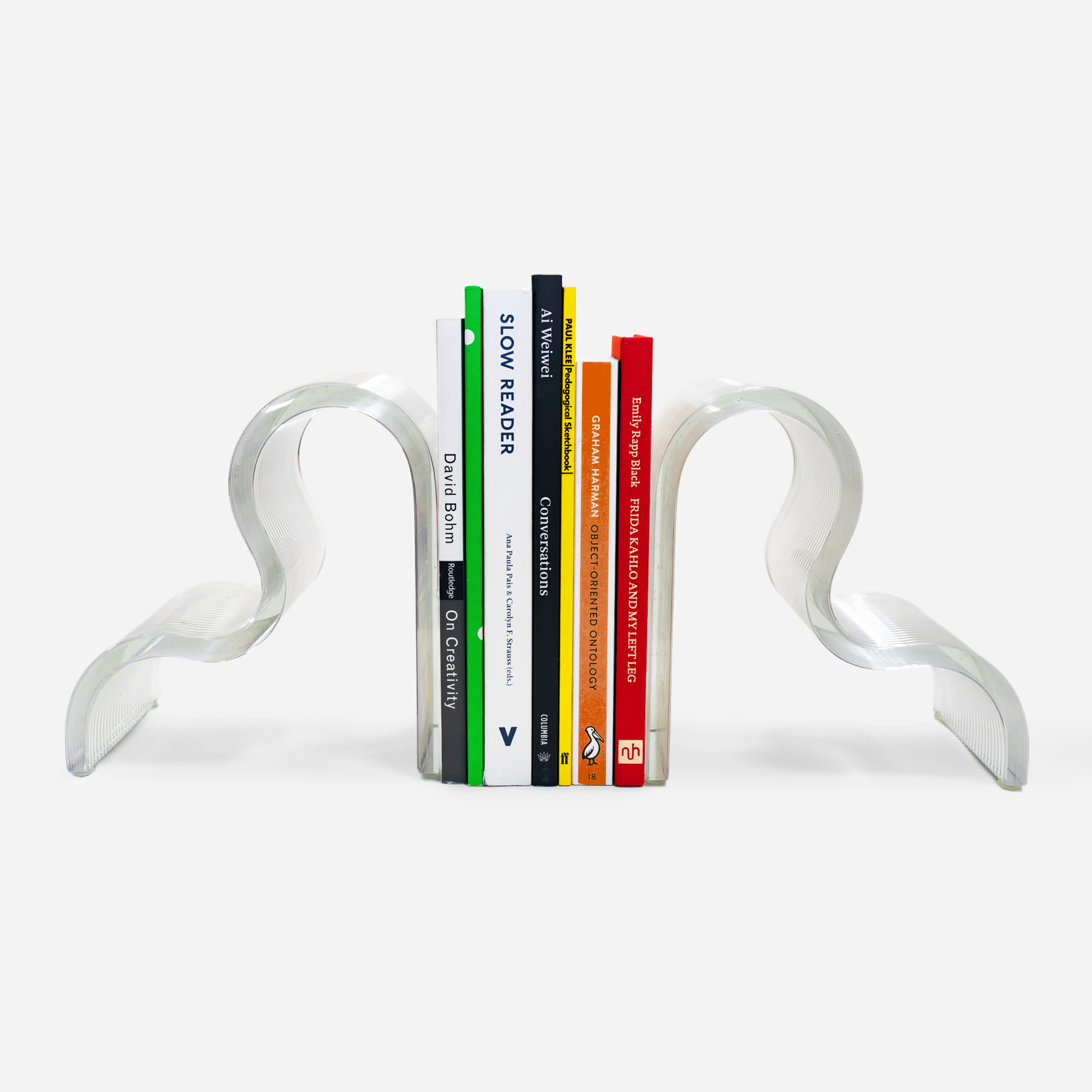 Courtesy of Evenline
Stern's relationship with RIT began in 2019, when he and the two other inventors of the molten glass 3D printer visited campus to demo the technology for the RIT community. 
Earlier this semester, Evenline led a presentation to RIT President David Munson and other leadership figures and faculty and staff in various academic areas on campus.
"That's the fun of the academic world — getting this in front of people and continuing to think about what we could make and what amazing things can come out of this," Stern said.
Evenline is an exhibitor for the International Contemporary Furniture Fair May 21-23 at the Javits Center in New York City.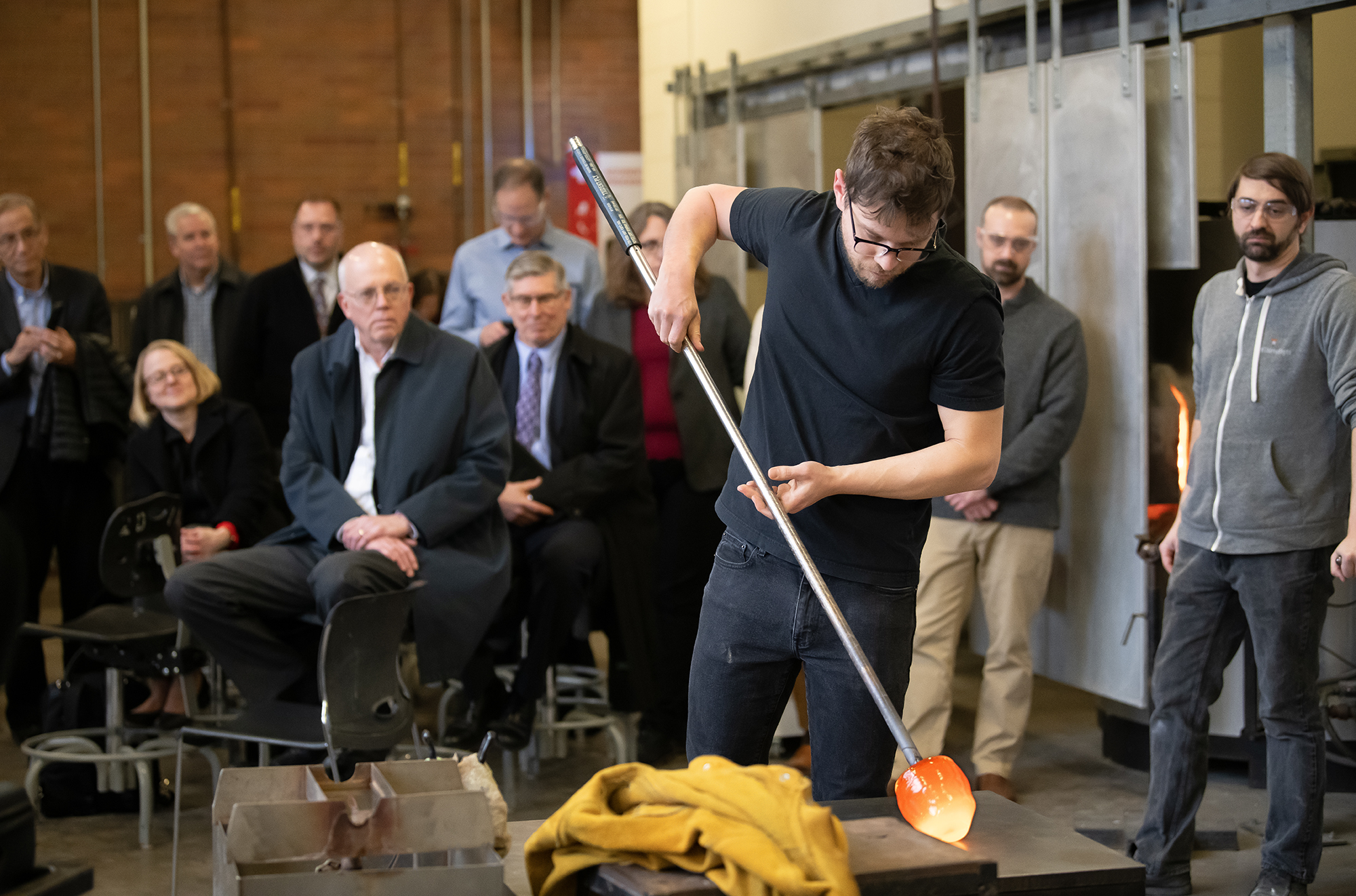 Carlos Ortiz