Glass program puts art, design and technology on full display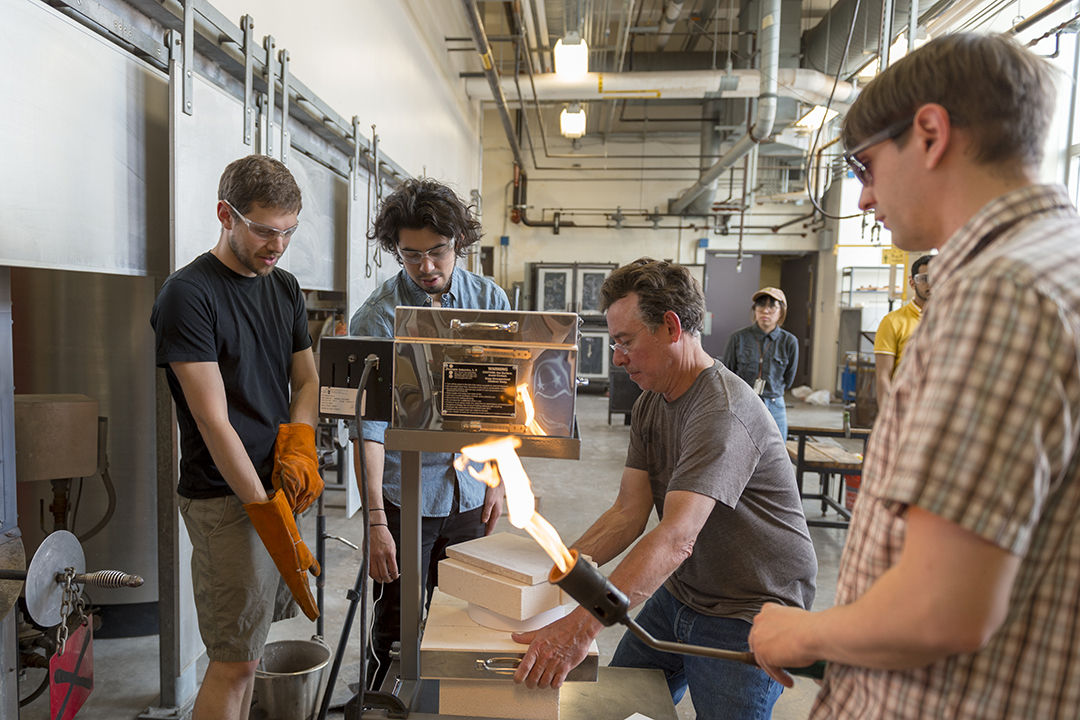 Moments after molten glass slips through a vitrigraph kiln and auto coils into form, it's merged with a glass-blown object made at the opposite end of the RIT glass program's hot shop. RIT glass students, faculty, staff and visitors are a well-oiled machine, working in unison to put the intersection of art, design and technology on full display. Results of the process include goblets, stemware and other objects created from the innovative fusion of 3D-printed molten glass and glassblowing techniques. 
That was the energetic scene as the glass program concluded its 2018-19 Visiting Artist Lecture Series with a multidisciplinary experience featuring a trio from the team that created the world's first molten glass 3D printer at MIT. Peter Houk, director of MIT's Glass Lab, and MIT-trained researchers Daniel Lizardo and Michael Stern led a lecture, "Glass in a New Light," and an exciting demo recreating the initial days of project on April 17-18 at RIT.
"It's been a semester-long conversation with our students about navigating what might seem like unlikely pairings between glass and our non-glass interests," assistant professor of glass David Schnuckel said. "That's the pocket where ingenuity resides within our field — and we all have different ways of discovering something previously unknown and important as it relates to the contemporary glass field due to how diverse our curiosities are."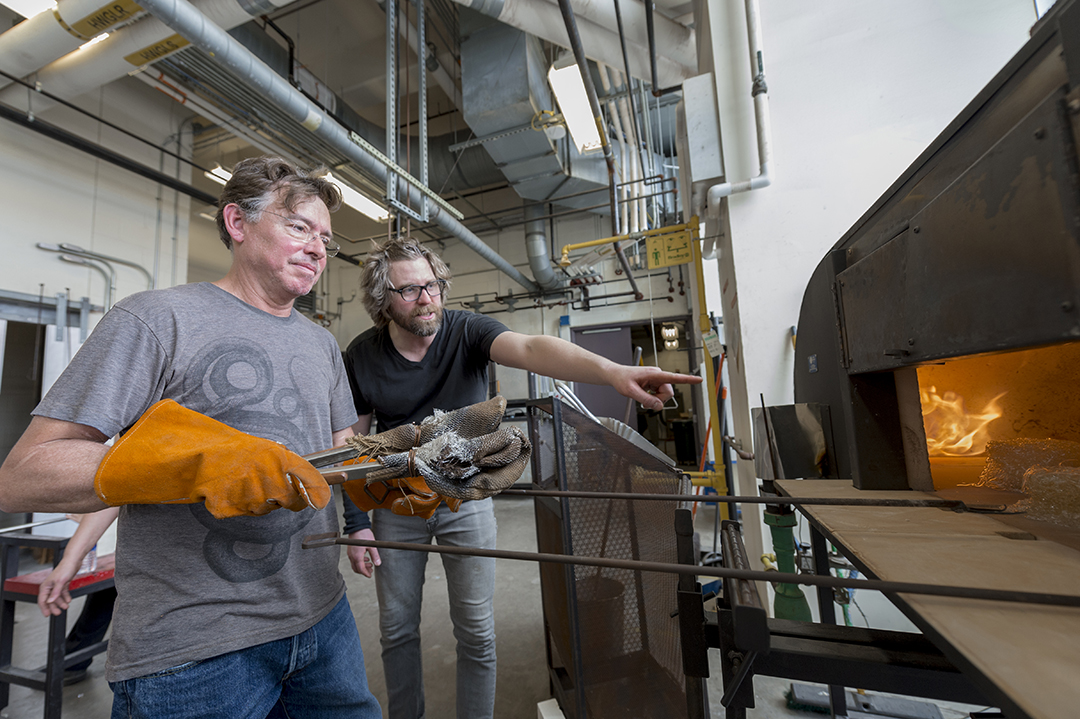 For the engaging demo, Houk, Lizardo and Stern fired up a vitrigraph kiln similar to the one used in 2014, when the molten glass 3D printer was a student project at MIT. Students, faculty and staff then made glass objects to fuse with the printed coils. The hours-long experimentation of mixing the technology with glass artistry produced handfuls of well-crafted items. 
It was a well-organized time for making and thinking.
"This was an opportunity to do a throwback with a little more knowledge of what was going to happen. It was super fun to get everyone's hands dirty and watch people try different things," said Stern, a mechanical engineer and glassblower. Along with Lizardo in 2018, he co-founded Lios, a design and technology collective aimed at commercializing the 3D printing technology to create a new space for artwork and products in digital glass.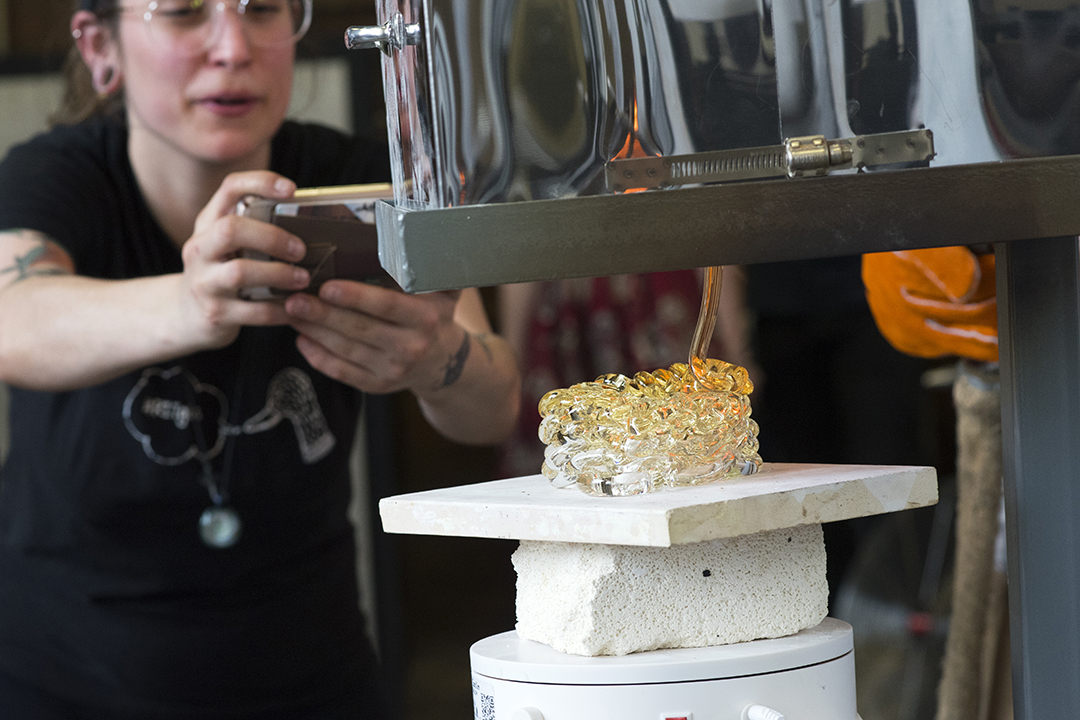 Both the talk and workshop attracted attendees from all corners of campus, with topics relating to a number of disciplines inside and out of the College of Art and Design. 
The two-day experience highlighted the type of exploration RIT's glass program champions. Its spring semester theme of "X" has been an ongoing conversation between students and faculty to investigate new possibilities in relationships with glass. 
"We're interested in thinking about being an art-driven glass program within an institute of technology," Schnuckel said. "Part of that work is envisioning opportunities for cross-disciplinary research and material crossover with entities beyond the College of Art and Design. Hosting Peter, Daniel and Michael was an extension of that. It was a first step in thinking about future exploratory collaborations between us and our RIT colleagues where glass curriculum intersects with science, engineering and technology."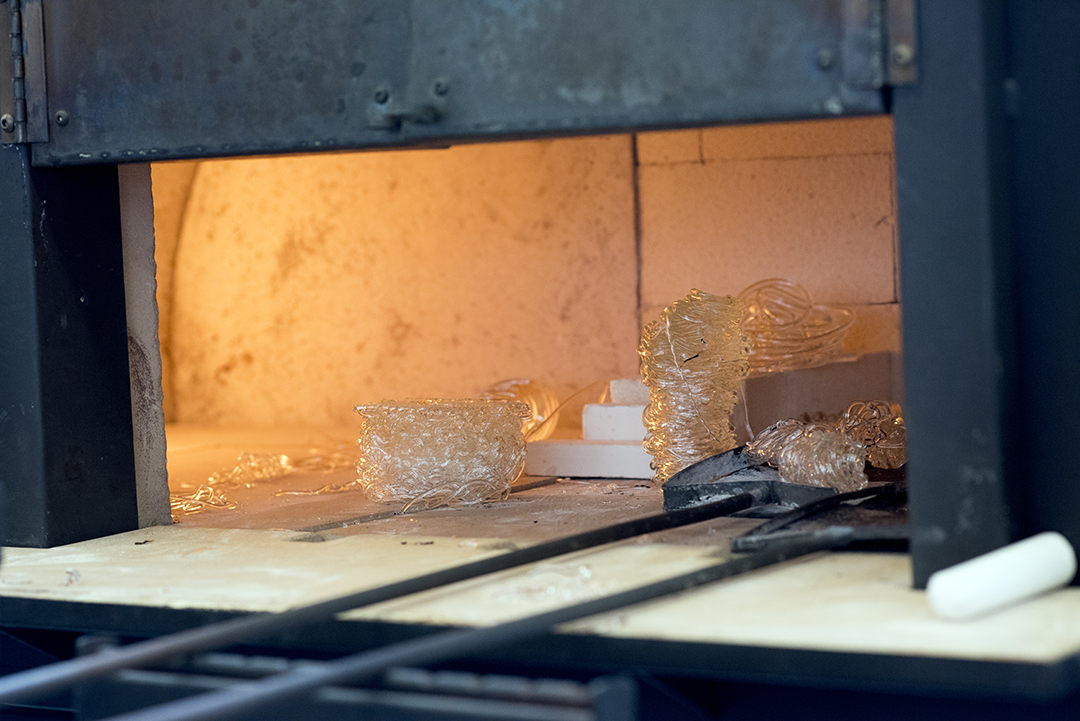 Houk said the workshop's cross between science and engineering and art provided great value for each group involved.
"In (RIT's glass) program, they're thinking as poets. They're thinking about expressive uses of the material," Houk said. "I think it helps these students to have (scientists and engineers) come and ask questions. There is a really good bridge to be made between this way of thinking about glass and our way of thinking about glass."
The events — organized by glass faculty Schnuckel and Susie Peck — connected various skill sets and allowed students to investigate the unique application of 3D printing in a collaborative environment.
"All of the creativity from David and Susie and their students is so powerful," said Lizardo, whose background is in materials science and architectural design. "All of these students are super committed to their art and their craft." 
Stern echoed those sentiments about working with the glass students. 
"It's exciting to see students trying to diversify and think about glass as a material in as unique a way as you can and take it someplace other people haven't gone," Stern said. "It's exciting to see here that the students are trying to push the boundaries and ask interesting questions of themselves and of the material. It's fun to have this dialogue."