November 2, 2022
by Rich Kiley
RIT ranks among top 'green' colleges by Princeton Review
Local and sustainability-produced food, waste diversion among factors in Top 50 ranking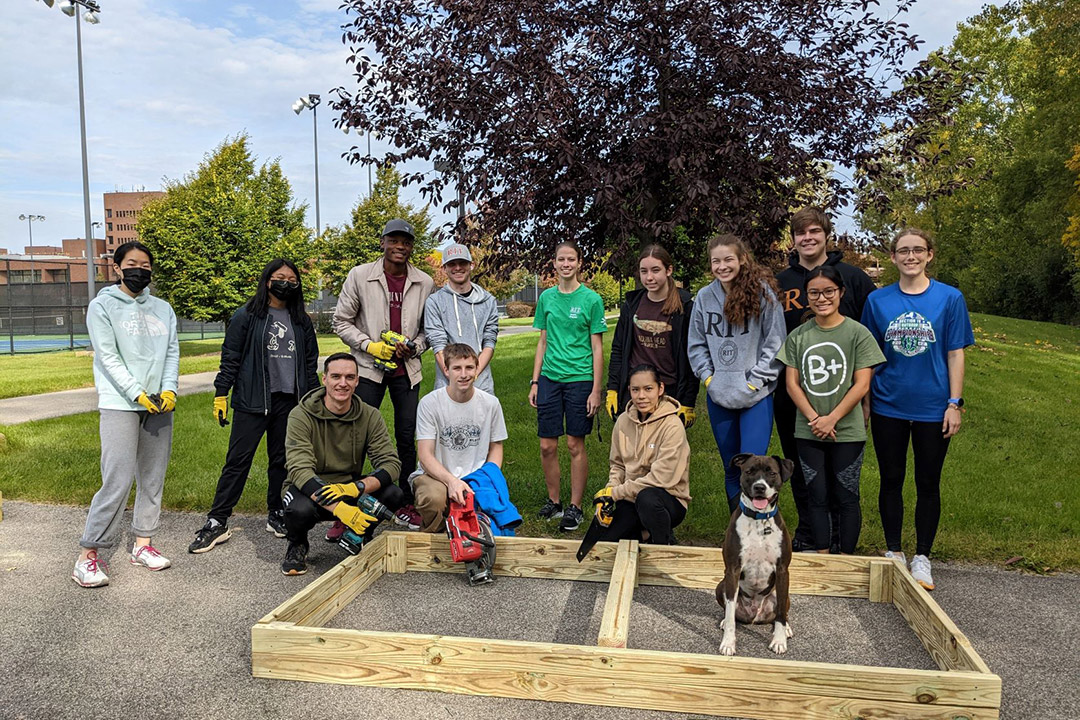 For the 12th consecutive year, Rochester Institute of Technology has been named one of the "greenest" universities in the United States by The Princeton Review.
The rankings are featured in The Princeton Review Guide to Green Colleges: 2023 Edition. RIT is ranked No. 44 this year out of the 455 schools profiled, earning the university a spot on the publication's even more exclusive "Top 50 Green Colleges" list.
In the guide's profile, RIT is commended for its academic rigor and having "a culture for everybody," while achieving a "Green Rating" score of 95 out of a possible 99.
"RIT is proud to once again make Princeton Review's Top 50 Green Schools list," said Neha Sood, assistant director for campus sustainability. "Our campus community's strong commitment to sustainability initiatives, including waste diversion, climate action, and incorporating sustainability into our degree programs, has helped us achieve this important designation year after year."
"We also provide opportunities for the campus community to learn about topics such as environmental, social, and climate justice through classes, workshops, lectures, and peer-to-peer educational programs," she added.
The Princeton Review chose the 455 schools it profiles in the guide based on a survey the company conducted of hundreds of administrators about their institutions' sustainability-related policies, practices, and programs. Survey topics ranged from academic offerings and campus initiatives to career preparation for "green" jobs. The profiles also include information on the schools' admission requirements, cost, and financial aid.
RIT was commended for continuing to find ways to reduce waste and expanding the diversion of food waste on campus by increasing composting efforts. "I'm especially excited to reduce the amount of single-use plastic on campus in the future, and offering reusable or compostable to-go containers," Sood noted.
RIT's rating is also enhanced by the university's increasing focus on local and sustainability-produced food offerings on campus, including the availability of healthy and nutritious plant-based food options, to support the local economy and reduce the university's food-related carbon footprint, Sood observed.
The university is also a leader in the Rochester community when it comes to sustainability efforts and was an early adopter of a Climate Action Plan, added Sood, who, among other off-campus roles, serves on the Collective Impact Steering Committee that created the Climate Action Strategy for the Genesee-Finger Lakes region and now focuses on implementing climate solutions in the nine-county region.
In addition to Golisano Institute for Sustainability (GIS), RIT also is home to the New York State Pollution Prevention Institute, a partnership between the New York State Department of Environmental Conservation, RIT and GIS, Binghamton University, Clarkson University, Cornell University, and Rensselaer Polytechnic Institute, with a statewide reach.
"We strongly recommend RIT to the increasing number of students who care about the environment and want their 'best-fit' college to also ideally be a green one," said Rob Franek, The Princeton Review's editor-in-chief. "RIT demonstrates an exemplary commitment to sustainability and to green practices—and it offers excellent academic programs."
Franek noted that The Princeton Review has seen an increasing level of interest among students in attending green colleges. Of the more than 10,000 college applicants the company polled for its 2022 College Hopes & Worries Survey, 74 percent said having information about a college's commitment to the environment would affect their decision to apply to or attend a school.
The guide chose colleges based on "Green Rating" scores (from 60 to 99) that the company tallied from 713 colleges using data from its 2021-2022 survey of school administrators. More than 25 data points were weighted in the assessment. Schools with scores of 80 or higher made it into the guide.
The Princeton Review developed the Top 50 ranking list using data from the institutional survey for its Green Rating and its surveys of students attending the colleges. Ten data points from the survey factored into the assessment, including student ratings of how sustainability issues influenced their education and life on campus; administration and student support for environmental awareness and conservation efforts; and the visibility and impact of student environmental groups.
The complete guide can be downloaded from The Princeton Review website.
Topics