Students to present food packaging research at NYSP2I symposium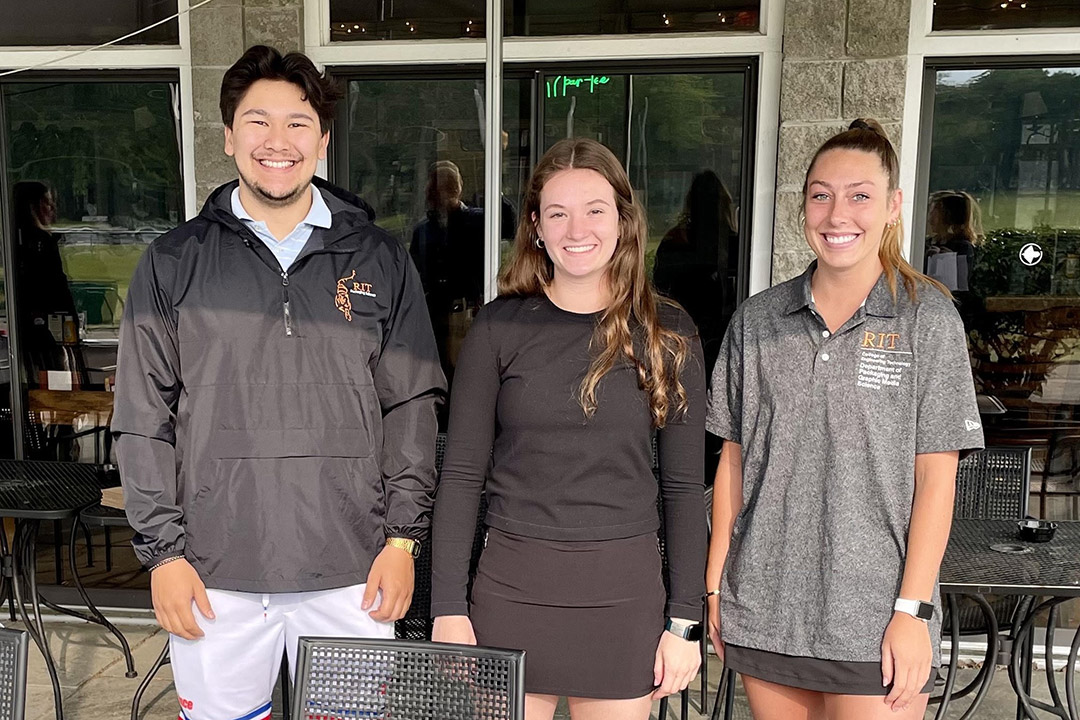 On Sept. 29, fourth-year packaging science major Kassidy Burrows, along with fellow packaging science majors Baylee West and Daniel Pinigin, will travel to Binghamton University to present their research at the "Keep it Fresh!" Student Packaging Research Symposium. Burrows, who is from Victor, N.Y., worked with West and Pinigin this past summer to examine how essential oils may improve food packaging. The "Keep it Fresh!" symposium is the first of its kind as part of the new Student and Faculty Research Program created by the New York State Pollution Prevention Institute (NYSP2I). NYSP2I provides expertise to help make businesses, communities, and nonprofits in New York state more sustainable, and this new program offers opportunities for students to work with faculty on sustainability research.
"Research opportunities like this are crucial because they empower students to tackle real-world problems and contribute to global sustainability goals," said Kyle Dunno, an assistant professor in the Department of Packaging and Graphic Media Science and the faculty advisor for Burrows, West, and Pinigin's research. "What sets this group of students apart is their ability to bridge the gap between theory and practical application. Their research addresses the pressing issue of food spoilage, making their work both interesting and vital for addressing today's environmental challenges."
Burrows answers questions about her experience below.
What drew you to packaging design?
In high school I wasn't sure what I wanted to do, but I liked engineering and design. Then, I found out that RIT had packaging science, and it sounded like the perfect combination of design and engineering. So, I gave it a shot, and I am very happy that I chose it.
How did you hear about this research opportunity and symposium?
In our Food Packaging class, Dr. Dunno told us that there was a food waste pollution prevention research opportunity over the summer, and I thought the concept sounded interesting, so I signed up.
Tell me about your team's research idea: what is it, how did you come up with it, and how did it go?
We researched the use of thyme essential oil to extend the shelf life of whole tomatoes as a form of active packaging. Active packaging is technology that intentionally releases or absorbs compounds from food to extend their shelf life. When researching food waste in New York, we found that tomatoes are in the top 10 cash crops of the state, but they are some of the most wasted fruits annually. There has not been much research about shelf life extension using essential oils. We used active packaging by placing EO (essential oil) concentrations on a piece of kraft paper then sticking it to the top of the package to release and potentially kill the bacteria on the tomatoes. Ultimately, the results of the project were inconclusive: the data supported that the oil did extend the shelf life by a few days, but the mold growth made it unacceptable for consumers. 
What are some of your biggest takeaways from this research experience?
Research outcomes don't always turn out how you intended them to be. The outcomes vary, and you learn where you can make changes and refine the research process for future opportunities. Although our results were inconclusive, there is existing literature that shows that essential oils can extend the shelf life of different foods.
What are you most looking forward to about the symposium?
We are looking forward to seeing how the other schools' research went and their results. There were different topics chosen between the schools, not all were packaging related, so it will be good to learn about other pollution prevention research.
Topics