Vignelli Center's 'Beyond Fashion' event unites RIT and community designers
Inaugural fashion show is set for 6 p.m. Dec. 10 in MAGIC Spell Studios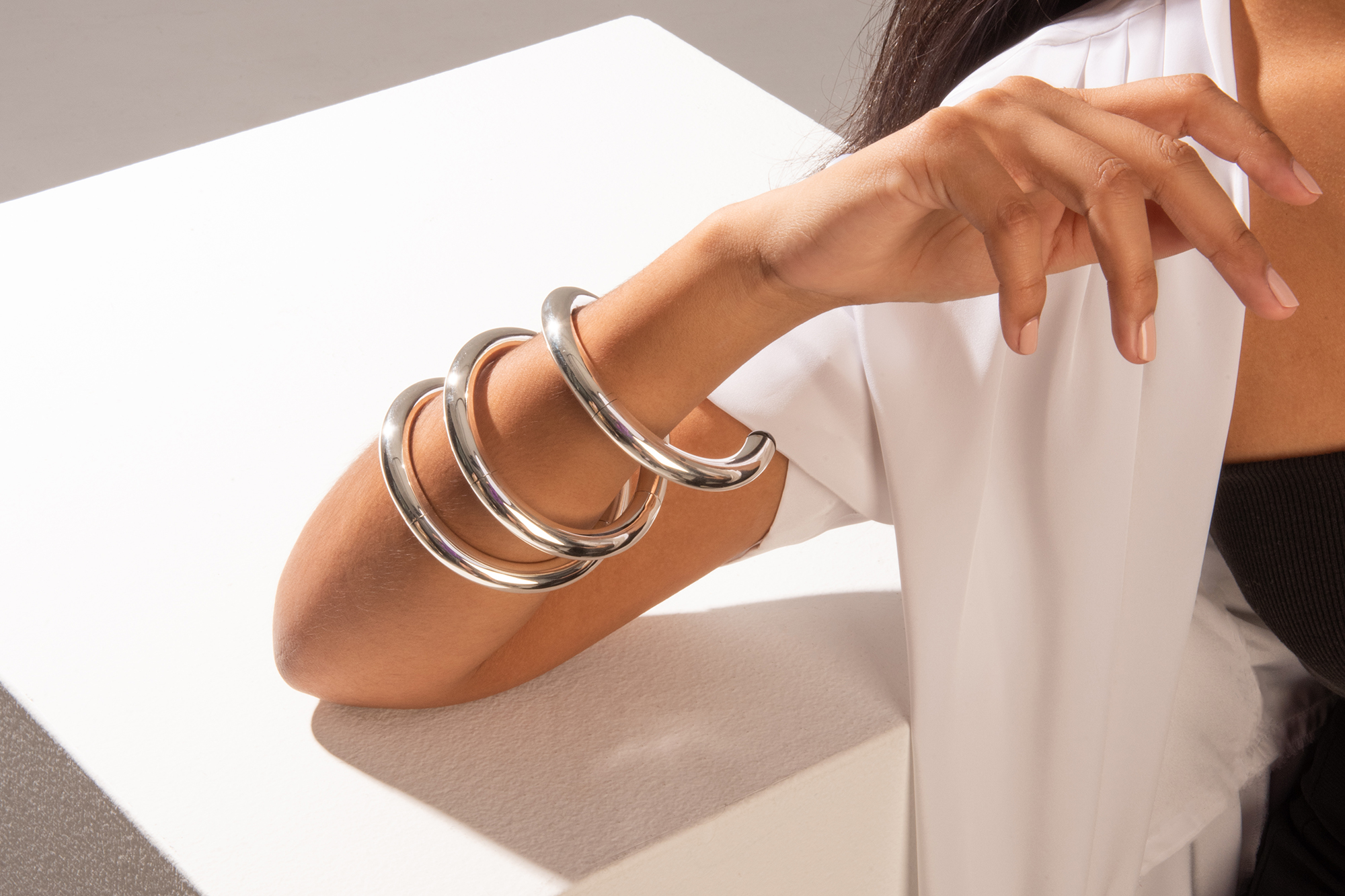 Maddy Schoenfeld has felt a strong sense of community at Rochester Institute of Technology. 
That appreciation is fueling efforts to co-organize a fashion show underscoring a partnership between designers in RIT's College of Art and Design and the Rochester community. 
RIT's Vignelli Center for Design Studies is hosting the inaugural "Beyond Fashion" event to celebrate design and community from 6 to 9 p.m. Friday, Dec. 10, in MAGIC Spell Studios' soundstage. It is a showcase of a diverse collection of garments and wearables inspired by the Vignelli Archives. Attendees must complete free registration prior to the event.
Schoenfeld '20 (Metals and Jewelry Design) is a second-year student in the Saunders College of Business' MBA program who partnered with fourth-year Advertising Photography student Julia Abbonizio to plan the event as an independent study. 
Schoenfeld is no stranger to local fashion events, having been an active participant in the Metals and Jewelry Design program's involvement in Fashion Week Rochester. She has experience designing wearable sculpture for the runway and helping to coordinate RIT's role in the annual event.
"Community is the most important thing that I gained from RIT," said Schoenfeld, a jeweler and metalsmith with a studio in downtown Rochester who is also manager of RIT's Shop One. "Being able to combine my chosen career as an artist in the Rochester community with the RIT community has been a wonderful experience."
Abbonizio worked closely with Schoenfeld on all event details, and made a website and spirited Instagram to raise public awareness of the initiative. Both platforms are brimming with compelling videos and images of the featured designers, pieces and Vignelli artifacts that Abbonizio produced.
"This project has been one of the most enriching experiences I've had during college," Abbonizio said. "I have always wanted to apply my work to more experiential contexts, and this was the perfect opportunity to do so. I have been honored to learn from Maddy and the rest of the team, and to work on something that gives great tribute to the Vignellis and our local community."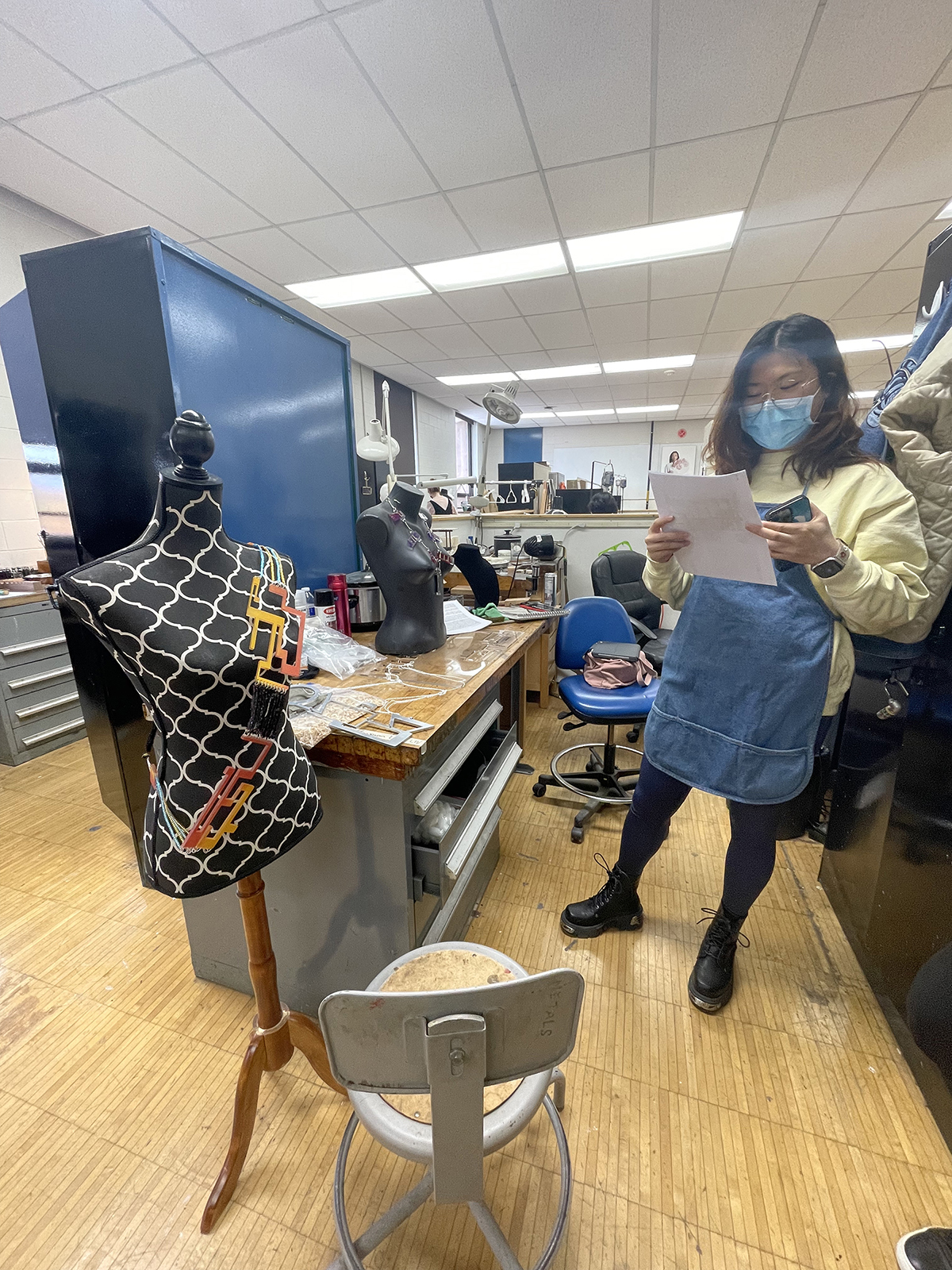 Maddy Schoenfeld
The energy of "Beyond Fashion" will be fueled by a wide collection of garments, accessories and wearables crafted by local designers Karissa Birthwright (SaintVegann), Jenna Gagnier and Krista Jenkins (Spirit + Thread Crochet) as well as undergraduate and graduate students from RIT's Metals and Jewelry Design and Industrial Design programs. 
The pieces represent each designer's interpretation of Lella and Massimo Vignelli's iconic design theory, informed by a browse of the tangible Vignelli Archives and the center's Google Arts & Culture digital collection. 
"Besides having a global impact, making a local impact is also very important for us," said Josh Owen, Vignelli Center Director and the Vignelli Distinguished Professor of Design. "We are delighted to offer designers access to the Vignelli collection to inspire their practices by building on the masterful lessons found in the archives."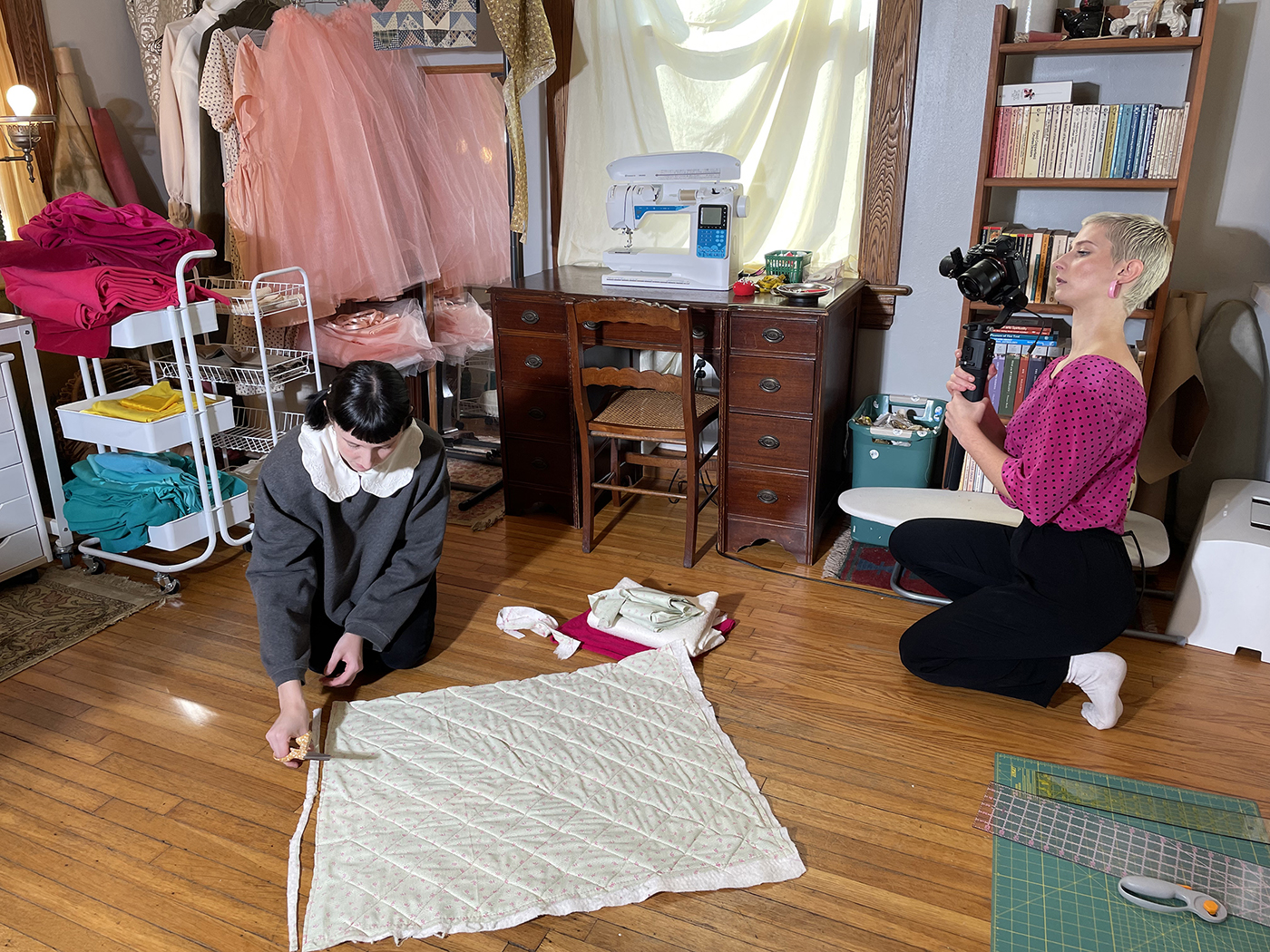 Maddy Schoenfeld
Birthwright, Gagnier and Jenkins designed unique, eight-piece collections to be modeled on the runway.
Gagnier, whose practice is rooted in using reclaimed vintage material, designed articles with a bright, saturated palette — an ode to Massimo Vignelli's classic Heller dinnerware.
"This line has been a joy and a challenge to bring from daydream to reality," part of Gagnier's artist statement reads. "I am still enchanted by the diversity of secondhand materials that I have been able to collect for each shade I've used. The looks themselves are quite cohesive, yet wildly varied.
"I want these pieces to transcend the idea of the desirability of the highly fabricated and stereotyped female and male forms. The new appeal is thoughtfulness and craft."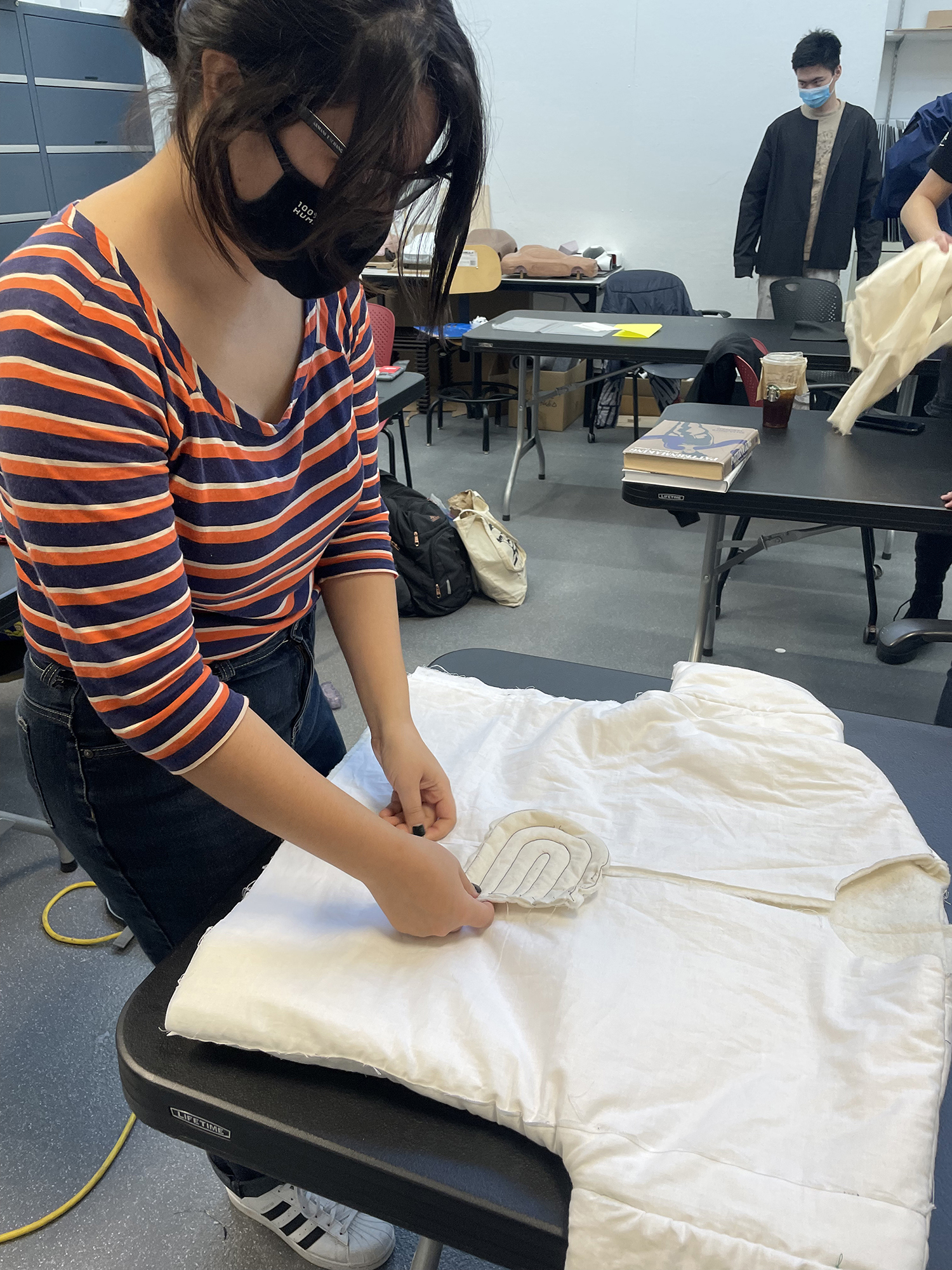 Maddy Schoenfeld
Industrial Design fourth-year BFA and MFA students from Assistant Professor Melissa Dawson's Soft Studio classes designed functional apparel and accessories that will be featured. Eight Metals and Jewelry Design MFA students, with guidance from Professors Leonard Urso and Juan Carlos Caballero-Perez, designed and crafted accessories for the local designers' garments as well as a small collection of their own wearables.
Advertising Photography students will operate a photo booth to capture the models and their garments after their runway walk while companion graphics will be displayed on MAGIC Spell Studios' giant LED panels.
"Attendees can expect to experience a sophisticated runway fashion show coupled with an exhibition of images of historical and contemporary content from the Vignelli Center archives," Owen said. "It will be fun and engaging, showcasing what our talented designers can do with a healthy dose of inspiration from the Vignelli Center."
Embedded in the fabric of the Rochester arts scene, Schoenfeld had the connections to help execute the event's vision of highlighting local designers. And with her business acumen and Abbonizio's creative direction, the pair embraced building an event from scratch that upheld the Vignellis' legacy as design pioneers and marked RIT's latest creative collaboration with the Rochester community.
"It's been a wonderful experience seeing how our skills have complemented each other," Schoenfeld said.
Other College of Art and Design students and alumni who assisted with creating promotional materials were Zoë Murray and Ana Videto (Graphic Design), Mary McLoughlin (Industrial Design MFA), Isabelle Qiu (Visual Communication Design MFA) and Jaime Huynh, a 2021 Advertising Photography alumna.
Topics