Alan Gesek
Adjunct Faculty
College of Art and Design
---
Alan Gesek
Adjunct Faculty
College of Art and Design
---
Bio
Alan Gesek is a Medical Illustrator and Adjunct Professor of Art and Design at the College of Art and Design at Rochester Institute of Technology in Rochester, NY. He currently is teaching several different foundational art and design classes, and collaborates with many different clients on a variety of freelance projects. Through his medical illustrations Alan's goals are to create stunning graphics, while helping a client or patient better understand an anatomical or scientific concept.
Currently Teaching
FDTN-121
2D Design I
3 Credits
This course is an introduction to the basic elements and principles of two-dimensional design and is foundational to the College of Art and Design curriculum. The focus of this course is the development of visual and verbal vocabularies as a means of exploring and understanding two-dimensional design. Students will engage with a wide variety of media, tools, and techniques to develop skills while delving into the theoretical and experimentational processes of contemporary art and design. The exploration of historical and cultural themes and concepts intertwined with aspects of personal interpretation and experience will be included in the curriculum. **Fee: A materials fee is required for this course, and an additional course fee applied via student account**
FDTN-122
2D Design II
3 Credits
This course is the second semester of a sequential, structured introduction to the basic elements and principles of two-dimensional design. Organized to create a broad introductory experience, students will build upon the visual and a verbal vocabulary, media, techniques, skill development and processes acquired during the fall semester. This term will also focus on the comprehensive exploration of color theory as well as dealing with conceptualization and more advanced issues related to problem solving. Accumulative aspects of the curriculum included the exploration of historical and cultural themes and concepts intertwined with aspects of personal interpretation and experience.
FDTN-141
4D Design
3 Credits
4D Design introduces students to the basic concepts of art and design in time and space. The course explores elements of moving images such as continuity, still and moving image editing, transitions and syntax, sound and image relations, and principles of movement. Computers, video, photo, sound and lighting equipment are used to create short-form time-based work relevant to students in all majors and programs required to take this course. The course addresses the both historical conventions of time in art and recent technological advances, which are redefining the fields of Fine Art and Design. In focusing on the relations between students' spacing and timing skills, 4D Design extends and supplements the other Foundation courses, and prepares students for further work with time-based media.
ILLM-502
Illustrating Human Anatomy
3 Credits
Drawings of lab dissections and the skeleton will be translated into illustrations designed to support instruction in Human Gross Anatomy. Course teaches what choices need to be made when translating literal drawings into illustrations that support instruction. The target learner for these illustrations is a student attending Human Gross Anatomy at a graduate level.
ILLM-602
Anatomic Studies
3 Credits
Through independent research and acquired understanding of human gross anatomy, students create illustrations designed to support medical or graduate level instruction of Human Gross Anatomy. Course requires students to cognitively illustrate their subjects, rather than creating literal interpretations of their observations. Work is intended for full color print media.
ILLM-607
Computer Applications in Medical Illustration
3 Credits
Students will learn to use industry-standard raster and vector illustration software to create images based on independent research of medical topics. Students will also use page layout applications to combine digital images with text and other graphic elements. Coursework emphasizes creation of illustrations to support medical education and publishing.
ILLS-319
Digital Illustration II
3 Credits
Digital Illustration II will provide students with advanced methods of conceptualizing, organizing and executing illustrations using the computer. Projects will expose students to various types of digital techniques using vector and raster-based software applications, and a variety of input and output devices for the creation of professional level assignments. The course will emphasize conceptual problem-solving methodology and the language of visualization while providing a consistent foundation for digital illustration as it relates to professional illustration production. Color systems, digital terminology and pre-press file formats will be also be covered.
Featured Work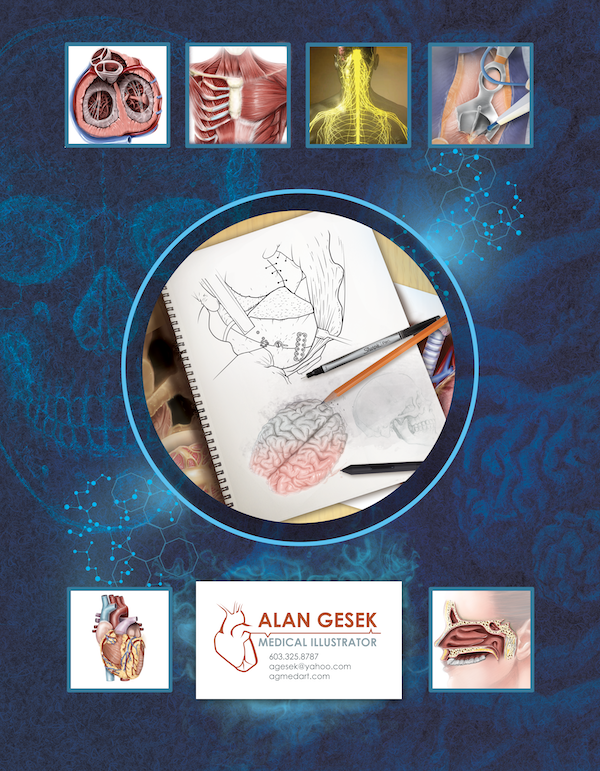 Medical Illustration Artwork
Alan Gesek
Illustrations done over the years showcasing a scientific or medical concept. Illustrations are started traditionally in graphite, scanned and digitally painted and illustrated in Adobe Photoshop with...
View More

about Medical Illustration Artwork