Alumni trio makes its mark with expanding stop motion studio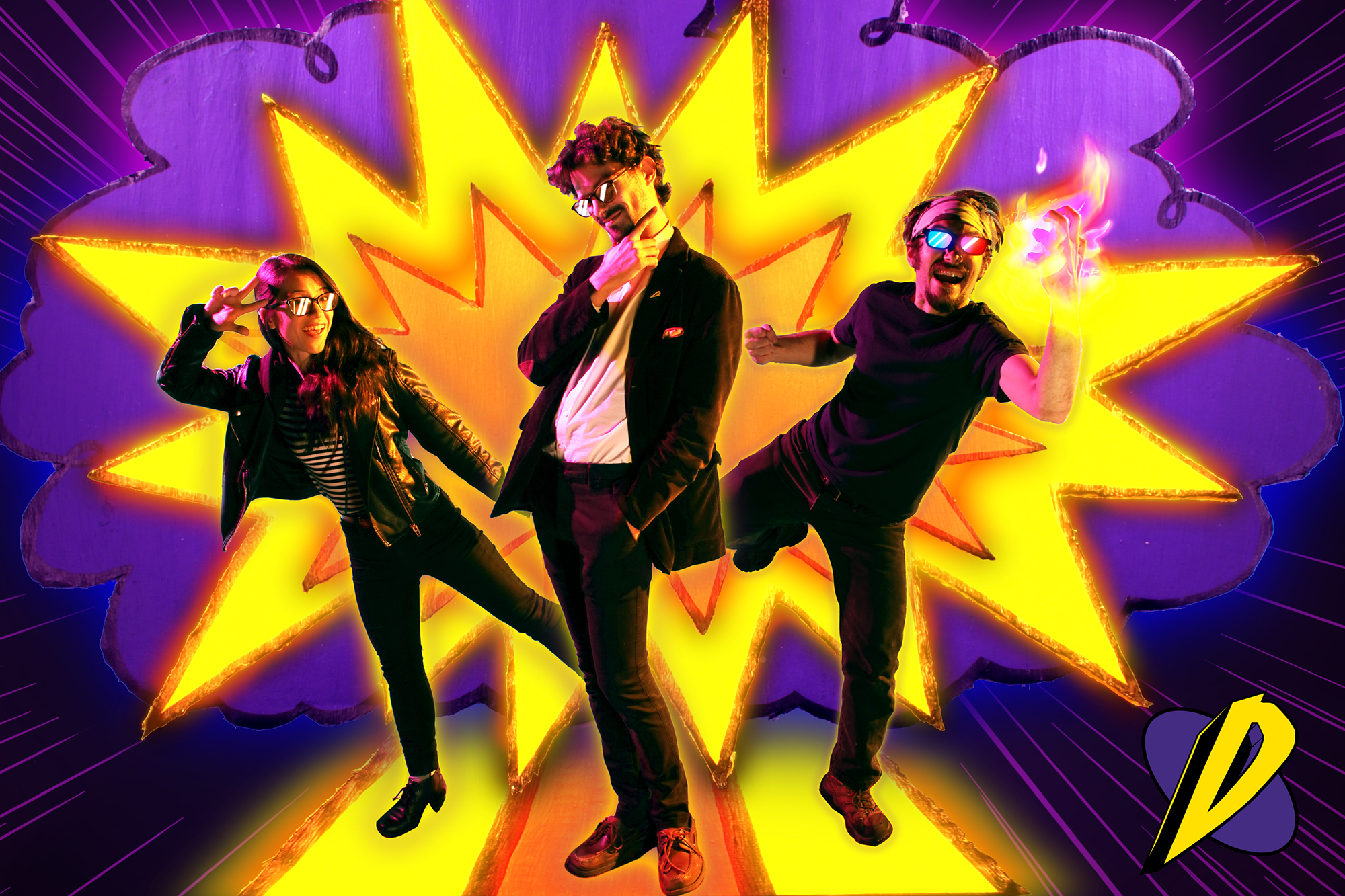 As the company name suggests, Apartment D started in a living room. 
These days, Apartment D is a flourishing stop motion animation studio in Burbank, Calif., with a space to match its significant growth. 
Run by RIT animation alumni Max Lopez '12, Sean Malony '12 and Cami Kwan '15, the company comfortably sits in a 6,000-square-foot studio that accommodates as many as 40 artists working on a given project. 
"It's like 16 garages," said Kwan, referencing the single-garage studio the company graduated to after its living-room office.
"It's like Willy Wonka's factory," Malony said. 
Apartment D's energetic animation style has been applied to brand campaigns and animations for Jack in the Box, Mattel, Nickelodeon, Warner Bros., and more. Through its rise in the industry, Apartment D largely created narrative YouTube series featuring beloved toys such as American Girl, Batman, Hot Wheels, and Monster High.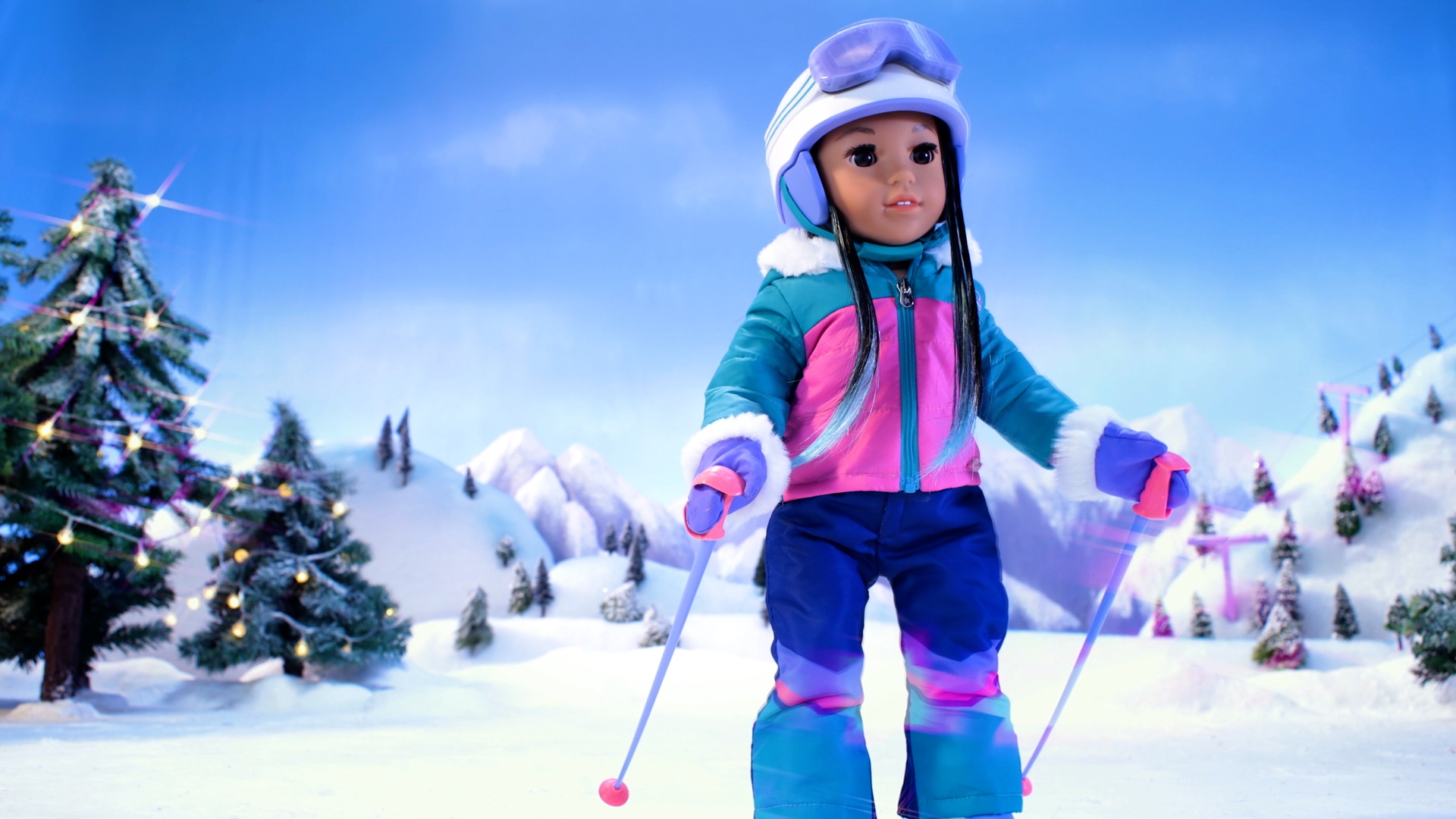 Courtesy of Apartment D
They have become the preferred studio of entertainment giants, like Nickelodeon, to generate stop motion elements for 2D-animated shows. 
The team's sprawling studio befits its vision for the company. It includes eight stages for shooting stop motion scenes, an editing bay, production offices, a set shop, puppet department, grip equipment, and a communal break room where collaboration and transparency take hold. 
"I wanted to start a studio because I was tired of being pushed and pulled and not knowing why," Lopez said. "The toy work seemingly isn't going anywhere, so the goal now is to pivot to projects that allow us to hit a higher bar of quality and jump from this entertainment as advertising space into true entertainment."
While stop motion is at the heart of its work, the trio evolved to develop a distinctive style. 
Graphic and 2D animation sensibilities — along with doses of visual effects and the newest exploration, augmented reality technology — are integrated with traditional stop motion techniques. An anime inspiration is evident, too. Sakuga, an anime term referring to a sequence with noticeably higher quality to highlight specific moments, is a driving force of every frame. 
"We've come a long way from our stop motion purist days where it all must happen in camera," Lopez said. "We see ourselves as mixed-media artists."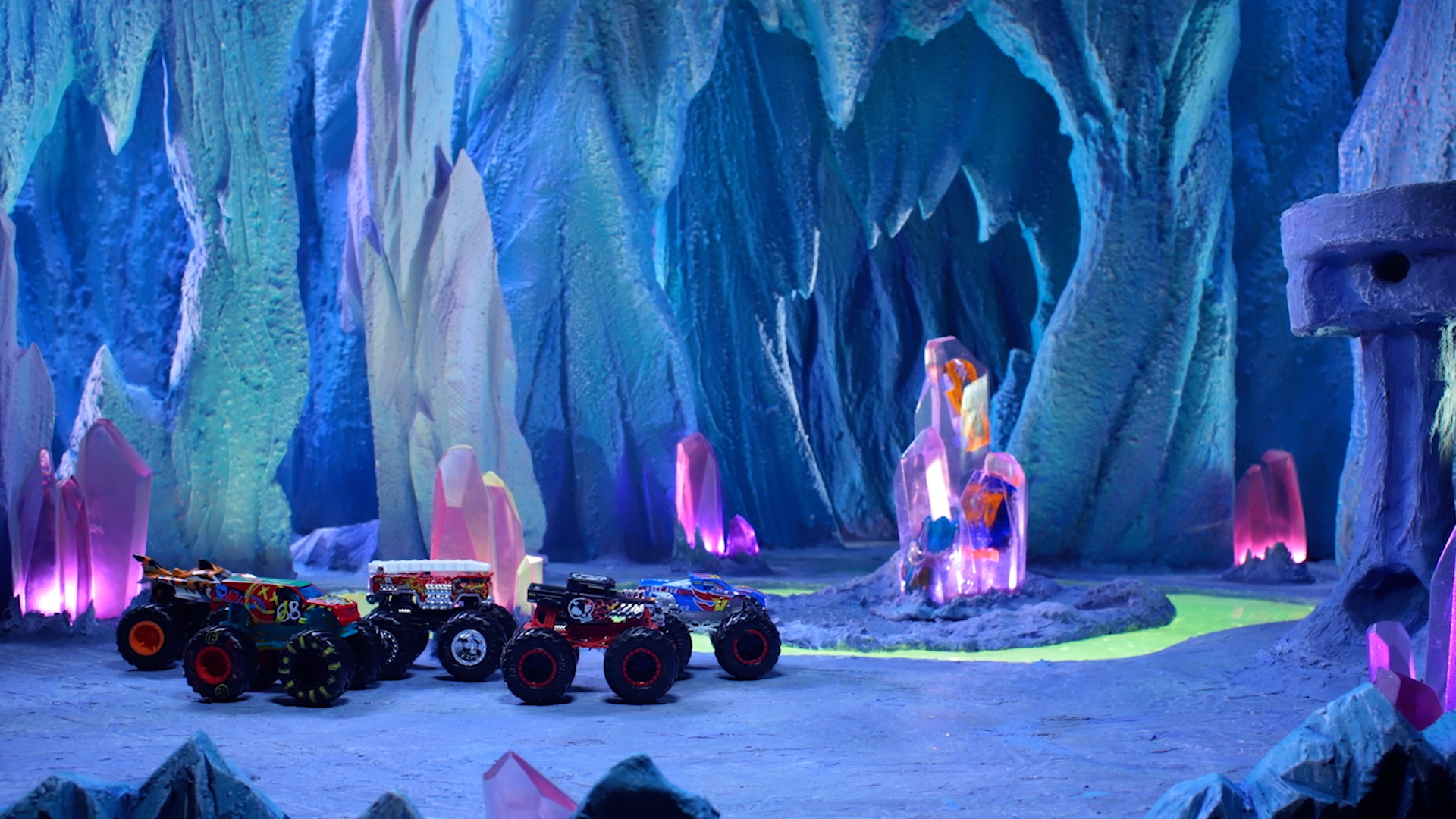 Courtesy of Apartment D
Lopez and Malony have been making animated films together since RIT. After graduating, they packed a car, moved to Los Angeles, and worked full-time at animation studios for a few years. 
Then a joint freelance assignment to make a notable stop motion insert for a live-action film rekindled their interest in collaborating on films. 
So they resurrected and expanded a project Lopez did for one of Professor Tom Gasek's classes. The result was an original holiday short, Merry X Mechs, and a fresh career outlook. They found a creative freedom that wasn't always present working for studios.
"We whipped into a frenzy and made, still, one of the best things we have made, just in terms of how much fun it is," Malony said. "It was magical, and we said, 'OK, we should do this even more on purpose now.'"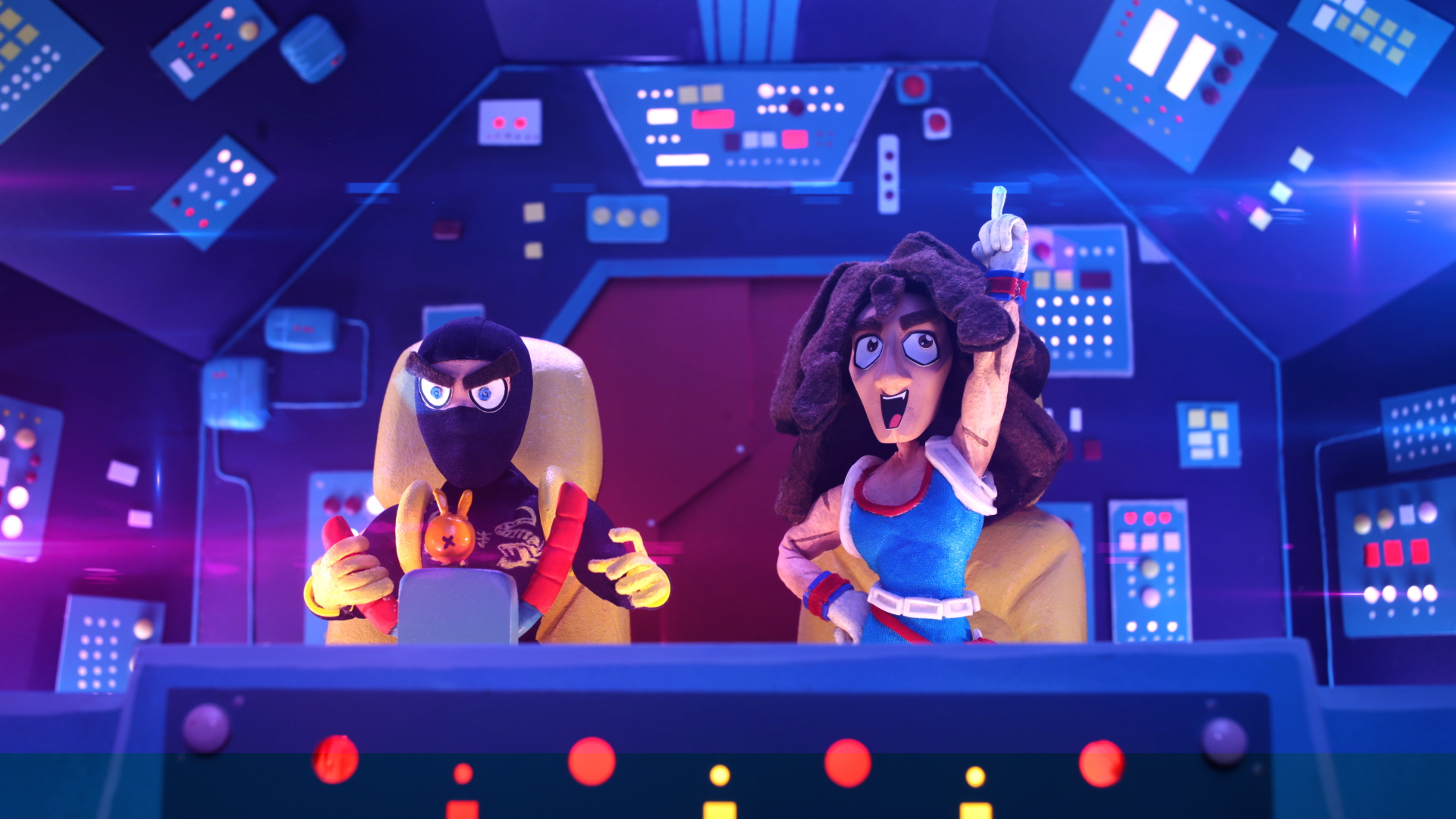 Courtesy of Apartment D
Lopez and Malony opened up business, marketing, and accounting books — the backbone of their self-administered MBA program. In 2016, they officially co-founded Apartment D. Kwan joined the mix in 2017 and later became a partner.
"Now it feels like we're playing in the Hollywood ecosystem instead of a studio ecosystem," Lopez said. "So just that broader horizon is satisfying."
Today, Kwan is head of production, Lopez is CEO, and Malony is the creative director. 
Apartment D's success can be partially attributed to, Kwan said, philosophy courses taken at RIT (all three earned a philosophy minor).
"It's that mental and emotional flexibility to ford through the crazy river that is trying to make your own way in this industry," Kwan said. "There is so much mental battle you have to do, and a foundation of philosophy helps us see where we want to be and make peace with whatever we encounter on the way there."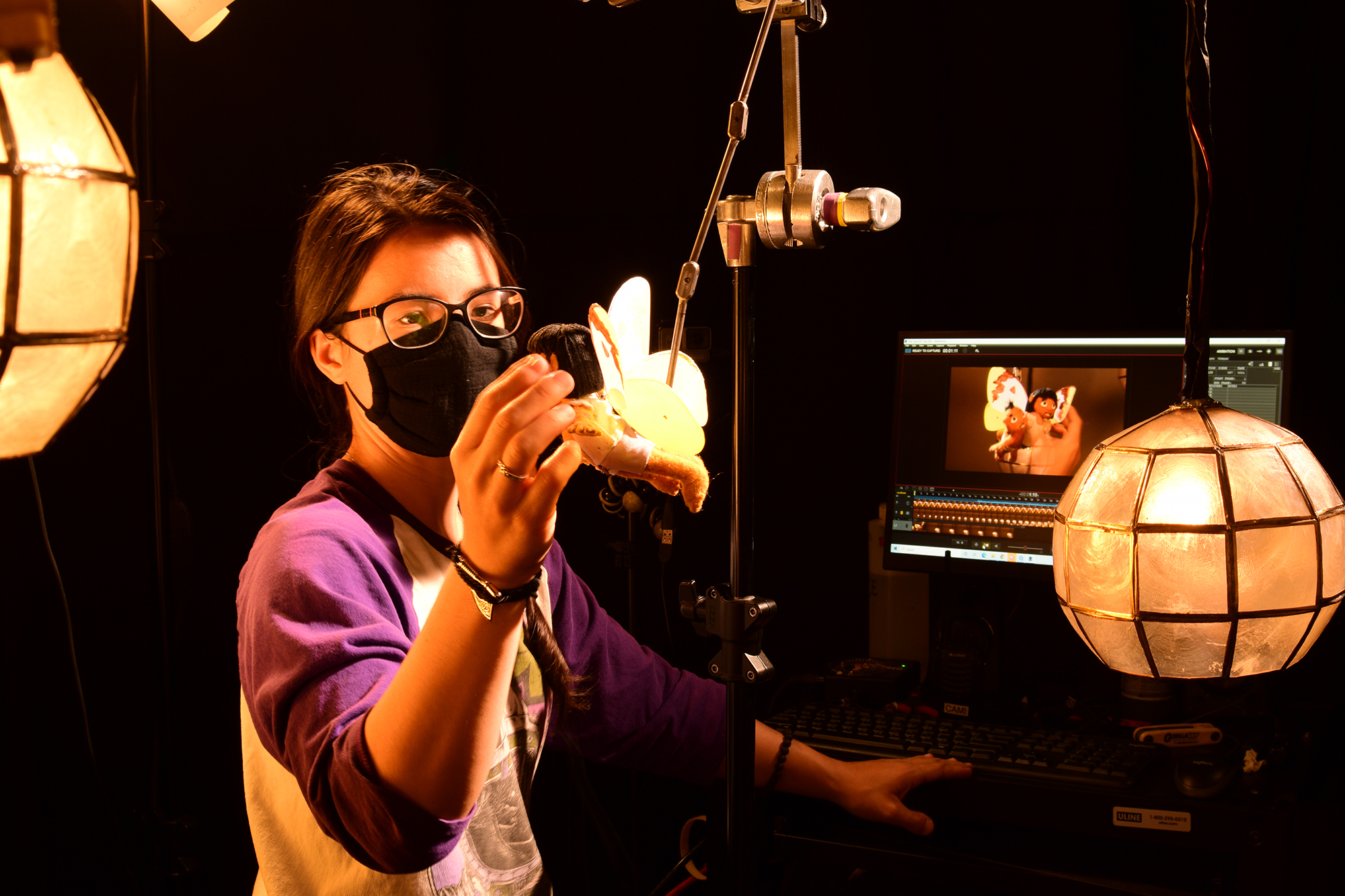 J. McLagan
Their philosophical mindset extends to ensuring strong company culture for employees, many of whom have been fellow RIT alumni.
"That spirit of collaboration is huge," Malony said.
"One of the most gratifying things has been creating an environment we're proud of and a good space for our artists to be," Kwan said. "We want our crew to feel ownership over what's happening, like they're not just a cog in a machine. They deserve visibility of what's happening, and we're all in this together."
Apartment D has also ventured into bringing their vibrant visuals to music videos, YouTube channels like Good Mythical Morning and Game Grumps, and Nickelodeon's original 2D-animated series Middlemost Post.
And last summer, they released an original short film, The New Adventures of the Blue Mist, based on a character Lopez drew up at RIT.
"My hope is in the coming years you start to see more Apartment D work that can be the definitive example of what our own voice is," Lopez said. 
With much of its work geared toward children, Apartment D embraces its authority to deliver positive messages.
"We want to make things that will help kids navigate the world or give an extra boost of inspiration or joy," Kwan said. "That's a lot of what drove me into animation and to Apartment D. If you have a studio, you have a much larger role and a better chance of influencing what gets put on the screen."