Alumni Update: Alumnus works with his childhood heroes on 'The Simpsons'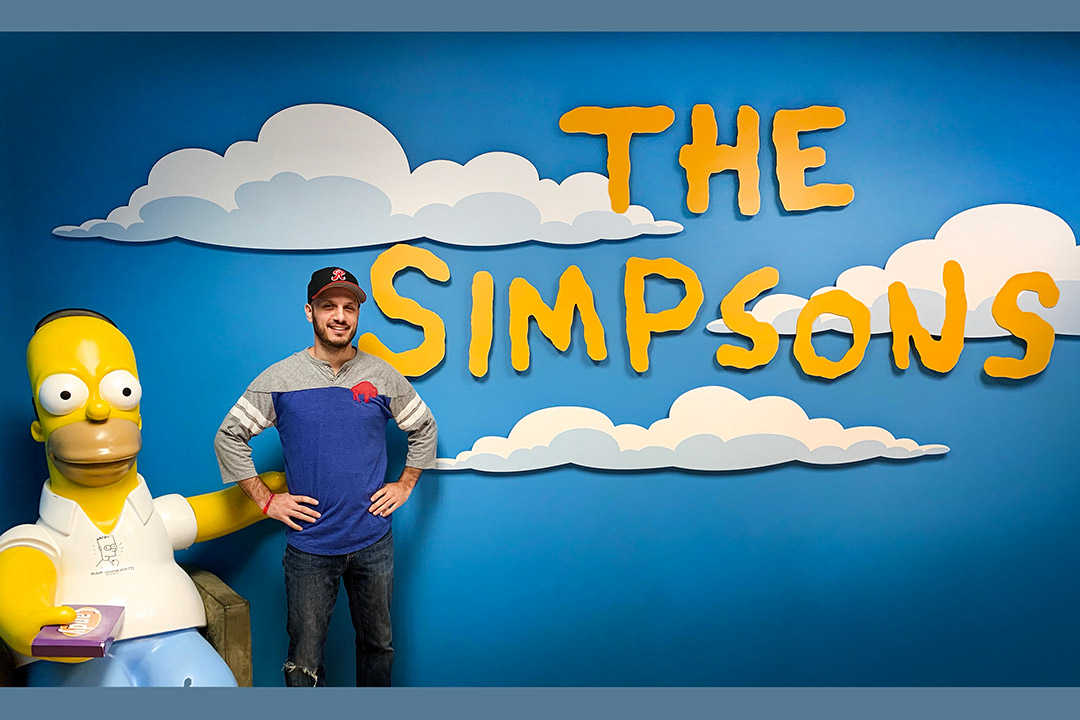 Mike Battle '02 (film and animation) has been watching The Simpsons for almost 30 years. For about half of that time, he has had a behind-the-scenes view of new episodes.
Battle moved to Burbank, Calif., in 2004 to work as a color modelist for the award-winning TV show. As a color modelist, Battle creates digital color guides for animators to follow when bringing life to new episodes.
There are designs that have pre-existing color guides, such as the living room in the Simpsons' home, but Battle works on isolating and identifying elements that require new colors, such as new locations, costume changes, and things as subtle as a spill on the carpet.
Unlike some people who meet their heroes and are disappointed, Battle says that everyone he's met—from Matt Groening, the creator of the show, to Nancy Cartwright, the voice of Bart Simpson—has been a pleasure to work with.
"The show has been around for so long that there are artists still working here that started when it was just pencil, paper, paint, and ink," said Battle. "I'm working with some of the original artists who drew, animated, or directed sequences that I consider to be some of the best moments in television history."
The behind-the-scenes experience hasn't diminished his love for the show, it's just altered it. Instead of being a passive viewer, he has an active hand in producing new episodes. "It's a different kind of TV magic. I no longer experience the surprise of seeing it on the screen for the first time, but I absolutely enjoy being behind the curtain contributing to the show's development and growth," he said.
After graduating from RIT, Battle moved to California to pursue a career in animation. Before he found his dream job, he got experience with a variety of different production positions. He worked for Nickelodeon as a production assistant, at Film Roman as a post-production coordinator on King of the Hill, and even once as a movie extra.
When reflecting on the 14 years he's worked for The Simpsons, Battle said one of the biggest highlights of his career was creating an opening couch gag, which appeared on the "Midnight Towboy" episode of season 19.
The opening couch gag is one of the iconic elements of The Simpsons. Using his experience from the RIT film and animation program, he created a stop-motion couch gag made from LEGOS.
 "It's surreal to work with and befriend the people who created such a vital part of my childhood," said Battle. "To sit in meetings discussing how we are going to create a visual, a moment in television that millions of people are going to watch, is fascinating. It's really cool to be hanging out with the chefs in the kitchen."
Topics