Alumni Update: Role with game developer took root at RIT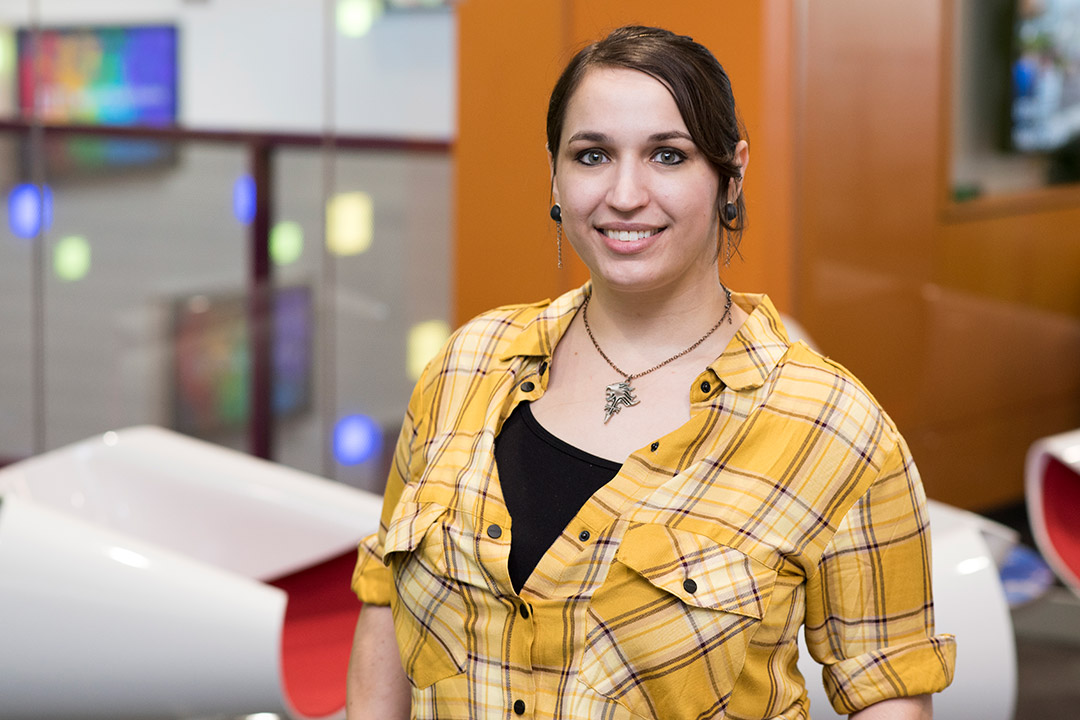 A. Sue Weisler
During a 2008 visit to RIT while she was in high school, Madeleine Rabil '13 (3D digital graphics) learned that the university's then-called College of Imaging Arts and Sciences had just announced the creation of a new major for incoming students.
"It was a program focusing specifically on 3D as a medium," said Rabil, referring to what is now 3D digital design in RIT's College of Art and Design. "A lot of other colleges offered programs that covered 3D in one or two classes, but I knew I needed to specialize in it."
"I was very fortunate," she added. "I knew immediately that RIT was where I needed to be."
Rabil combined that good fortune and hard work into a job as an environment artist for Rockville, Md.-based Bethesda Game Studios, developers behind highly successful role-playing video games like Fallout, The Elder Scrolls, and Starfield.
A self-described "gamer" since a young age, Rabil grew up in nearby Montgomery Village, Md., a short distance from the video game publisher.
"Funny enough, I had no idea that a major studio resided just 20 minutes away for the majority of my life," she said. "Being local to Bethesda ended up being a huge part of what enabled me to do my internships in quality assurance and later as an environment artist because I didn't have to relocate my home."
 Today, she's feeling right at home at Bethesda.
"My main responsibility is to help build out the environments for our games in virtual space," Rabil said. "I use different 3D modeling and texturing packages to create and edit various assets like trees, rocks, and walls before using our game engine to assemble everything into a complete scene or environment for players to explore."
Her favorite project thus far is the highly popular Fallout 4 game. "I was so proud of how it turned out," she beamed.
Rabil said she thrives on the "highly collaborative" creative process that she enjoys with her Bethesda colleagues, which hearkens her back to when she was at RIT working with students from university-wide programs.
"I was involved in a multidisciplinary project of some kind every single year I was at RIT," recalled Rabil, the most notable of which was an augmented reality (AR) golf project showcased at Imagine RIT.
That experience has served her well at Bethesda.
"Video game development is such a collaborative process that spans multiple disciplines," she said. "Learning to be able to communicate effectively with people who think differently, or have different priorities, isn't something that is easily learned in the classroom—mostly because you're often interacting with other people who specialize in the same things as you.
"After I graduated, I found that experiences working with students outside my expertise was really the closest thing to my real-world circumstances in the workplace. I think that's something that RIT in particular is uniquely suited to offer," she said.
Topics