Graduating new media design student from India checks all the boxes at RIT
Aditi Khazanchi headed to Microsoft after 'incredible journey' in College of Art and Design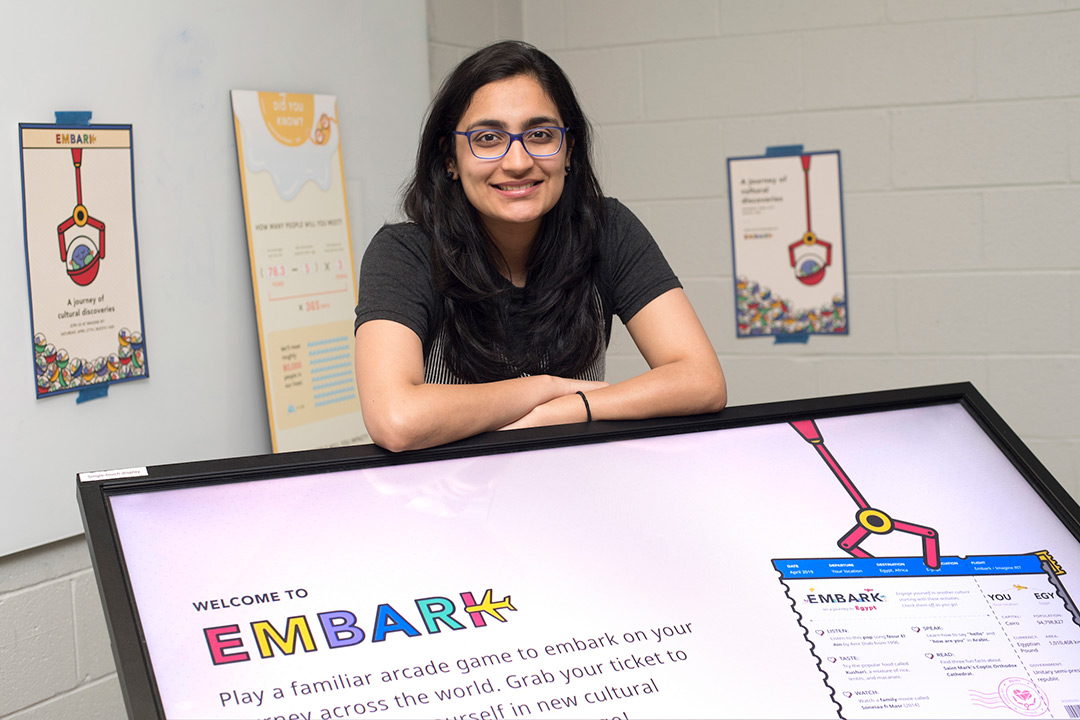 Commencement weekend kicks off with Academic Convocation on May 10. Read more about the Class of 2019 at rit.edu/news/commencement-news.
Aditi Khazanchi, a graduating new media design student in the College of Art and Design, came to RIT with three goals in mind.
"I wanted to learn how to design inclusive experiences that empower people around me; gain industry experience; and learn from cultures outside of my own," said Khazanchi, who grew up in New Delhi, India.
Check, check and check.
"I can safely say that my journey through the new media design program and extracurricular activities at RIT have not only helped me achieve my goals, but have been enriching beyond what I could have imagined—complete with challenges, rewards and connections," Khazanchi said.
Her connections began during her freshman year, when she joined the RIT Admissions team as an international student ambassador. "I wanted to help students coming from overseas feel comfortable and welcomed, since I knew as an international student myself how critical that is to be successful at RIT," said Khazanchi, named by the Center for Women and Gender as the College of Art and Design's 2019 Legacy Leader.
Through blog posts and managing social media platforms, Khazanchi reached out to prospective and accepted international students, serving as an empathetic connection for adjusting to American culture and campus life.
"It was very rewarding when the prospective students I talked to joined RIT and reached out to me," she recalled. "It was truly satisfying to see that I inspired some of those international students to become actively engaged in the RIT community."
The summer after her first year, Khazanchi interned at a digital agency back home in India, where she worked for clients such as Bausch + Lomb, Canon and Sony Sports. Then last summer, she interned at Microsoft, where she prototyped virtual reality (VR) solutions designed to prevent exclusion in the aging community and was part of a team whose VR app took third place in the inclusive design challenge category during Microsoft's annual hackathon.
"The internship culminated into a full-time job offer that I'm excited to start this summer," she said. "I will be working at the Redmond office as a user experience designer on the 'Mixed Reality at Work' team. I will be expected to move beyond just screens to augment and improve the professional lives of workers around the world."
Khazanchi is confident that the new media design program's rigor and preparation has steeled her for what lies ahead. "The coursework in NMD has given me an extremely strong base in design principles and process," she said. "RIT turned out to be the perfect combination of technology and creativity for me. New media design is a one-of-its-kind program—we learn how to design, illustrate, animate as well as code and bring those designs to life."
As her RIT journey comes to an end, Khazanchi said she'll always look back at her years on campus with purposeful fondness.
"I have been blessed with meeting some incredible people through my journey at RIT," she said. "I am also incredibly lucky to have had such an amazing group of dedicated faculty in new media design; they truly care about each and every student and spend a lot of time pushing us to achieve our potential."
"When I look back at the last four years, I am amazed at the amount I have learned and been able to contribute—both academically and as part of many on-campus activities," she concluded. "At RIT, I found my place as a designer, a mentor, a leader and a friend."
Topics