Industrial design duo presents research on artisan innovation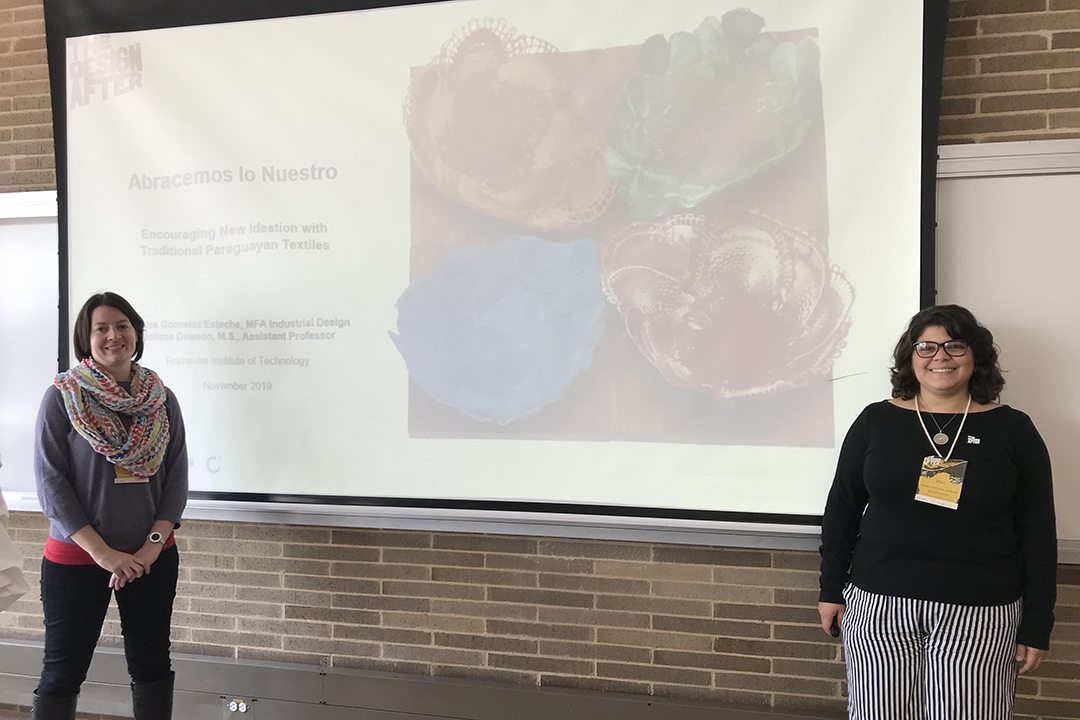 Noticing a lack of imagination in artisan products in her native Paraguay the last few years, Fulbright visiting scholar Andrea Gonzalez Esteche '19 MFA (Industrial Design) took action. 
She shaped her thesis project around addressing the problem, defending it in May. Since, she's continued developing the research — which centers around increasing innovation in Paraguayan artisan work through the lens of industrial design — with assistant professor Melissa Dawson. The duo recently went abroad with their research, titled "Abracemos lo Nuestro: Encouraging New Ideation with Traditional Paraguayan Textiles," presenting it at the Cumulus: "The Design After" conference Oct. 31 to Nov. 1 in Bogota, Colombia. 
After Dawson, an expert in soft product design, served on Gonzalez's thesis committee, the two worked together to advance the research and write a paper published in "The Design After" conference proceedings.
"The experience helped me to see how good things can be if you keep working with it," Gonzalez said.
The project focuses on improving the quality of artisan products, specifically textiles, in Paraguay through industrial design knowledge and strategies. Objectives include discovering new uses for traditional textiles, updating their application and better addressing user needs and contemporary desires. Partnering with the Paraguayan Institute of Artisans (IPA), Gonzalez and Dawson are aiming to provide the organization with new innovations and techniques artisans can apply to their craft.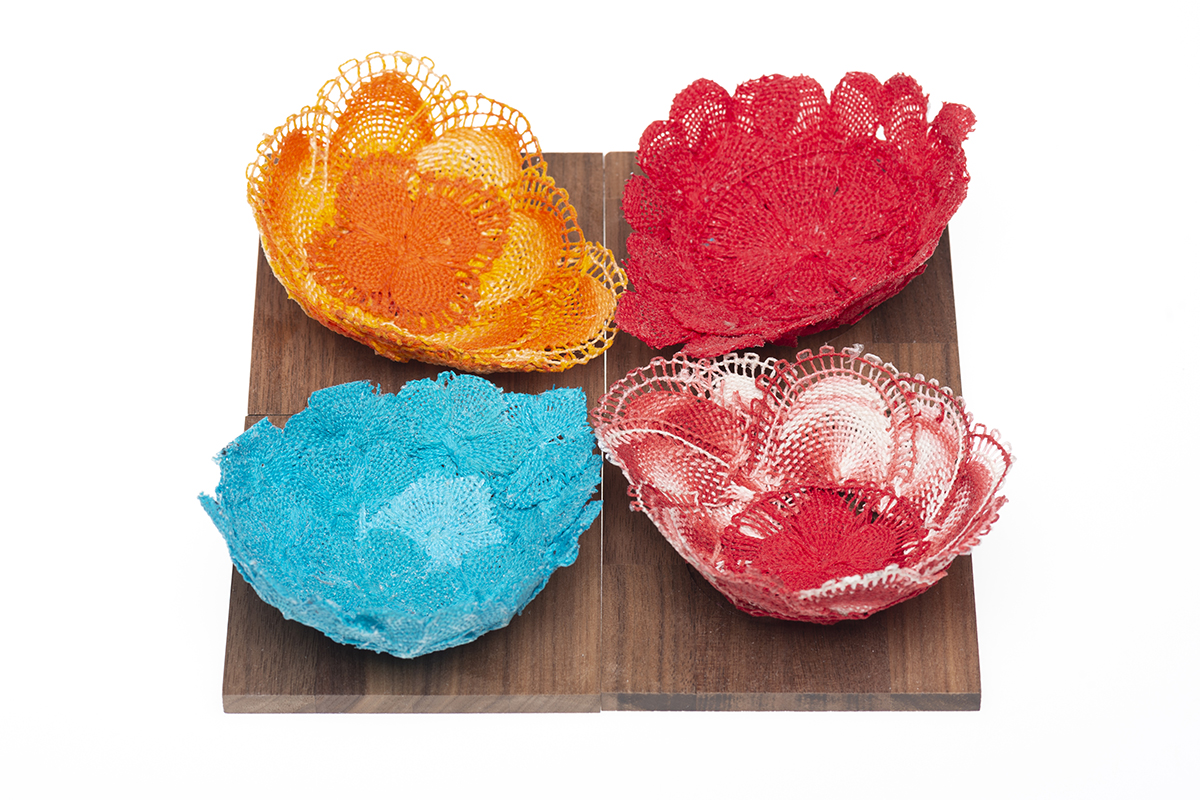 The IPA was established in 2004 to promote the development of national crafts, encourage and protect artisans, find marketing channels for artisan goods and foster training opportunities for craftspeople.
"Traditional artisan work is deeply rooted in Paraguayan cultural identity. Specifically, the traditional textiles of ñanduti, a'ó po'í, encaje jú and po'yví promote a significant sense of pride and self in the Paraguayan people," the project description for 'The Design After' conference reads. "However, in recent years textile artisans have been exhibiting an increasing lack of innovation and newness in their design ideation, resulting in analogous products flooding the market and diminishing public appreciation for conventional Paraguayan textiles. 
"In partnership with Paraguayan Institute of Artisans, our research embraces and builds upon Milton's design objectives that encourage communication, adaptability, expansion and connectivity to improve interaction and cooperation between the artisans and with those that appreciate their craft."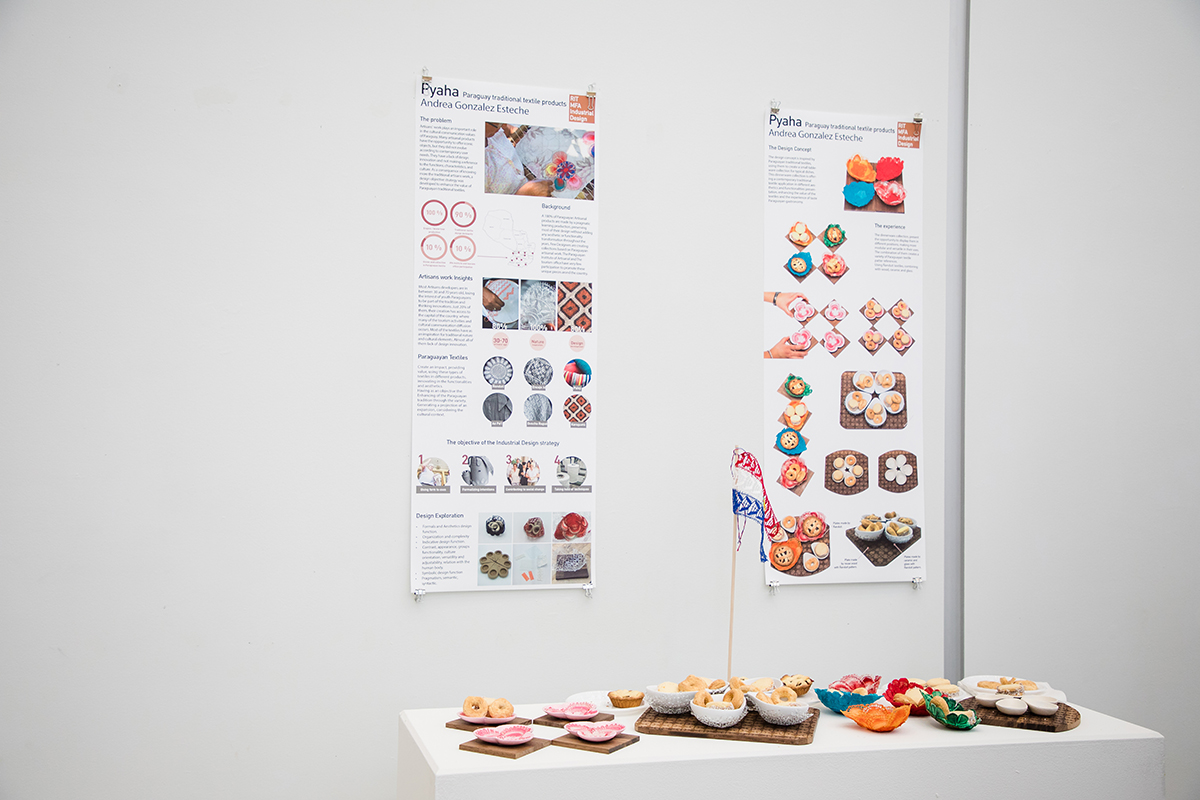 Gonzalez said her studies in RIT's Industrial Design MFA program have equipped her with the design, research, marketing and manufacturing knowledge and tools to address the issues in a stagnant market where a creativity shortage has led to decreasing interest in products. While current market newness has mainly concentrated on fashion and accessories, Gonzalez also sees opportunity for expanding this work into gastronomy and home products. She envisions the same contemporary design practices being incorporated into bowls and tableware to serve traditional Paraguayan dishes.
Dawson and Gonzalez are currently developing an expanded research proposal for RIT Soft Studio's "Abracemos lo Nuestro" project, including travel to Paraguay to work directly with the IPA and  local artisans. 
Through partnership with the IPA, Dawson and Gonzalez said they would like to supply new tools and resources to artisans and inspire the production of more empathetic, creative and innovative products. By encouraging using traditional textiles in new ways, they hope to preserve important cultural traditions, heritage and sensibilities while enhancing the artisan way of life and recognition within society.
Topics