Josh Thorson culminates rewarding, challenging year with Eisenhart Award
SPAS professor recognized on Broadway for 'Oklahoma,' on campus with RIT's top teaching award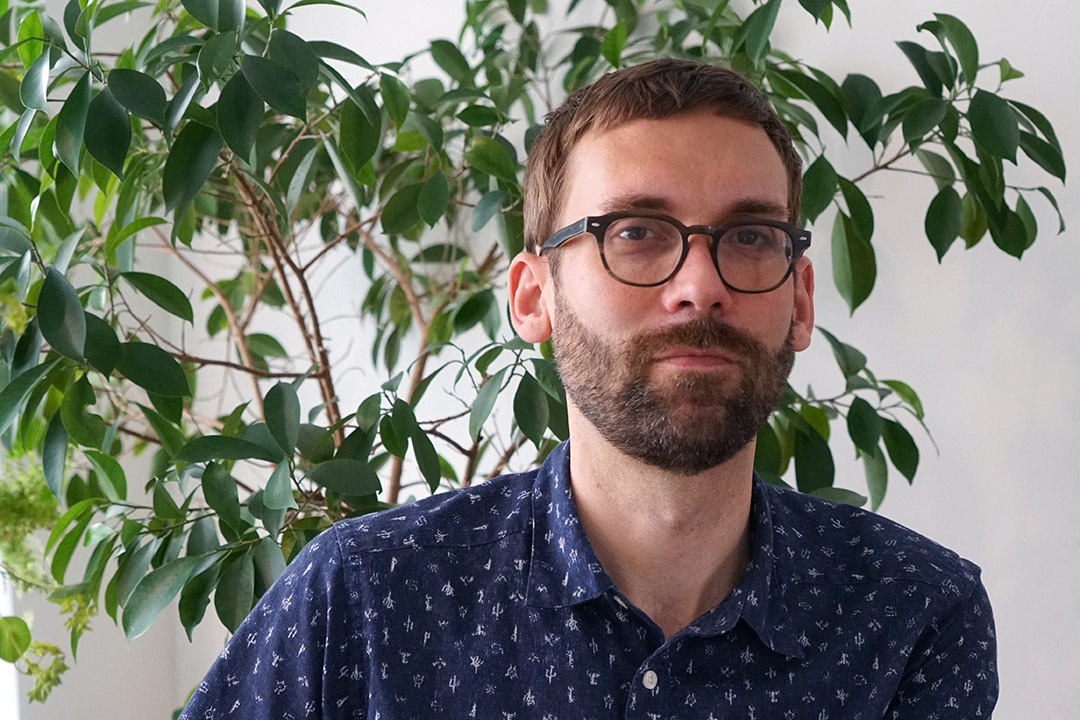 To say it's been an eventful year for Josh Thorson would be a considerable understatement.
The assistant professor in RIT's nationally recognized School of Photographic Arts and Sciences in the College of Art and Design created the live video projections last year for the Broadway production of Rodgers & Hammerstein's Oklahoma!, which won the 2019 Tony Award for Best Musical Revival.
He also was nominated for a Drama Desk Award for Outstanding Projection Design, the top honor in the field of projections for theater, and he will soon create a version of the musical that will tour nationally.
Off Broadway, and on campus, he became the director of the MFA in photography and related media program. Then a few weeks ago, Thorson learned he was the 2019-20 recipient of the Richard and Virginia Eisenhart Provost's Award for Excellence in Teaching, recognizing exceptional performance in the classroom and a commitment to student learning.
On April 13. His 42nd birthday, no less. "That was a nice coincidence," Thorson recalled. "There are so many distinguished people at RIT doing amazing and diverse things; I was honored to have been nominated, so to have been chosen is thrilling. I'm deeply grateful to my students, colleagues and the members of the committee."
Thorson was drawn to teaching early in life. Born in a Norwegian community in northern Iowa, he grew up there and in Rochester, Minn.—"this is my second Rochester," he often says—and he soon discovered he was "the kind of person other people would seek out with technical questions or creative feedback, so teaching came quite naturally for me."
Since arriving at RIT in 2015, Thorson has honed his skills in the classroom with photography students who regularly inspire him. "The photo school at RIT is the place to go for students who are serious about studying photography, so their work is tremendously accomplished—they put everything into it."
"Since coming to RIT, I've realized it isn't very effective to simply tell students how to apply the skills, concepts and techniques discussed in class," he added. "I've worked hard on finding ways to motivate them to figure out how what they are learning applies to their own interests and goals. I think of the classroom as a community and meet each student as an individual at a particular place in their journey, and I do my best to make the class 'work' for each student so that they leave with a lot of new ideas, knowledge and skills. I like what I teach, which I think also makes my classes a lot of fun!"
For Thorson, the shift to distance learning amid the coronavirus pandemic has been challenging and rewarding at the same time.
"The MFA thesis defenses had to be held via video conferencing," he said. "It wasn't the same as being there in person, but one positive outcome was that friends and family could tune in from afar."
 Other courses required more drastic shifts to his teaching approaches.
"I've tried my best to keep the sense of community in my classes intact through synchronous video streaming," he said, "but photography and the arts are physical mediums and require hands-on attention and specialized equipment. It's been hard for all of us—students, faculty and staff—but we figured out ways to finish the semester successfully."