Making a difference through design
Faculty use their creativity to fuel fundraising effort for a non-profit in Buffalo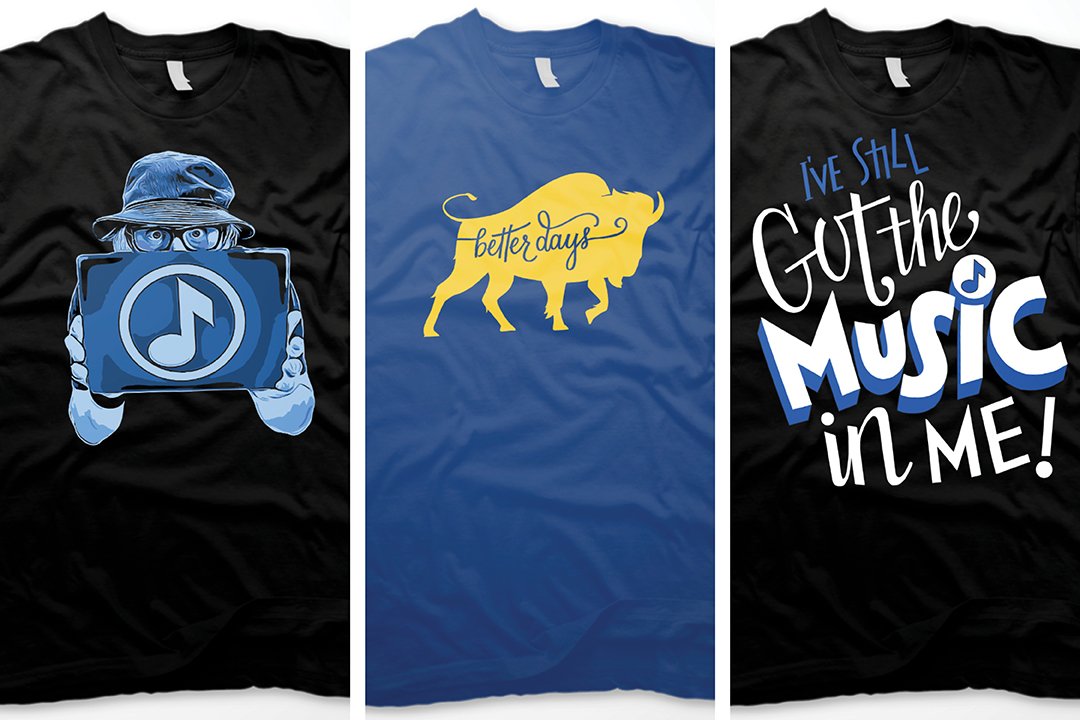 A pair of RIT Graphic Design faculty have made a habit of getting creative for a cause. Their latest efforts helped launch a fundraiser with two community organizations in Buffalo, N.Y. 
Associate Professor Carol Fillip and Professor Lorrie Frear designed shirts that are being sold through 26 Shirts to raise money for Music is Art, a non-profit founded by Goo Goo Dolls bassist Robby Takac that is dedicated to creating opportunities that fuel the unifying power of music in the region. 26 Shirts sells limited-edition, uniquely designed t-shirts for two weeks at a time, with a portion of proceeds being donated to families in need or a charitable organization. To date, 26 Shirts has raised nearly $1,000,000 for worthy causes.
Through Dec. 6, portions of the shirt sales will go toward Music is Art's efforts to continue their important community work and implement new, safe programming during COVID-19. 
The RIT faculty worked on the fundraiser with renowned Buffalo artists Philip Burke and Chris Main. Burke's work has been published by more than 300 periodicals in the U.S. and around the world while Main is an art director, illustrator, painter, creative and street artist.
Fillip said she subscribed to Rolling Stone magazine from 1989-95 specifically to see Burke's paintings that appeared as a regular feature, giving additional meaning to an already gratifying collaboration. 
"It was exciting to do this fundraiser for Music is Art and work with people like Lorrie, Chris and Philip, who I have so much admiration and respect for," said Fillip, the undergraduate director of RIT's Graphic Design program. "At a time when things can be pretty bumpy, it's great to work on a meaningful project that helps others and the community."
This is the latest example of community outreach efforts by Fillip and Frear, who have employed their design skills to support community and culturally-minded initiatives for many years. 
Fillip, who sits on Music is Art's board of directors, contacted 26 Shirts about the fundraiser idea and enlisted the assistance of Frear, who leads the annual EUREKA! student workshop that uses design to initiate social change. Since 2008, both have been heavily involved in Music is Art's annual festival, which has also received volunteer help from many RIT students over the years.
"It's always fun working with Carol and Music is Art," Frear said. "It is very rewarding to help a worthy non-profit."
Learn more and contribute to the project at 26shirts.com/collections/music-is-art. The shirts are only available through Dec. 6.