Production student edits award-winning footage for RIT SportsZone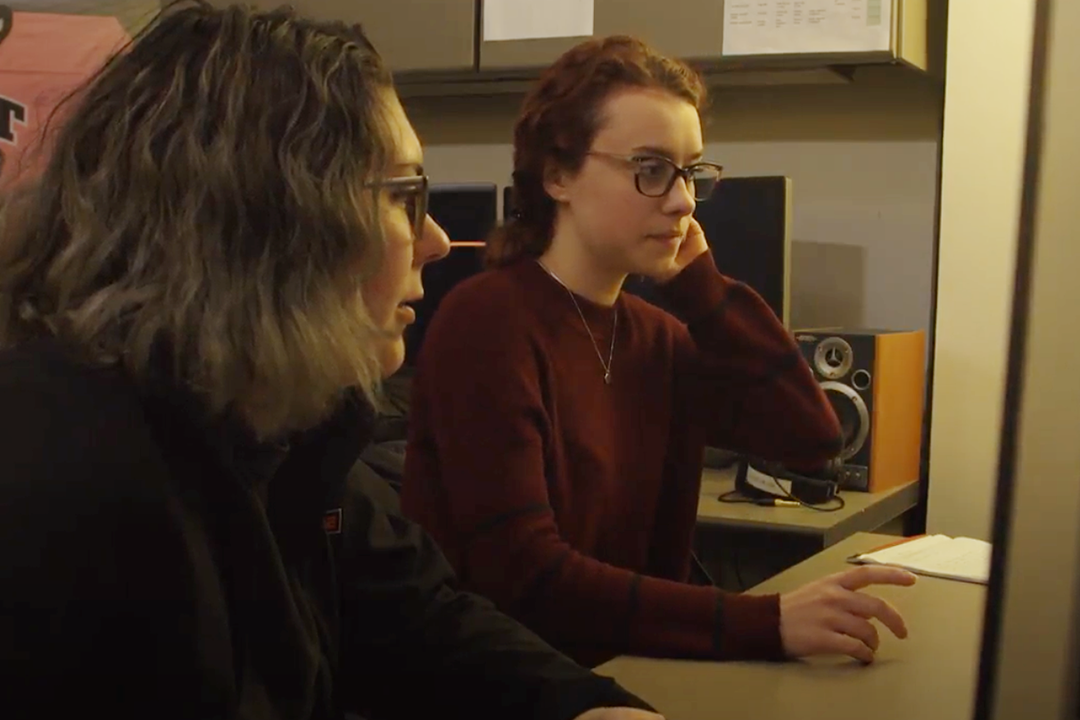 Sophie Walter is a self-described perfectionist who discovered the perfect major at RIT. 
Walter's disposition drew her to the Production option in RIT's Film and Animation program, with specific interest in video editing. It's an area that allows Walter to tweak and refine shots to her full satisfaction. 
"My job is quite literally to go back and tweak a timeline over and over again until I am happy with it," Walter said. "As an editor, I can control everything the audience sees, how they perceive what's being shown and oftentimes, what story they are watching. One set of footage could be recut over and over again to create completely different stories."
Walter has developed and applied her video editing abilities beyond her major as well. 
She's worked at RIT SportsZone — a student-run multimedia production organization that provides coverage of RIT athletics — as a video editor and, more recently, editing manager. Her work for the men's hockey Pregame Live show contributed to SportsZone winning the Sports Video Group's 2020 College Sports Media Award for best Live Non-game Production. RIT took the top honor in a category with competition from Division I athletic powerhouses Alabama, Florida, Louisville and Oklahoma.
"It's crazy to think a lot of people saw our show and thought, 'This is the best one in the whole country,'" Walter said. Dozens of other students in the College of Art and Design also gain field experience by working for SportsZone.
During the 2019-20 season, Walter said she was tasked with cutting together most of the Pregame Live episodes, including the winning entry. Even as she reflects on the major award, her perfectionist mentality takes hold and motivates her.
"I was a small part of this huge honor, yes, but it's still crazy to think a part of my work helped out," Walter said. "Most days I still don't believe it. I still think I could have cut that particular show better but perfection comes with time, knowledge and practice — something I hope I never have to stop gaining."
At SportsZone, Walter's responsibilities include training new editors and creating highlight packages for use during game broadcasts. She finds her pregame work to be paramount, though — the montages, throwback footage, profiles and commercials she readies for primetime. 
The position also led to learning new software. After using Adobe Premiere in all of her classes, Walter joined a SportsZone team that employed Avid Media Composer as its editing tool of choice.
But she soon learned the ropes of the software — with an assist from educational videos from RIT Libraries — and added Avid to her technical tool belt. Being versed in additional software, she said, has enabled her to become a better video editor and problem solver. 
Walter was initially enrolled in the University Exploration program at RIT before changing her major to Film and Animation. 
"Getting into the program was everything I wanted," Walter said. "... I love the community and cooperation and how the classes allow students to operate. As first-years, we are expected to make our own groups to film in, find locations, handle equipment, film everything we need and cut it together. The things we learn in class help us in out-of-class assignments."
Walter recalls how effective her first film assignment was in positioning students to thrive in their interest areas and a collaborative setting, and ultimately progress as filmmakers.
"Some team members focused on storytelling and filming, and I sort of naturally took up responsibility for editing everything," she said of that first project. "The classes are a gradual intro to our future careers and a simple version of what we can expect as we rise through the years."
Walter is originally from Upstate New York and, growing up in a military family, had the chance to travel the world and learn about different cultures. She even lived in Germany for a time. 
It was in high school back in the U.S. where Walter's interest in RIT sprouted. She said she won an award for creativity in the arts, receiving a scholarship from RIT in the process.  
"After looking into all the school had to offer, I quickly knew RIT was the place for me," Walter said. "I love to learn and RIT is a great place to do so. My major allows me to fulfill my creative need as well as tinker. It's a great feeling to find something you want to do for the rest of your life."
Topics