Student blends technology, art and design to build pipe organ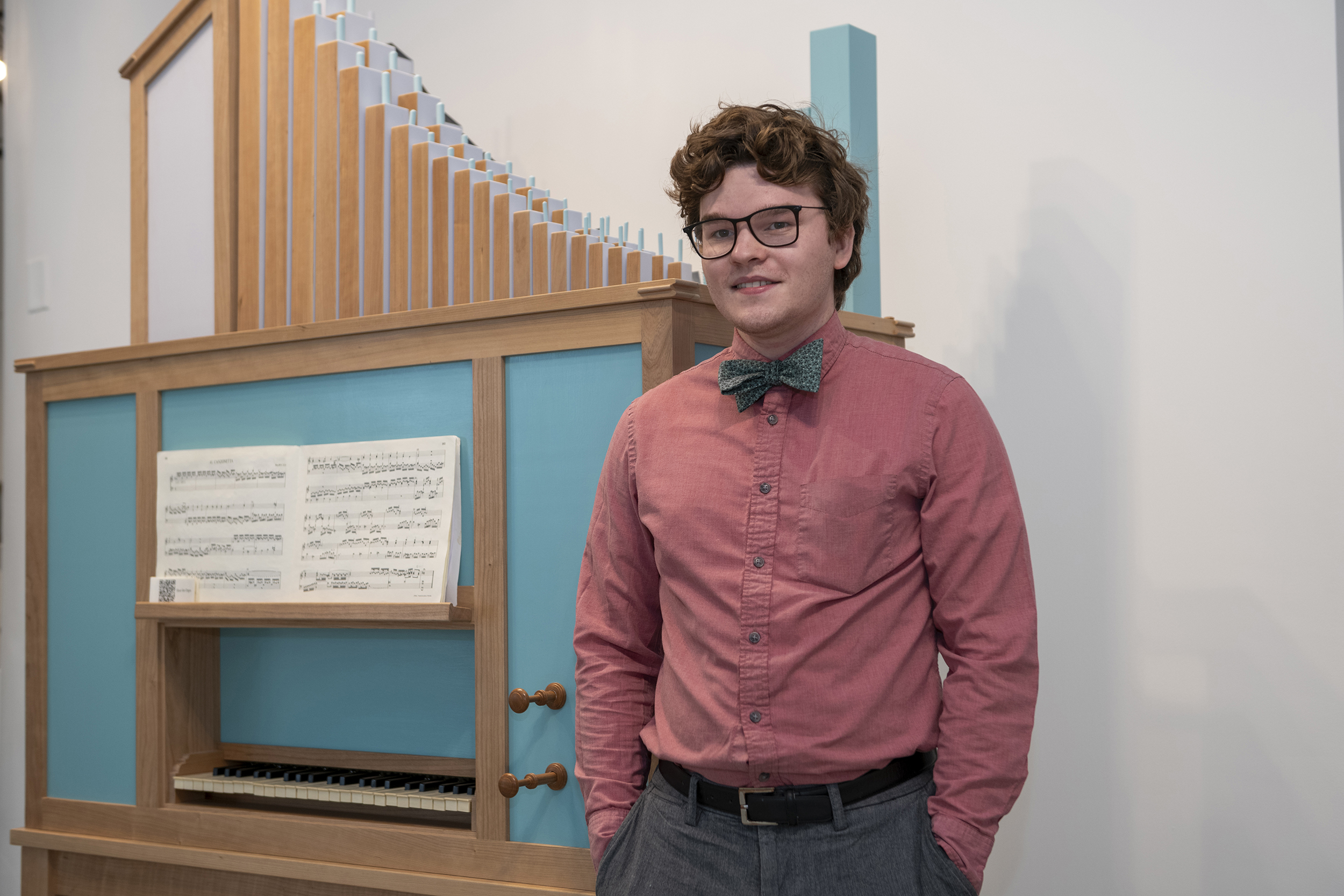 Machines are whirring as hand tools chisel away and shape the finer details of woodworking projects.  
The natural sounds of RIT's furniture design studios exist within an active environment filled with imaginative makers. This year, crisp tones of classical music joined the symphony of sounds. The source of the sweet melody was a pipe organ handmade by Kelly Cleveland '21 (Furniture Design) for his capstone project.
"I've wanted to build an organ like this for eight years," said Cleveland, from Ithaca, N.Y. "I tried to build a few organs in high school, and they were never quite how I wanted them to be. So to have my last opportunity to have access to these facilities, I felt it was my best chance of being highly motivated to go ahead and build this organ."
Professor Andy Buck remembers when Cleveland played some of his first notes in the studio, he discovered that "Kelly is a pretty masterful musician as well." It was a quintessential moment for Buck's vision for the Furniture Design capstone experience: a creative investigation that empowers students to merge personal interests to make something uniquely them.
"What Kelly proposed is quite unique, but at the same time we ask our students in their senior year to search for something they have a passion for," Buck said. "The senior project is revealing in that we learn some other things about our students."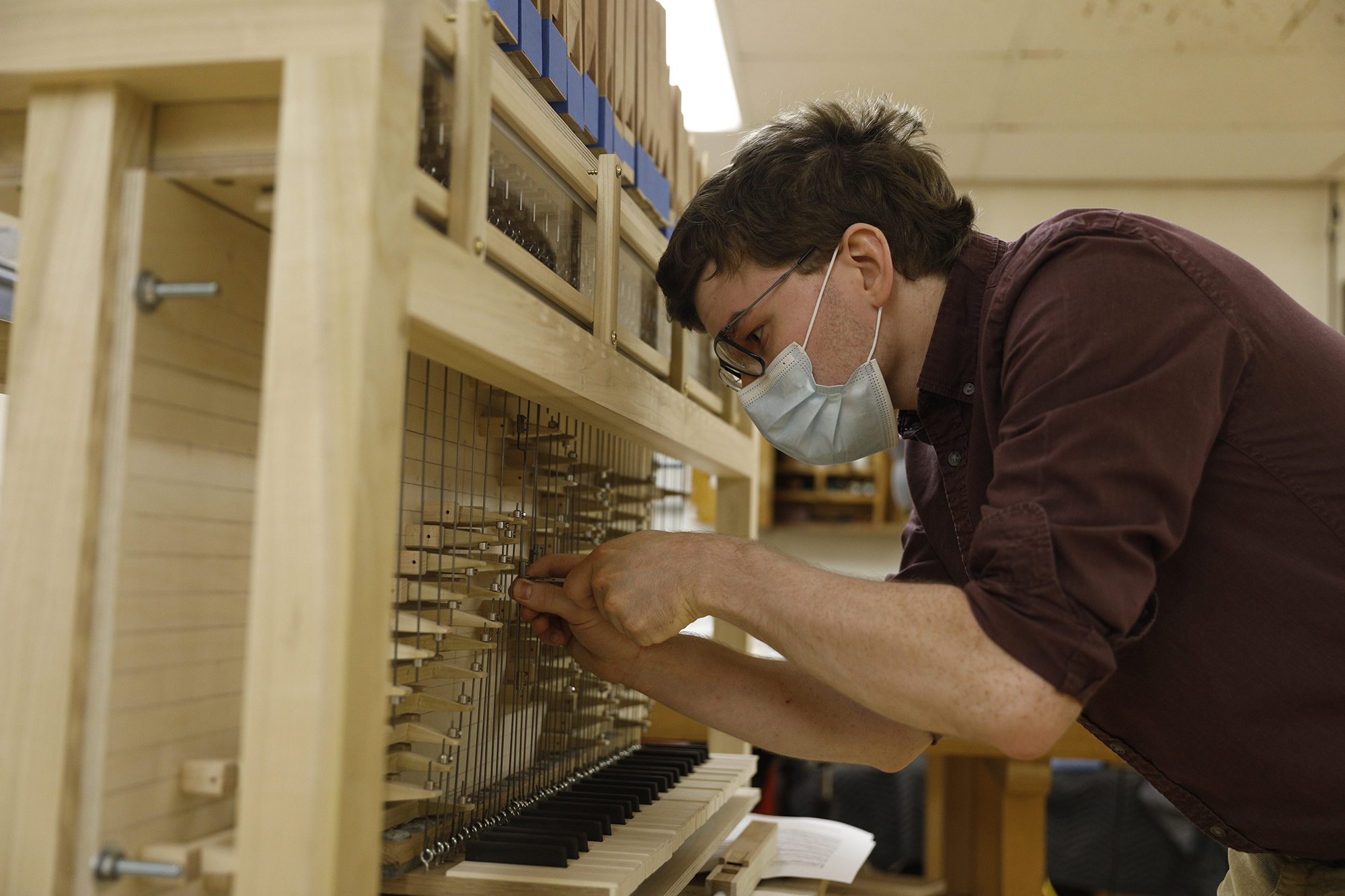 Jesse Wolfe '22
Cleveland began the project in the fall. He paired woodworking skills with research and knowledge of other materials and disciplines to create every component of the instrument — from 90 wooden pipes to the keys and their brass hinges to the sheepskin leather valves to the mechanical action connecting the keys and pipes.
His blending of woodworking, metalworking and engineering came together to form an awe-inspiring crescendo that is hard to ignore, in both aesthetic and sound. On a given day this year, Cleveland could be heard playing his in-progress pipe organ in the furniture design studio. Often, the emitted sound is baroque music — a classical style popular in the 17th and 18th centuries that inspired the project.
"I wanted to make a pipe organ suitable for that style," Cleveland said. "Mechanical action is the way to go to have a sensitive touch and articulate the notes properly for that style. It's easier to build an electric-action pipe organ, but it just doesn't sound the same."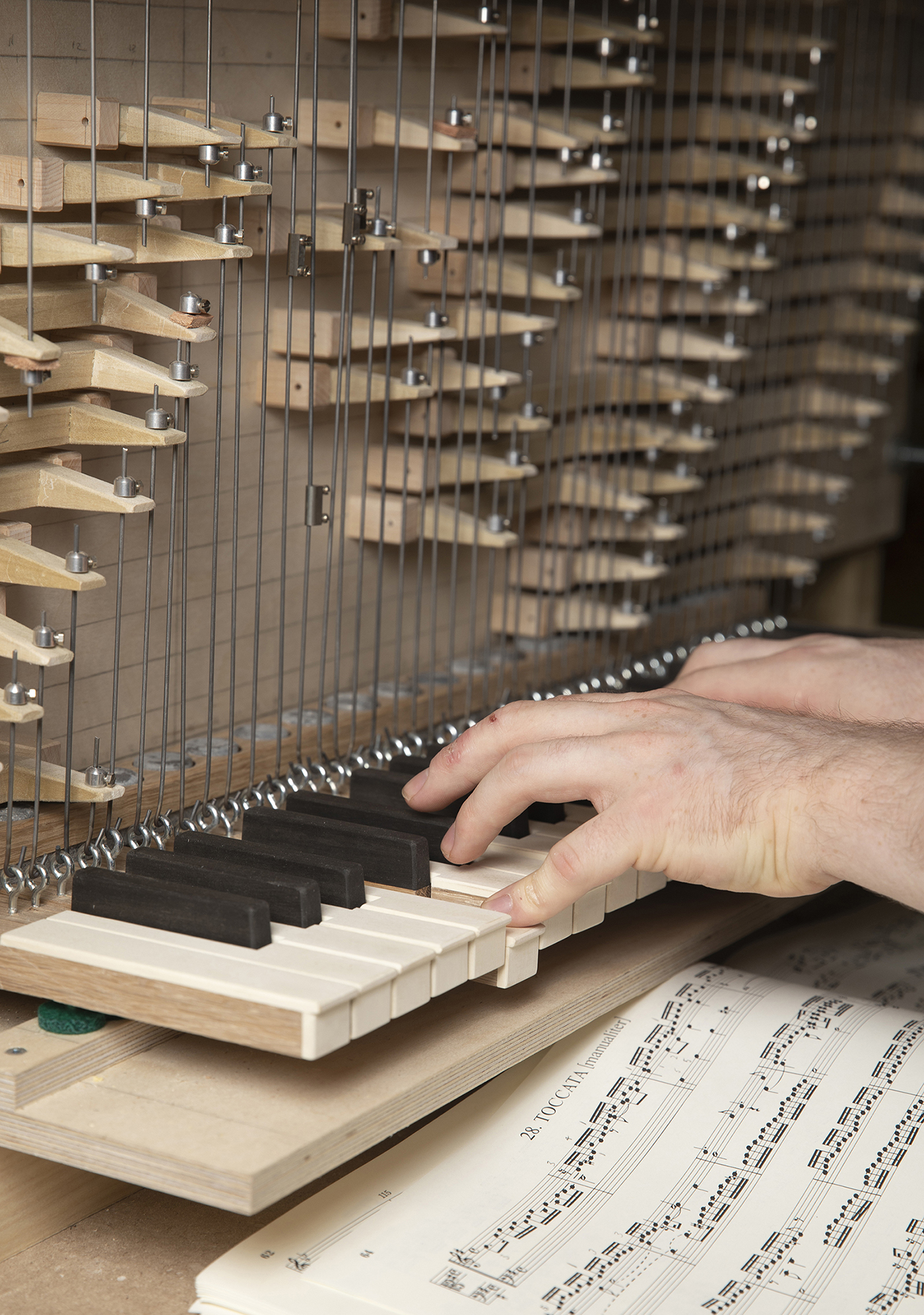 Jesse Wolfe '22
In the fall, Cleveland completed the framework and mechanics of the organ, which stands more than 8 feet tall and 5 feet wide. The mechanical parts are made of poplar, the keyboard is holly and ebony and the pipes are cherry. This semester, Cleveland focused on the instrument's casework, leading up to its showcase in a group BFA capstone exhibition late last month at RIT City Art Space. 
Cleveland's research and execution aligns with RIT's strategic positioning at the intersection of technology, art and design. In fact, those areas, Buck said, are prevalent in both the Furniture Design BFA option and MFA program.
"It's a hybrid program that combines technology and technique with design and art-making," Buck said. "It helps our students understand creative problem solving. At the core, whether we're making furniture, sculpture or building musical instruments, really it's all about creative problem solving."
Cleveland's musical background dates back to his first piano lessons at 10 years old. But when he was exposed to the world of pipe organs, he was more wrapped up in building them than actually playing. Still, he does both deftly. 
"Those interests developed side-by-side," Cleveland said.
Since making his first wooden model boat in seventh-grade technology class, Cleveland hasn't put his hand and power tools down. 
A tabletop bandsaw and other equipment fueled a woodshop in his parents' attic during high school. Making small instruments like flutes eventually made way for experiments in pipe organ building. 
He crafted three organs in high school, using those lessons to inform the more refined instrument he completed this year. Cleveland is also a student of pipe organ history, referencing books on the time-tested techniques to guide his design process.
"The way this organ is built is the way they've been built for 1,000 years," said Cleveland, who aims to apply his talent to a career as a professional pipe organ builder. "It's still been a process of designing everything from scratch, but it's based off of well-established techniques."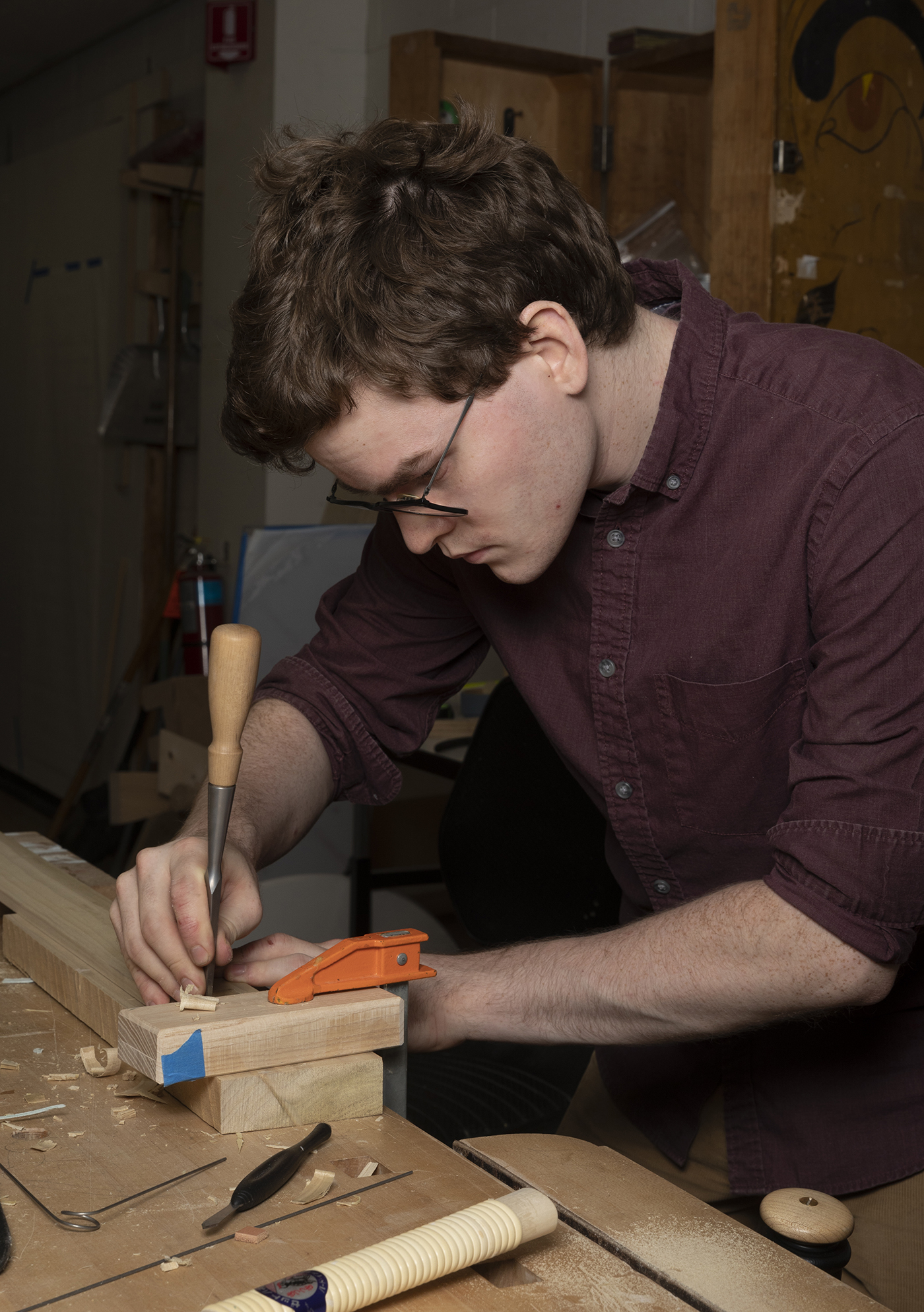 Jesse Wolfe '22
Cleveland said having access to the state-of-the-art furniture design facilities, with ample personal workspace and well-maintained equipment, is enabling his pipe organ construction to move along smoothly. He also credits Buck and Lecturer Rolf Hoeg with fostering his overall design style.
"The experience I've had here has influenced the way I've been thinking about this organ project," Cleveland said. "Doing it in the context of this furniture degree makes it a very individualized project. It's a very special piece to me."
Cleveland took advantage of having access to additional materials to further facilitate his artistic growth, enrolling in elective classes in ceramics, glass and traditional letterpress. The flexibility to take courses in related disciplines is a hallmark of the Studio Arts BFA program, which holds a Furniture Design BFA option.
"Becoming proficient in other materials goes along with being a good woodworker and maker," Cleveland said. "When you get good at making with one material, you simultaneously improve in all the others."
That curricular freedom, coupled with RIT Furniture Design being rooted in fine woodworking and design principles, made RIT a perfect fit for Cleveland.
"The way we've all grown together as a tight-knit community of makers," Cleveland said, "has been the best experience of my life."