Student designs to be featured at Autodesk University
Designs from industrial design students set to be manufactured by Autodesk in 2024
RIT students often benefit from collaborating with clients outside of the university for class projects. A current collaboration between RIT's industrial design program and Autodesk will soon extend beyond the classroom, as Autodesk plans to manufacture student designs to be used at the company's signature annual conference, Autodesk University.
Autodesk—a multinational corporation that makes software products and services for the architecture, engineering, construction, manufacturing, media, education, and entertainment industries—asked students to prepare design concepts for a product that showcased the capabilities of Fusion 360, a commercial computer-aided design, computer-aided manufacturing, computer-aided engineering, and printed circuit board design software application developed by Autodesk. After narrowing down the top designs, the company engaged in a semester-long collaboration with students to bring the concepts to life.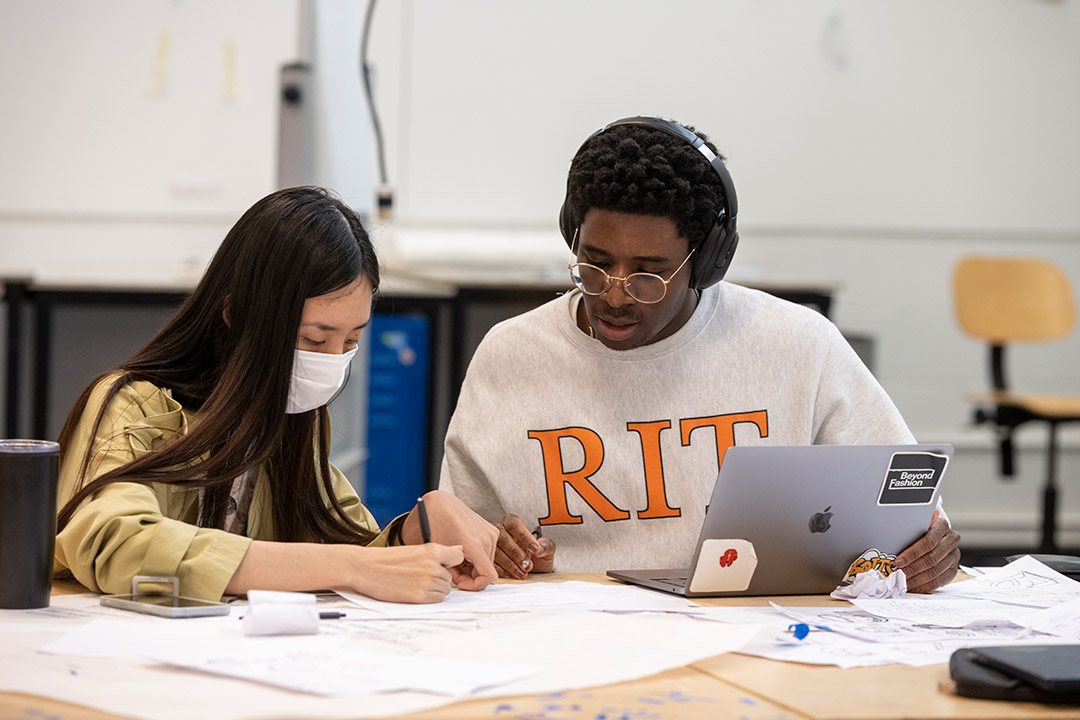 Elizabeth Lamark
"Working with RIT has been an absolutely amazing experience. Going into this project, we were excited to see what students could come up with but honestly had no idea how everything would turn out in the end. What we ended up seeing far surpassed our expectations," said Annaka Ketterer, community specialist at Autodesk. "Students came in with energy, creativity, and tons of passion and actively worked with us to come up with ideas for viable products we could see ourselves designing in the future. Day in and day out we saw nothing but smiles, hard work, and creative problem solving from RIT's industrial design students. From seeing projects evolve from napkin sketches to beautiful renders during T-Minus, to getting to work more hands on with Juan Noguera's studio over the past few months, this experience has been truly invaluable."
The collaboration began at the start of the spring semester with the industrial design program's annual week-long design challenge, T-Minus. All students enrolled in the undergraduate and graduate industrial design programs worked in teams to brainstorm and present ideas to Autodesk, a long-time collaborator with RIT's College of Art and Design, for an engaging, interactive product that attendees of Autodesk University 2024 can assemble at the Fusion 360 Factory Experience. The goal was for the students to not only learn more about the company's tools and capabilities, but also to be able to get hands-on experience working with industry professionals.
At the conclusion of T-Minus, students in Assistant Professor Juan Noguera's experimental studio course split into teams to prototype the top designs selected by Autodesk. Each week they presented their work to representatives at Autodesk until the prototypes were finished and ready to move on to the manufacturing phase.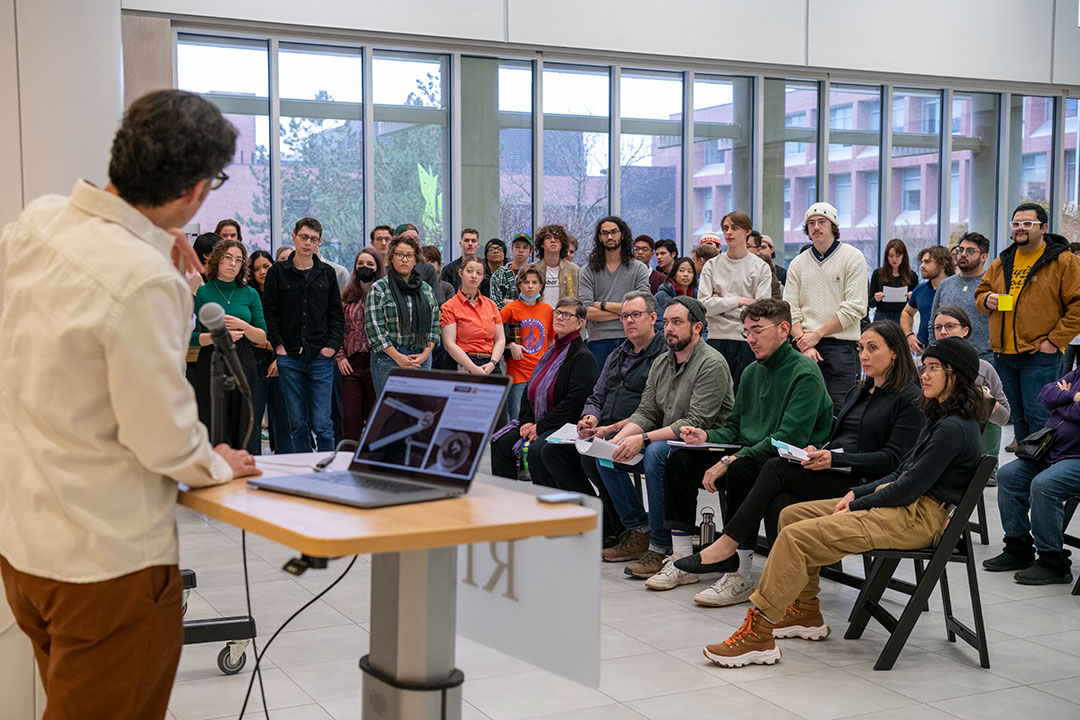 Elizabeth Lamark
"I think there's no replacement to working with a real client in the classroom. I've always been a proponent of having client-driven classes here in industrial design. It gets students really motivated and it creates higher stakes because they have a real company that is going to look at their work. I've found students react to that pretty well," said Noguera.
Noah Lynaugh, a third-year industrial design student from Fairport, N.Y., is the only undergraduate student enrolled in the experimental studio course. He explained that the experience has been invaluable because he could learn from his peers in the graduate program, as well as have his eyes opened to real-world design considerations.
"I think the true value of a class like this is having such an involved feedback loop. You don't have someone just looking at your product and saying, 'I like that' or 'that could be cool.' The feedback is more truthful and realistic because it's a product that is actually going to be made," said Lynaugh. "This is our client's full-time job, so while we do want to make something that looks nice and is fun, it ultimately has to be grounded in reality."
Lynaugh is working on a team with two industrial design graduate students, Sarah Baxter and Vaibhav Balasubramanian, to prototype a multi-tool called the Accumeasure. The final gadget will include a tape measure, a level gauge, and other measuring tools.
When designing the tool, the group had to discard typical design expectations, such as designing for the lowest cost and easiest manufacturing process. Instead, they needed to consider how the product could best showcase Autodesk's manufacturing partners and the design and manufacturing software Autodesk has to offer. They also needed to keep in mind how they would be able to ensure a positive user experience when assembling the product.
Balasubramanian, from Mumbai, India, explained that this particular project was unlike most design briefs he has encountered.
"It's a lot more complicated than a typical design. We have to consider that we're giving our product to someone who's never touched tech, who has possibly never had to assemble something. We have to give them something that is like a Lego set that can be put together in a short amount of time without having much knowledge about it. It has to be very intuitive," said Balasubramanian. "It's all very different from what we would normally do as designers."
The final prototypes will be passed on to Autodesk at the conclusion of the semester. The company plans to manufacture and introduce one of the products at Autodesk University in 2024, and hopes to present the remaining designs at future conferences.
For more information about the course and collaboration, email Juan Noguera at jcnfaa@rit.edu or Alex Lobos at alex.lobos@rit.edu.
Topics