Students address accessibility, medical challenges in summer studio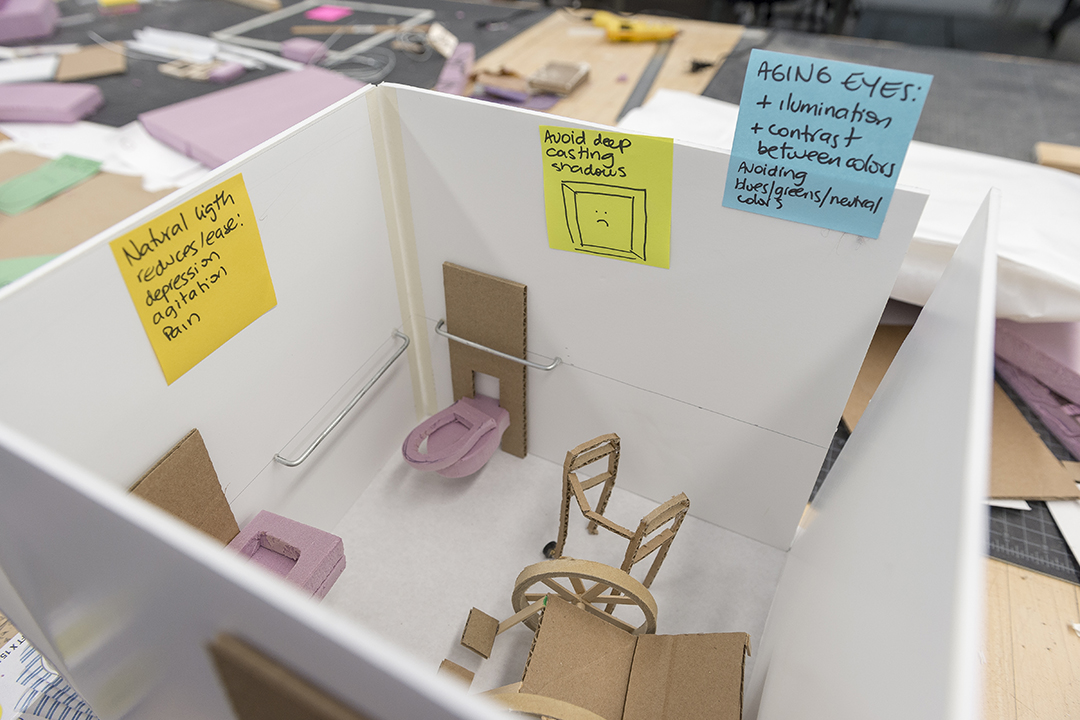 Chase Gunner
This summer's Studio 930 design consultancy features 17 interdisciplinary projects — some of which were selected out of previous IdeaLab events — being developed by students from RIT's Industrial Design (BFA and MFA) and Engineering programs. 
Studio 930 was created by School of Design Associate Professor Stan Rickel to offer an opportunity for students to work collaboratively on challenges primarily related to accessibility and medical care. The initiative is supported by RIT's Simone Center for Innovation and Entrepreneurship. Successful project outcomes typically gain further opportunities to be developed and expanded into potential new businesses. 
Since its inception, Studio 930 — managed by RIT faculty coaches and guided in collaboration with sponsoring experts (clients) — has opened doors for students each summer. 
It is structured to provide real value to clients and also extend additional educational value to the participating students through workshops, discussions and presentations. Participating disciplines typically include industrial design, UX design and various engineering specialties. While some students participate as co-op or internship, others do so for the experience only.
This year, due to COVID-19-related restrictions, all students, coaches and client advisors are working remotely, some in different time zones and countries, meeting and collaborating on the Zoom and Miro platforms. Although the situation prevents the use of normal RIT resources like The Construct and computer labs, the work is continuing toward end-of-summer project reviews and conclusion. 
Studio 930 projects are generally divided into three categories: conceptual, development and advance. Most have real clients with an interest in seeing further development and results. 
The studio practices design thinking for product development — an inclusive and creative methodology that promotes user understanding and a collaborative product development process to solve problems. As such, it promotes a user-centered approach that considers experience and context as fundamental components for creating value. For successful results, an iterative process of research, ideation, prototyping and testing is emphasized.
Ongoing projects for this year's Studio 930 include:
• Infant exam and transport platform
• Wheelchair weather protection
• Personal portable food preparation system
• Kitchen stander for wheelchair-bound children
• Using a kitchen knife for individuals with limitations
• Social interaction through playing games
• Design for individuals with dressing challenges
• Soft goods sensory toys
• Enabled doors
• COVID-19 conceptual design exploration
Any questions about Studio 930 can be directed to studio manager Dan Harel (dxhfaa@rit.edu).
 
Topics