Students design responsive, resilient office spaces amid pandemic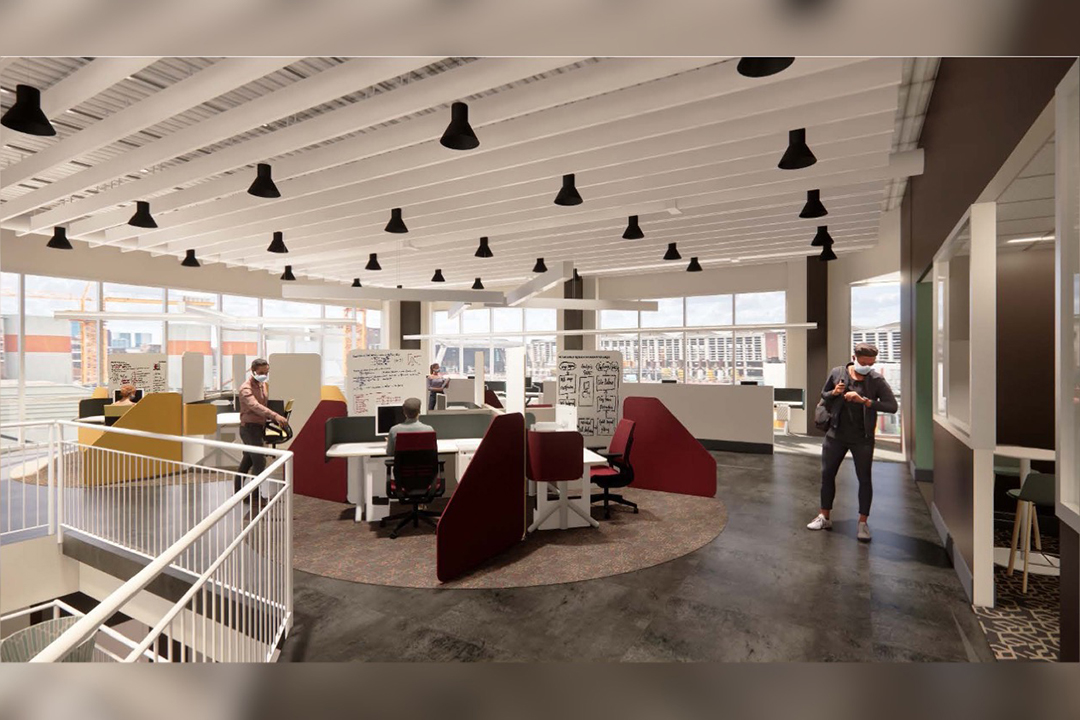 Consistent with its inherent focus on addressing the world's most pressing design issues, RIT's Interior Design program is developing thoughtful solutions during a time of great need.
Adjunct Faculty Kelly Jahn said 2020 has placed increased awareness on the critical role interior designers play in preventing the spread of disease, nurturing mental health and limiting disruption. So now more than ever, RIT students are designing with health, safety and adaptability in mind.
"This pandemic has brought interior designers into the conversation of resiliency," Jahn said. "It's a strategic practice that has been in the urban planning, architecture and engineering disciplines for a while. How do we build spaces that are able to adapt, recover and bounce back from disastrous events?"
Jahn shaped her fall Office Design course around the changing workplace landscape, and how to make it more resilient and responsive. Students produced flexible workplace concepts entered into the NEXT Student Design Competition organized by furniture manufacturer Steelcase. 
Students considered the global pandemic's effect on the previous functionality of offices. Their designs reflect needed adjustments to create the office of the future — one that is equipped to stay active during COVID-19 and handle other unexpected events.
"It is crucial for us, as students preparing to enter the industry, to explore ways to address real-world issues, focused on creating a better future for all," third-year student Ashley Diltz said. 
"Taking on this challenge allowed us to develop the skills of thinking outside of the box and thinking about creating designs that can make people's lives as easy as possible, no matter the situation," said another third-year student, Sara Chambers.
Diltz said the industry's crucial work during this time should dispel the fallacy that interior designers' core function is adding aesthetic appeal to spaces.
"As we're facing the pandemic, issues of proxemics, cleanability and space planning are all being addressed — issues related to interior design," Diltz said. "It is our responsibility as designers to ensure the health and safety of users."
For the competition, 10 students each designed a proposal for a two-story, 11,500-square-foot space housing a fictitious health and wellness product company in Atlanta, Ga. The indoor environment includes retail and office areas, and celebrates the city's culture.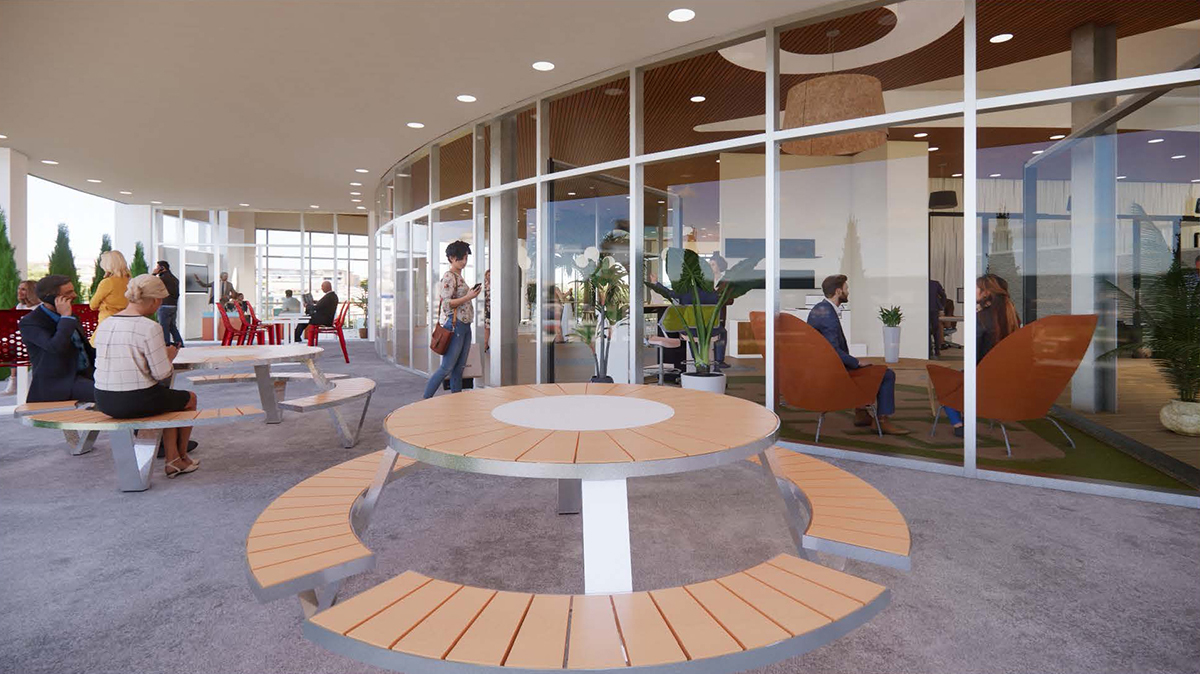 Jahn said students were diligent in their research as they became versed in COVID-19's long-term impact on office design. 
"We talk a lot in class about how we're probably going to see a permanent shift in more remote workers," said Jahn, a professional interior architect who has put the principles she is teaching into practice. "The workplace would become more of a mix of in-person and remote workers, so that changes the space. You're going to use the office for more collaborative, team-based projects and put less focus on the individual workspace."
In their work, students explored a range of factors to make offices safer while sustaining meaningful connections among employees, including:
Making areas less dense, with large circulation paths and limited contact points
Separating quiet and collaborative zones 
Cleanability — integrating hard, non-porous surfaces and upholstery rated to withstand cleaning with chemicals
Using modular furniture
Jahn, Chambers and Diltz agreed this challenging time is a defining moment for interior design.
"Designs within space will be shifting to accommodate this new social paradigm shift," Diltz said. "Given the monumental circumstances, and the uncertainties surrounding this whole pandemic, everyone within the industry is a stakeholder to this issue."
Under the guidance of Jahn, students took a holistic approach to improving the workplace. In addition to functional and health factors, they also considered social and psychological details. Regular class discussions centered on mental health benefits such as connecting nature to the workplace.
"Whether it's physical or visual connection, access to green space or bringing nature indoors, it improves mental health, focus, productivity and efficiency," Jahn said.
Diltz's project was influenced by the deep roots of soul music in the Southern U.S. The emotional connection people have to music drove many elements of her design to keep employees engaged, comfortable and energized.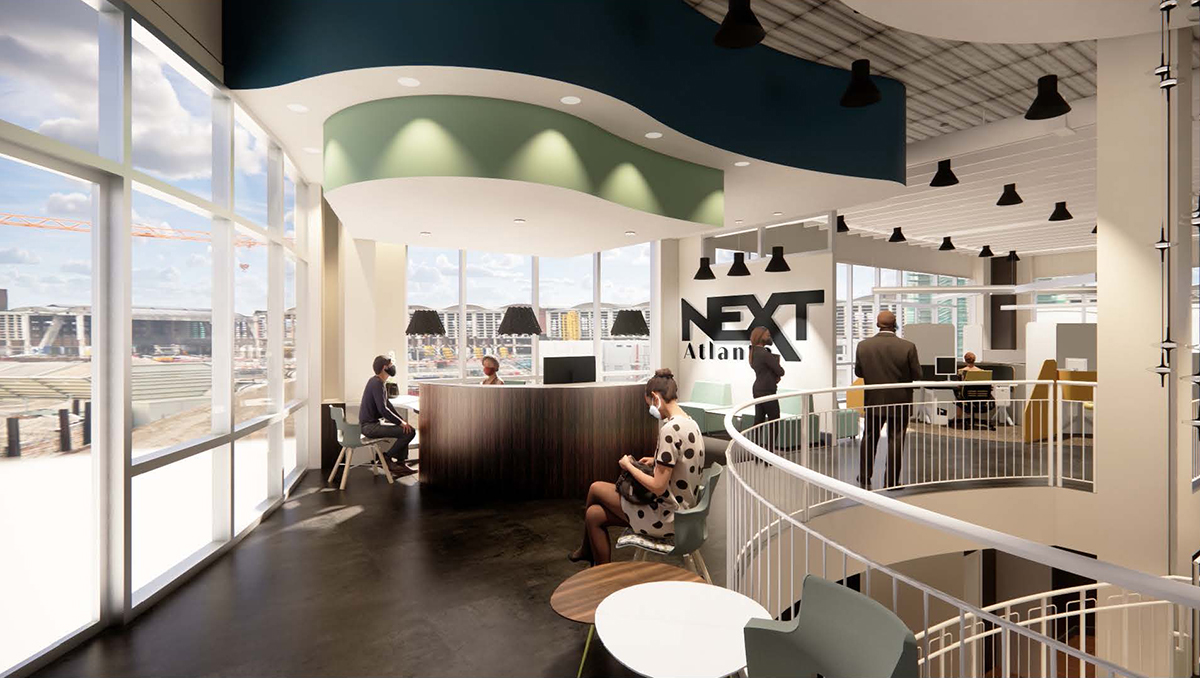 Similarly, Chambers emphasized the mental health of employees in her work.
"The focus on employee well-being will continue to rise, as productivity is the highest when employees are content and treated well by both their co-workers and the space itself," Chambers said.
Incorporating resilient design into the curriculum is the program's latest example of designing for good. RIT interior designers are engaged in other socially conscious initiatives, including bringing sweeping healthcare improvements to Honduras (RIT Hope for Honduras) and a mobile kitchen that is easily transformed for people with different needs and abilities (MO:KI).
"All the interior design professors here at RIT consider the global impacts interior design and architecture have socially, politically and culturally," Diltz said. "It is emphasized throughout the program that we as designers should be designing for all people, universally."