Innovative 3D Printing Materials
December 9, 2020
Dan Gabber
Faculty: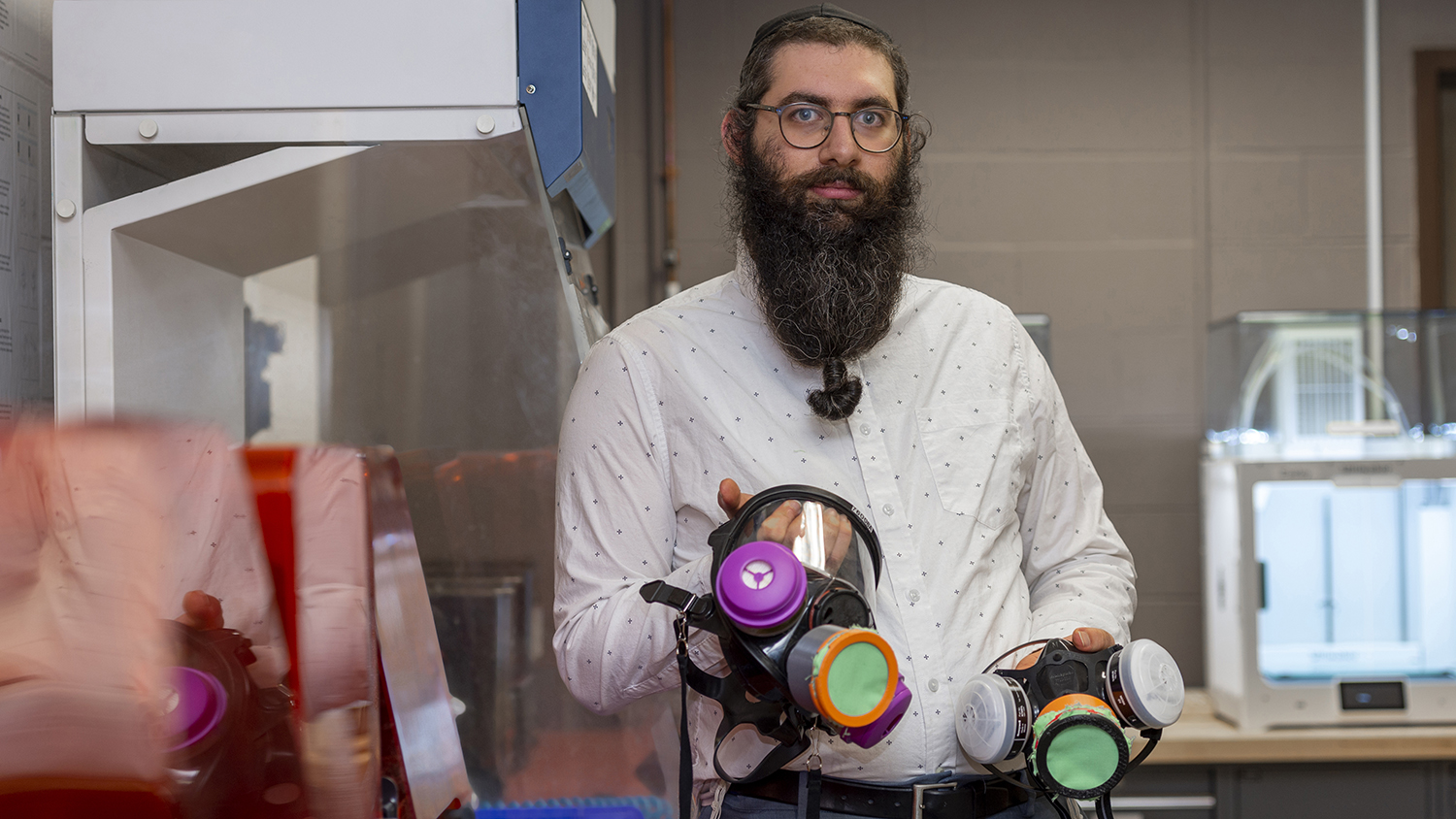 Dan Gabber is constantly researching and tinkering with the latest technology to ensure students an optimal experience when using the Fab Lab to execute projects. 
"You need the right tools for the right jobs," said Gabber '17 (Industrial Design), '20 MFA (Ceramics), the College of Art and Design's digital fabrication specialist and Fab Lab manager. "There are needs and I have to fill them."
His forward-thinking mindset was the catalyst for evolving the Fab Lab into a comprehensive plastics shop offering a range of materials used for 3D printing. One of the lab's newer 3D printing materials is a wood fiber-based filament that can be stained and treated similarly to wood, but it's 3D printed. With RIT being home to renowned material-based programs in Ceramics, Furniture Design, Glass and Metals and Jewelry Design, Gabber said it was only natural for the wide use of plastics in 3D printing to enter the conversation. 
"One of my goals is to help with interdisciplinary work," Gabber said. "We're doing this as a lab by incorporating new materials to 3D print. I hope 3D printing will be a gateway for people to explore traditional crafts, but also people in traditional crafts to explore 3D printing and other fabrication technologies."
Gabber's deep interest in pairing traditional methods with technology in the creative process is an extension of his research in RIT's Ceramics MFA program. As a graduate student, he explored using 3D printers to make ritual vessels while giving the technology ownership of the process. 
"I basically have some rough understanding of what I want, but the computer is the one that is doing most to the design and iterations," he said. 
Gabber is applying his knowledge of computer-generated art — and its many possibilities — in the Fab Lab to feed the curiosity of others. 
"There is an idea of using computers as more integral part in the artistic and design process where it can have ownership of that process," Gabber said. "I would love for students to take advantage of putting something in and not knowing what comes out or being excited for the so-called mistakes or failures of that result. I think these unintentional or unexpected outcomes are the most exciting things."
As Gabber refines and advances his research, he is providing a space for students to "take 3D-printed art and procedurally-generated art a step further."
"I'm at a place where I can take (my MFA) experience and make it better," Gabber said. "It's hard to imagine what better looks like because it was such an amazing experience to begin with. I would love to give back to the university — to make it easier for students who are interested in the same topics to pursue it."
The Fab Lab, located in Booth Hall, room A620 (basement level), is open every day from 9 a.m. to 5 p.m. Gabber encourages open dialogue and invites students to stop by anytime to discuss their ideas and unique needs.
---