Saunders College of Business at RIT launches innovative Ph.D. in business administration
Inaugural cohort of five students to pioneer RIT's first-ever social sciences doctorate program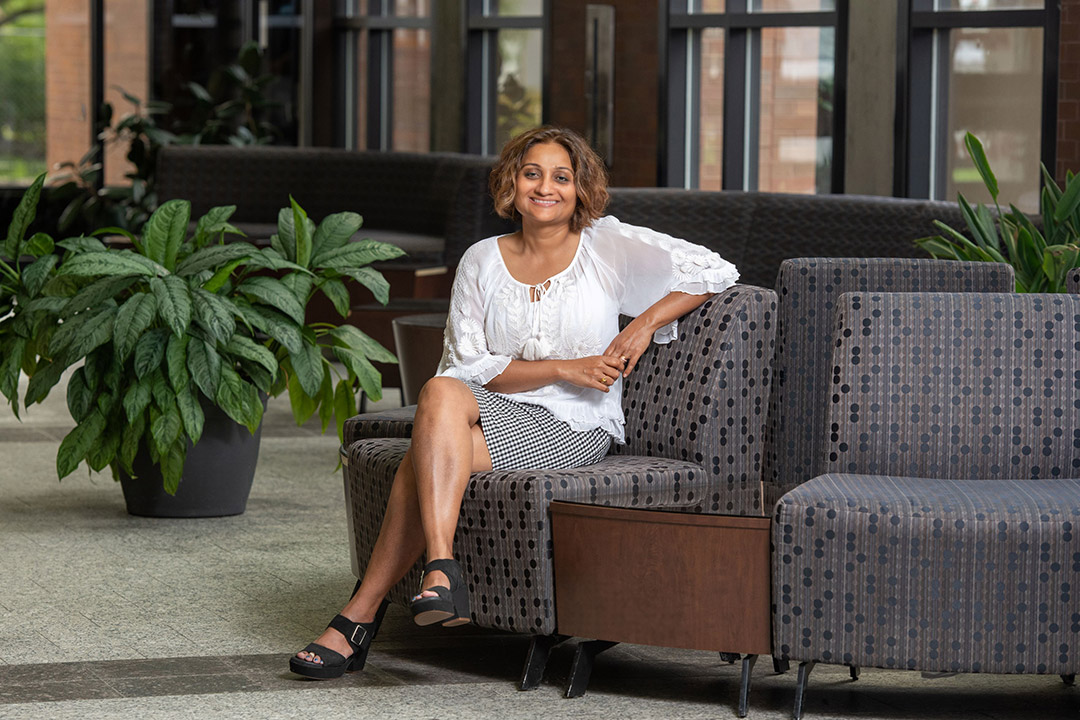 Saunders College of Business at RIT is entering its first cohort of students into the college's new Ph.D. in business administration this fall, marking the university's inaugural social sciences doctoral program.
According to Shal Khazanchi, the Ph.D. program director and associate dean for research and graduate programs, the business college is launching the doctoral program after receiving an "overwhelming response" of more than 125 applications to the inaugural program.
"Our open houses were quite busy, attracting more than 100 prospective students," she said. "Given the strong emphasis on the effect of technological innovations on key business functions like the marketing of products and services, strategic management of innovation, and finance and accounting practices, our program is unlike traditional Ph.D. programs in business administration because it leverages RIT's strong reputation as an innovative technology institute."
Khazanchi added that the program is designed to inspire and train scholars to identify, investigate, and solve unique business challenges that influence business and society—particularly those that are brought on by today's ever-changing technological changes.
The program pushes the boundaries of conventional business disciplines of marketing, management information systems, strategy, and finance and accounting, Khazanchi noted. It does this by integrating technology and innovation as contextual underpinnings for each of the program's areas of specialization: digital transformation, strategy and innovation, and finance and accounting.
The first cohort of five students beginning this fall will specialize in the program's digital transformation and finance and accounting areas, she noted.
The new doctoral program is built upon an apprenticeship model "working with faculty on research projects that address unique business challenges," Khazanchi said. Saunders College faculty are engaged in researching emergent trends such as the effect of technological innovation on industry dynamics, adopting block chain in auditing and fraud detection, e-commerce and consumer behavior, algorithmic trading, algorithmic decision support, and information systems development, "which lie at the intersection of technology and business," she said.
"We're excited to be launching the university's first-ever social sciences doctoral program," said Saunders College Dean Jacqueline Mozrall. "Our current building expansion and renovations will also provide critical support for this program, including applied research labs and multifunctional learning spaces."
"It's a credit to our faculty to develop such a unique and rigorous curriculum under Shal's leadership and an interdisciplinary team of business faculty," the dean added.
Technological innovations now dominate the knowledge economy, Khazanchi observed, adding that "the new Saunders College doctorate program will educate the next generation of scholars, who will address some of the most daunting and complex problems organizations are facing today."
RIT's strategic plan calls for adding six to 12 new Ph.D. programs and conferring 50 doctoral degrees every year by 2025. The university conferred a record 69 Ph.D. degrees during commencement in May, marking a 53 percent increase from last year.
RIT's priority to build doctoral research programs is integral to the university's future. These programs attract top-tier faculty who generate research funding and support teams of graduate student researchers. In turn, the faculty and research opportunities recruit Ph.D. students to the university.
This equation led to new rankings for RIT in 2019. The university is now listed as a "high research activity institution" or "R2" under the updated Carnegie Classification of Institutions of Higher Learning. The update follows a reclassification in 2016, when RIT changed from "Master's—Comprehensive" to "Doctoral University—Limited Research Activity."
Today, RIT enrolls 300 Ph.D. students in 11 Ph.D. programs. They are astrophysical sciences and technology, biomedical and chemical engineering, color science, computing and information sciences, electrical and computer engineering, engineering, imaging science, mathematical modeling, mechanical and industrial engineering, microsystems engineering, and sustainability.
In addition to the new Ph.D. program at Saunders College, RIT's is launching a number of new degree programs this fall, including an interdisciplinary master's degree in artificial intelligence, a master's degree in dietetics and nutrition, and a Bachelor of Science degree program in neuroscience.
Topics