Opportunities for students and employers abound at RIT University-wide Career Fair
Thousands of students encounter more than 250 potential employers at the Sept. 27 event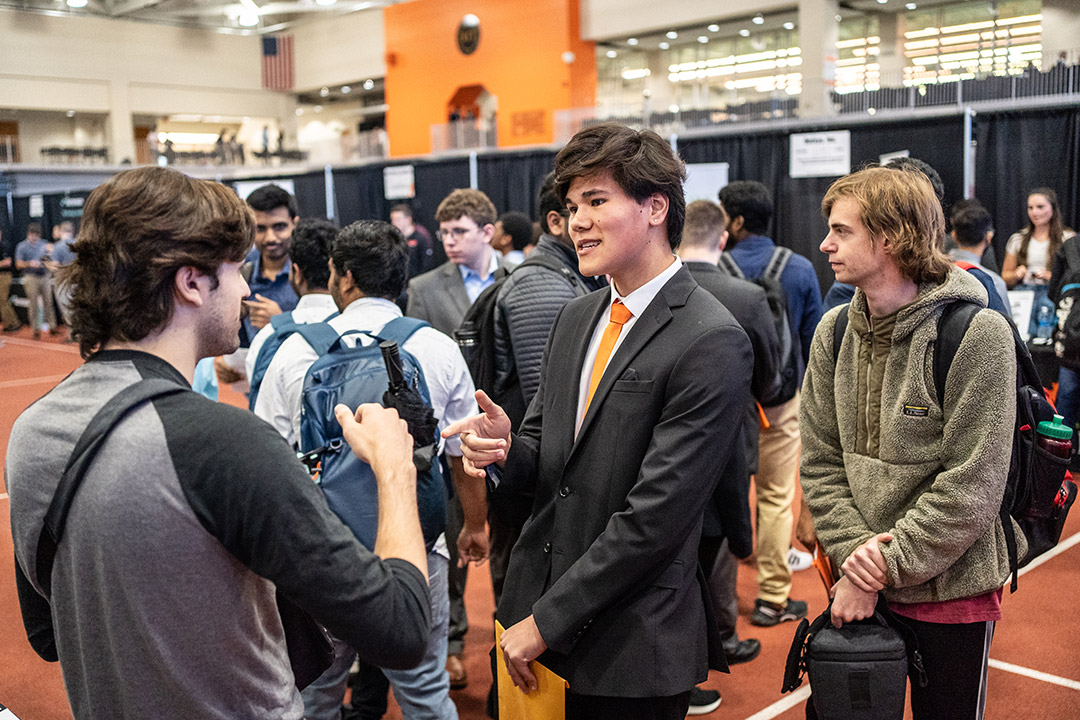 Second-year computer science student Logan Mui is hoping to find a summer or fall internship opportunity where he can show his off his skills in back-end software development.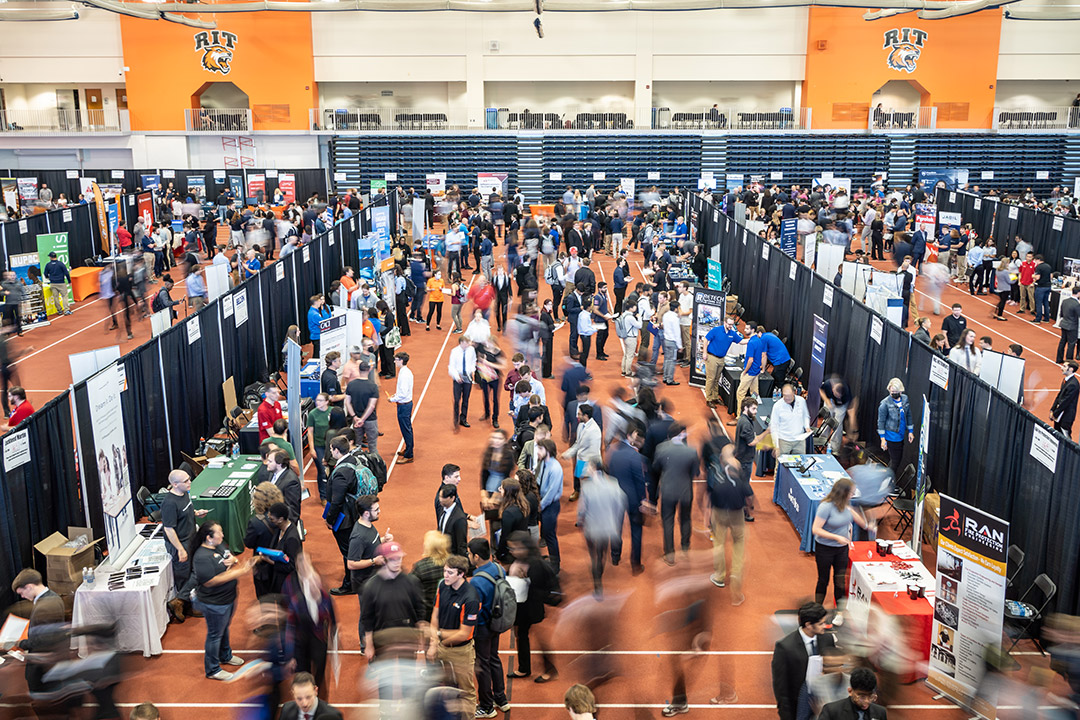 Traci Westcott
Mui joined nearly 4,000 other RIT students looking for co-ops, internships, or full-time employment at RIT's University-wide Career Fair on Sept. 27 in the Gordon Field House and Activities Center. Recruiters from more than 250 local, regional, and national employers attended the event, including General Dynamics, National Grid, Moderna, Redcom, Penske, Liberty Pumps, Wegmans Food Markets, and Samsung, among others.
"This is my first time at the career fair and I'm looking for an opportunity with a company that's close to the New York metropolitan area where I can use my skills in C++, which I think makes me marketable," said Mui, who is from Smithtown, N.Y., and was one of the first to interview with Bose. "I have my eye on a few other companies like DraftKings, M&T Bank, and Mattel, which looks like it would be a really fun place to work."
RIT's co-op program is one of the oldest in the nation, beginning in 1912. More than 5,000 RIT students typically complete a co-op each year. RIT was recently recognized in the 2024 edition of U.S. News & World Report Best Colleges, which ranked its co-op and internship program fifth in the nation, rising six spots from last year.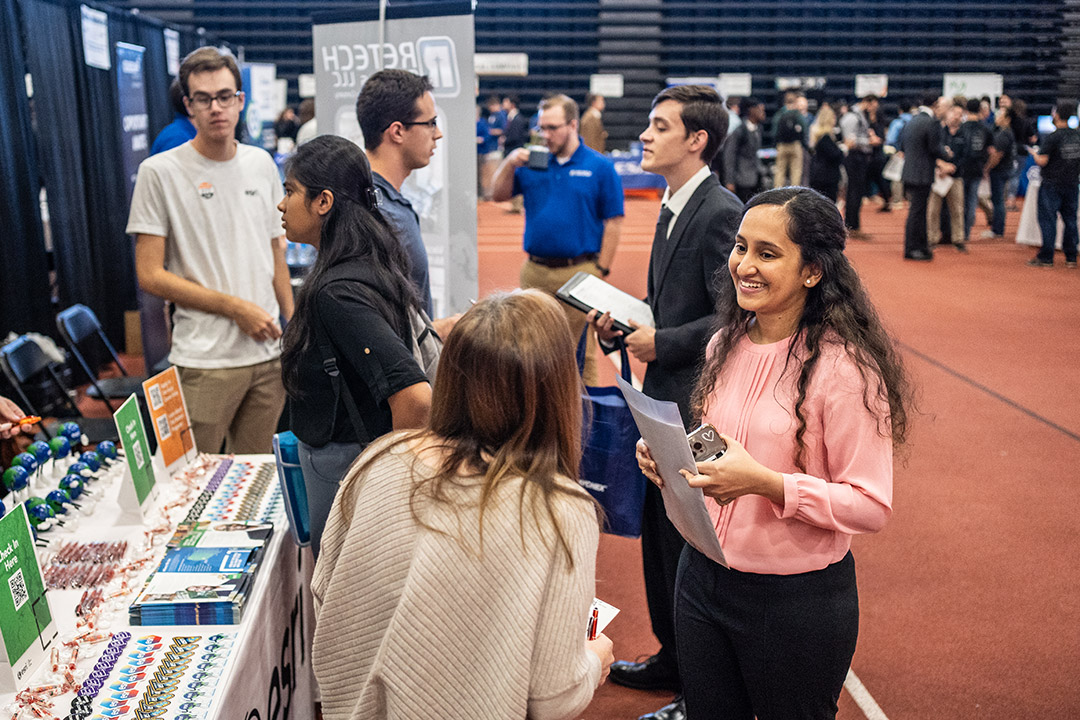 Traci Westcott
"The University-wide Career Fair just gets better each year," said Maria Richart, director of RIT's Career Services and Cooperative Education. "As usual, we have an amazing turnout of employers who are looking for the very best employees—and RIT can provide them with top-notch, high-quality students who are able to hit the ground running."
Richart was especially pleased with the Affinity Networking Reception, a "reverse career fair," which was held Sept. 26. The event brought together more than 20 RIT special-interest affinity groups, such as Women in Computing and Society of Hispanic Professional Engineers, and employers who are committed to recruiting a diverse and talented workforce.
"There were so many students who came up to me after the event who were thrilled to get interviews," said Richart. "This reaffirms the importance of what we do here and is just energizing."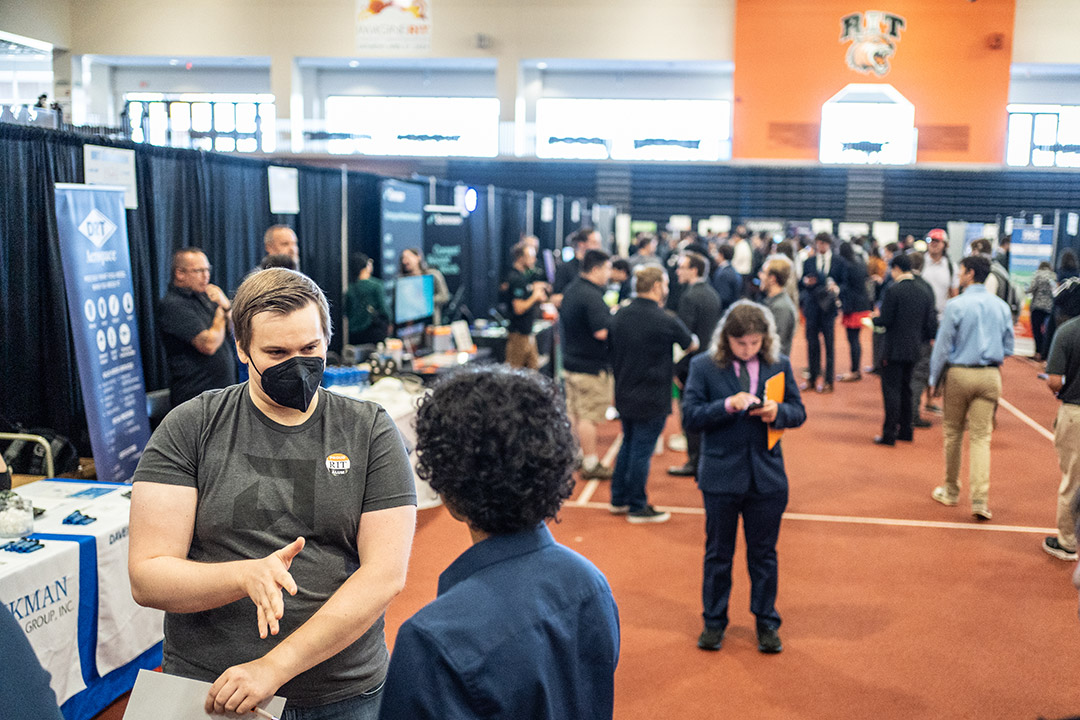 Traci Westcott
In addition, RIT alumni recruiters always have a strong presence at the career fair.
Reed Terdal '22 (electrical engineering/computer science) returned to interview students for Advanced Micro Devices, which designs computer processors for gaming systems and laptops.
"It's great to come back to campus and have the chance to visit with some of my former professors," said Terdal, who attended the career fair when he was a student and secured an internship. "My advice to students is to show interest in the companies they're interviewing with and a passion for what they want to do."
Students will be able to return for Interview Day, a chance to speak with recruiters one-on-one, on Sept. 28.
Topics