May 3, 2023
by Scott Bureau, Felícia Swartzenberg, and Michelle Cometa
RIT graduates find career successes at alternative tech companies
Doors open even in changing tech employment landscape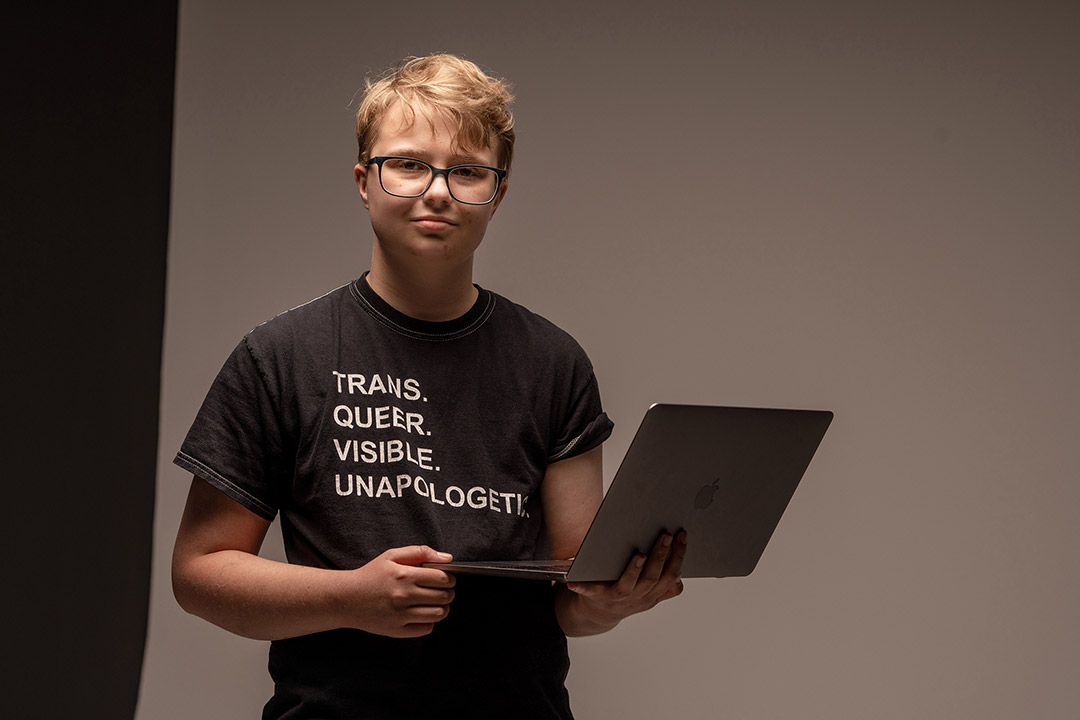 Cutting-edge courses and co-ops are key for RIT students looking to land jobs with traditional, big name tech companies such as Google and Apple. The same experiences also provide an edge in securing lucrative and meaningful career opportunities at companies that may not be household names.
The tech employment landscape is changing, and RIT graduates are taking their skills to a variety of organizations—to support accessibility for health and wellness companies, to provide coding for data center equipment, and to develop software for sophisticated HVAC systems—and more.
Carter Sargent has always wanted a career that focused on accessibility. After graduating in May, Sargent will work full time as an accessibility engineer for WW International, formerly known as Weight Watchers.
"I'm a website and app engineer, I am not a physical spaces engineer that makes wheelchair ramps or things like that. I'll be researching what our users want and designing accessible functionality specifically for those users, not just adding them in as an afterthought," said Sargent. "My position is fundamentally focused on people with disabilities and ensuring that Weight Watchers is an accessible product for them."
Sargent had two co-op experiences at WW International as an accessibility quality engineer and an accessibility researcher. As someone who is proudly disabled, he believes that an interdisciplinary approach to design will result in the most accessible user experience—which is why he chose to major in humanities, computing, and design at RIT.
"To make a truly accessible experience for others, you have to understand the great intersectionality of human beings. There are millions of disabilities, and there are millions of combinations of different disabilities that someone can have. You can't say, 'well, I added alt text so the website is accessible.' Each person can have a variety of different needs that we need to account for," said Sargent.
According to a March 2023 CNBC article, there were mixed reactions to employment changes at household name companies. Economists stated that the changes were more of a ripple, not a wave. The reasons for the changes ranged from early retirements to shifting needs at companies.
"I knew that the economy and companies would eventually correct itself," said Maria Richart, director, RIT Career Services and Cooperative Education. "We do miss the big tech companies, as that is what everyone focuses on, but with their absences, some of the smaller companies with many great jobs are emerging for our students. RIT students have proven that quality experiences, the ability to add value to the company, coupled with quality of life are what they are seeking, and working for a smaller company allows them to have that."
Some students entering the workforce sought answers from prospective employers about what to expect.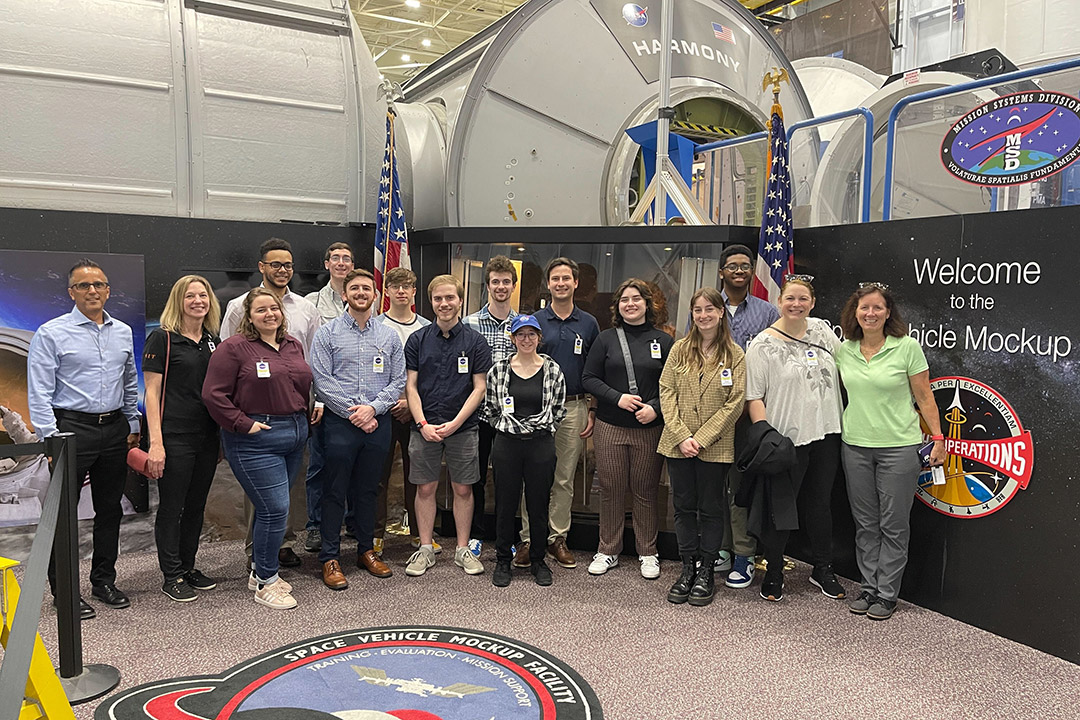 Provided photo
"I did have conversations with my boss about the general trends. These companies are looking for new blood to fill spots. They also see a lot of value in bringing in new people, just new eyes, and best skill sets," said Corey Sheridan, a computer engineering major from Yonkers, N.Y.
As an undergraduate, he was a teaching assistant for several foundational courses in his degree program, and he was part of the team that traveled to NASA to demonstrate a portable sensory device to help astronauts recover normal balance and movement on Earth after an extended stay in space. Both experiences were appealing to companies.
Sheridan was contacted by Western Digital to consider its RAMP program, a developmental internship and pathway for future, full-time employment. He spent two co-op blocks with the company and over the past semester worked part time, approximately 10 hours per week.
"My experience at the job was just incredible. The team had a lot of young guys and a lot of experienced guys, so I had people to lean on for support, and also some people to relate to. In fact, at the same time as my first co-op, there was another RIT student that was also hired as a RAMP, who was in my graduating year. I had never met him before, now we are great friends," said Sheridan, who will begin a full-time job with Western Digital in July at its Colorado site. He will be writing firmware and working with testing and validation teams for Western Digital's highest capacity, enterprise-class hard drives for data centers.
"When I was in high school, I really got into just building computers. Western Digital is one of those companies that build hard drives for so many things; they own SanDisk. I can tell someone I work for Western Digital, and people may not have heard of it, but if say SanDisk, they may know that company. When Western Digital gave the offer, I thought it was a perfect fit."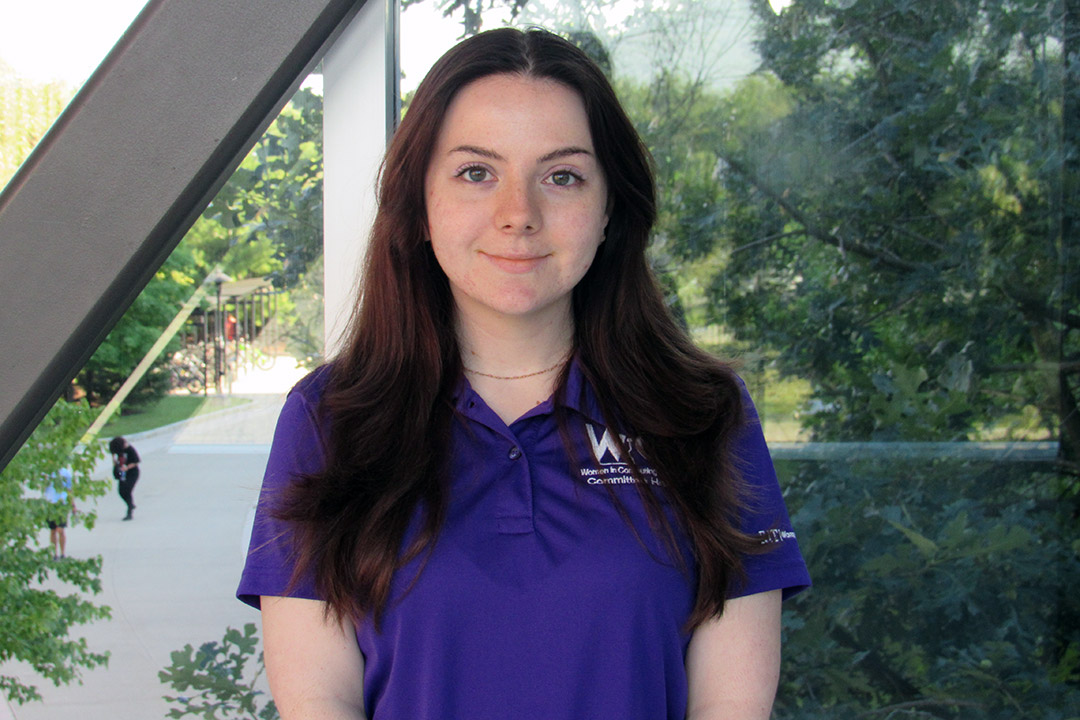 Provided photo
Growing up, there weren't many tech jobs in Mallory Bridge's hometown. So, when someone from her high school attended RIT and got a job in Silicon Valley, Bridge thought that was a fitting path that she could also take.
"The person had gotten a job at Apple and that was all anyone was talking about in Antwerp, N.Y.," recalled Bridge, who is now graduating with a bachelor's degree in software engineering.
At RIT she joined the Women in Computing group, where she promoted outreach to kids and new students. She also sought to tackle issues with representation in the tech industry, as head of the Allies Committee.
When it came time for her first co-op, Bridge was pleased to find a local one at Wegmans.
"At first, I always thought I'd have to work for a big company in Silicon Valley," said Bridge. "But I learned that it doesn't matter who your employer is, as long as you enjoy the job."
It was through Women in Computing that Bridge discovered her final co-op position at Carrier, which creates solutions for heating, ventilation, air conditioning (HVAC), refrigeration, and fire and security equipment. Working as part of the Sustaining team, Bridge specialized in the software and code for access card printers.
When she finished her co-op, the company invited Bridge to come back full time once she graduated. In June, Bridge will head to Bradenton, Fla., to start as a software engineer in Carrier's Engineering Leadership Program.
As part of the early career opportunity, she'll get to make significant contributions to strategic projects during three eight-month rotations at various Carrier business units across the country. To start, Bridge will work on software related to HVAC, fire detection systems, and control panels that help make buildings smart and healthy.
"We need to make sure our code functions properly, is well documented, and has thorough testing," said Bridge. "When I did my co-op there were some big names on the tickets—like giant airports and universities. It's meaningful because what I'm creating could be a matter of life or death for people."
Topics