ESL Federal Credit Union makes $3 million commitment to name ESL Global Cybersecurity Institute
RIT and ESL partner to help support the Rochester region and address global cybersecurity needs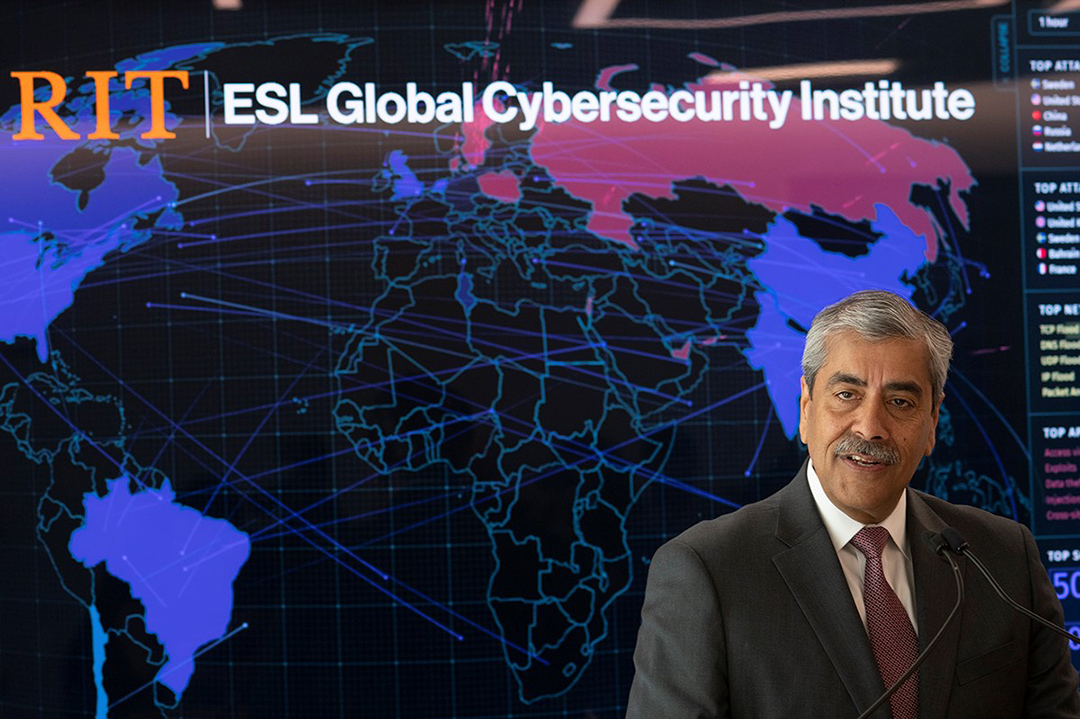 Rochester Institute of Technology's world-class home for cybersecurity has a new name.
On March 8, RIT and ESL Federal Credit Union jointly announced an exclusive naming rights partnership for the ESL Global Cybersecurity Institute at RIT.
ESL made a $3 million commitment to help RIT in addressing the importance of cybersecurity as a discipline and profession, and how it affects people and organizations around the world. In recognition of the partnership, RIT's computing security hub has been named the ESL Global Cybersecurity Institute (ESL GCI).
The commitment was announced at Cybersecurity Hall on RIT's campus, home of the ESL GCI. The institute was formed in 2020, with the goal of making RIT one of the best places in the world for cybersecurity education, training, and research.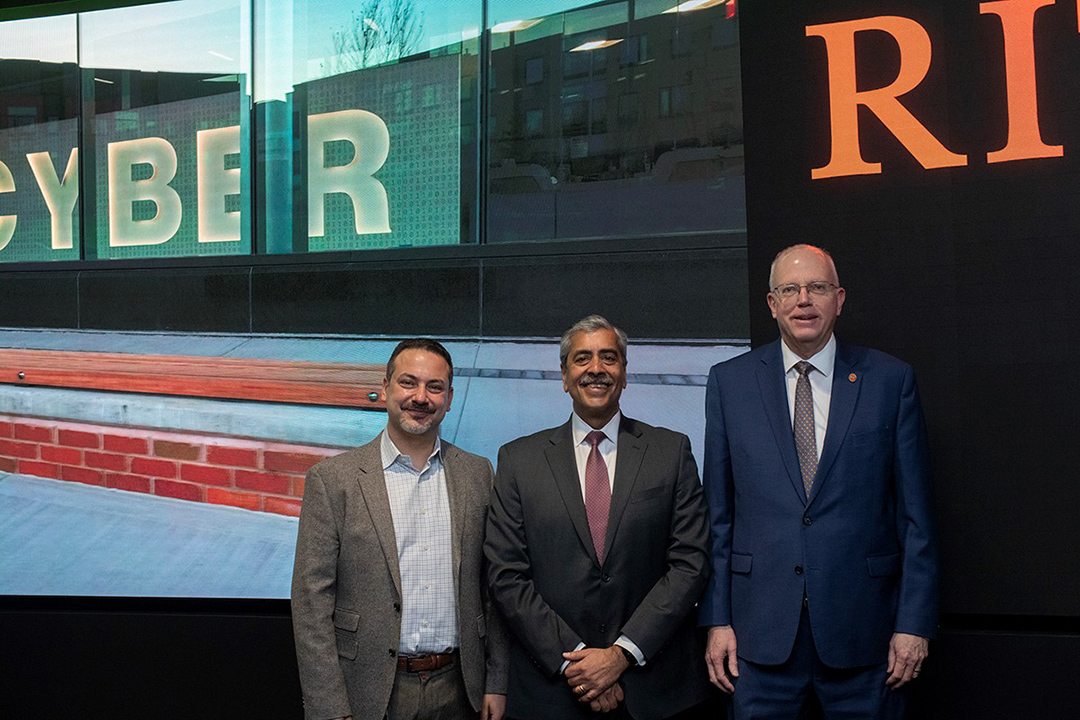 A. Sue Weisler
Cybersecurity is a core priority for ESL, which provides banking and wealth management services to more than 388,000 members and 13,500 businesses. ESL also employs more than 900 people in the Greater Rochester area and holds more than $9.1 billion in assets. This is the largest naming rights commitment ESL has ever secured.
"As Greater Rochester becomes a hub for careers in these sectors, ESL believes in supporting the institutions and programs that are educating and creating the next generation of professionals and leaders," said Faheem Masood, president and CEO of ESL. "We work to help our community thrive and prosper, and this includes partnering with institutions like RIT because the university is a national leader in the information technology and cybersecurity space. All of Greater Rochester benefits from RIT's prominent and acclaimed cybersecurity program."
In 2020, ESL GCI opened the doors to its brand new 52,000-square-foot building, adjoining the university's computing college. In addition to state-of-the-art computer labs, teaching spaces, and a conference center, the institute is home to the Cyber Range and Training Center. The Cyber Range is a virtual and physical lab that allows people to simulate network cyberattacks and problem-solving scenarios.
"The ESL/RIT partnership empowers us to do the hard work that will improve business practices and confront criminal cyber activity that upends the way of life for people and businesses here, across the nation, and around the world," said RIT President David Munson. "Cyber and information security is a mission-critical challenge facing business and society as a whole. Together, the ESL Global Cybersecurity Institute at RIT will be the national leader in cybersecurity education, training, and research."
The ESL GCI was created in support of meeting the demand for computing security and artificial intelligence professionals, while also developing future technologies, protocols, and human understanding needed to address the global cybersecurity crisis. This need comes at a time when cybercrime continues to grow, but there are 2.7 million unfilled information security jobs worldwide—according to an industry study.
"We are excited to partner with ESL and very appreciative of their support," said Ersin Uzun, Katherine Johnson Endowed Executive Director of ESL GCI. "This partnership will help accelerate the growth of our research, development, and training activities, while increasing the cybersecurity knowledge and awareness throughout the region and the world."
The institute helps educate and train cybersecurity professionals through its Cybersecurity Bootcamp, a 15-week professional training program designed to help just about anyone start an entry-level career in cybersecurity. ESL was one of the first supporters of the bootcamp, helping to create scholarships for its participants. The institute is also connecting its cybersecurity expertise with businesses and the community by offering incident response and cybersecurity awareness training for professionals.
The ESL GCI helps RIT develop new security, safety, and privacy technologies for a wide range of cyber and cyber-physical systems in close collaboration with industry, academia, and the public sector. Through the institute's Eaton SAFE (Security Assessment and Forensic Examination) Lab, experts also perform system and network security assessments for a wide range of partners and give students a chance to get hands-on experience with supervised apprenticeship programs.
With the ESL GCI, RIT has also been able to expand its nationally recognized computing security degree programs. The new building has hosted computing security competitions for students and is the headquarters for the student cybersecurity club RITSEC.